How to build a topic cluster to boost traffic & authority
In our guide, you'll learn how to build a topic cluster to boost your traffic and topical authority in 7 easy to follow steps.
What is a topic cluster?
A topic cluster is an organized collection of related web pages, blogs, or other online content that can help visitors and search engines find and understand your content better, resulting in higher search rankings and topical authority.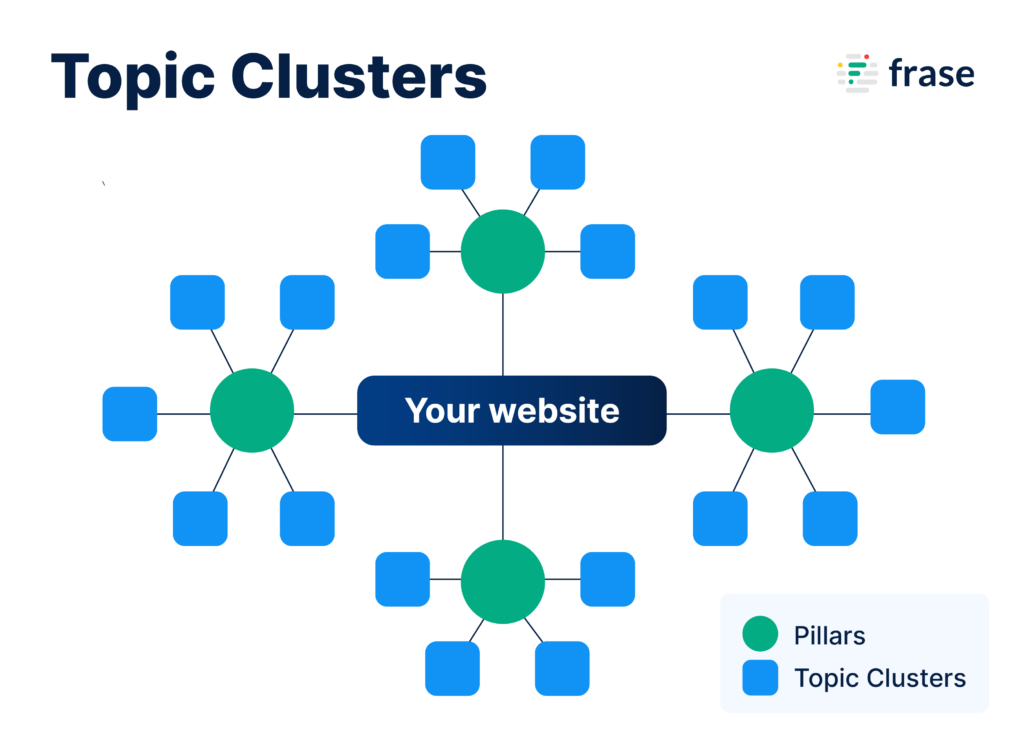 Some examples of topic clusters
For example, you might have an SEO topic cluster called "wine," which contains the following topics:
Wine basics
What is wine?
Styles of Win
Types of wine
Wine for beginners
…and so on.
Or you could have a topic cluster about wine regions, e.g.:
France
Argentina
Australia
Italy
Spain etc
SEO Strategy and topical authority
When Google scrapes the content from web pages, it extracts meaning from the passages, sentences, words, headings, and pages they link to.
The topic cluster model helps the search engines understand the relationship between pages.
So when Google sees lots of interlinking pages about, say, wine regions, you will be regarded as more of an authority than if you only covered the topic on one page.
And because E.A.T (Expertise, Authority, and Trust) is vital to search engine rankings, investing in this type of content strategy helps your SEO.
Other benefits of topic clusters
The topic cluster approach has 3 other benefits.
1. Organization and structure
If you sold different types of men's jeans, you'd put them all in the same section of your e-commerce site instead of scattering them everywhere.
Likewise, it makes perfect sense to structure them, making them easier for your target audience (and Google) to understand.
2. User Experience
Imagine you are a parent, and your teenage son expresses a desire to work in the music industry.
You know little about this topic, so you Google "music careers."
You scroll through this broad topic and read about specific types of music jobs.
Managers
Promoters
Journalists
Producers
Event managers
Sound technicians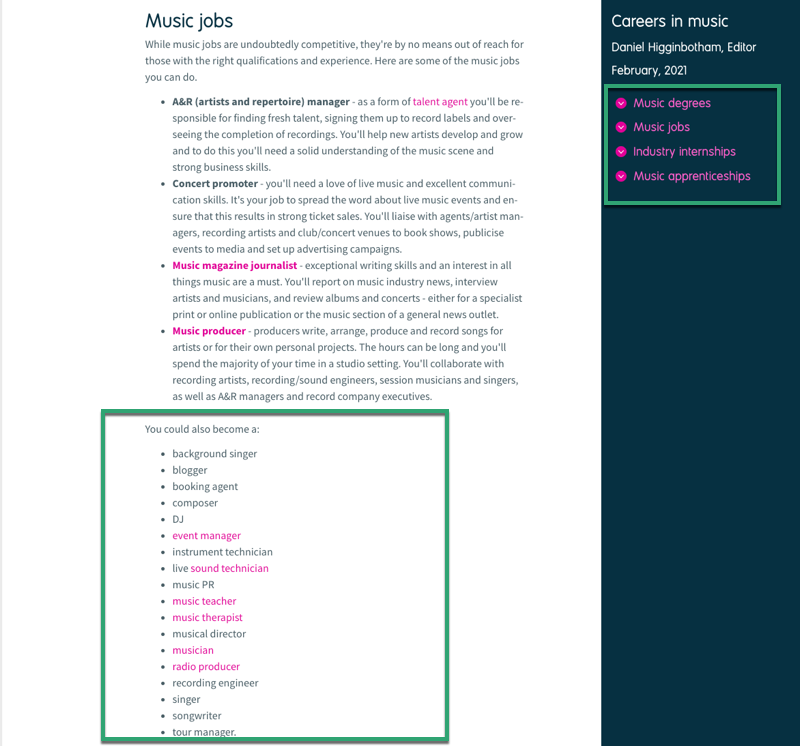 There are links to cluster pages about each job type and interviews with people in these positions.
The links to the cluster pages provide more detailed information on each job type.
As a concerned parent, you realize your child's career wish is not a pipe dream and is more professional than you initially assumed.
3. Search Engine Optimization
A group of linked pages helps bots crawl a website and better understand what topics are included.
Each page is aligned with the search intent of users.
Each page targets a precise set of keywords and drives particular traffic (or answers a specific user intent.)
What is included in a topic cluster?
The pillar page or hub (your core theme) is located at the top or center of a topic cluster.
The pillar page then links to cluster pages (or spoke pages), which are the sub-themes related to the central theme, using hierarchical URLs and internal links.
Enough with the theory; let's start with the first step in building a topic cluster.
Step 1: Pick a core topic central to your business
First, choose a central topic for your business because that topic can provide value to customers.
Sounds easy, right?
Not always.
I created a topic cluster for an accountant about tax advice, which was easy to choose because he told me that he wanted to specialize in tax in a face-to-face meeting.
However, picking a theme for Frase is proving a little more complicated.
If you're unsure how to choose a topic, there are 4 criteria you can use to determine the right topic.
Relevance
Do I choose AI, copywriting, content marketing, or SEO content as core topics?
Not too broad, not too narrow
You want to choose a topic that's not too broad; for example, AI would be too wide for us, and content briefs would be too narrow.
How do you determine if a topic is too broad or narrow?
Pop the keyword into Ahrefs keyword explorer.
Look at this list of keywords.
"AI" has 949701 keyword ideas
"Content brief" has 242 keyword ideas
"SEO content" has 5022 keyword ideas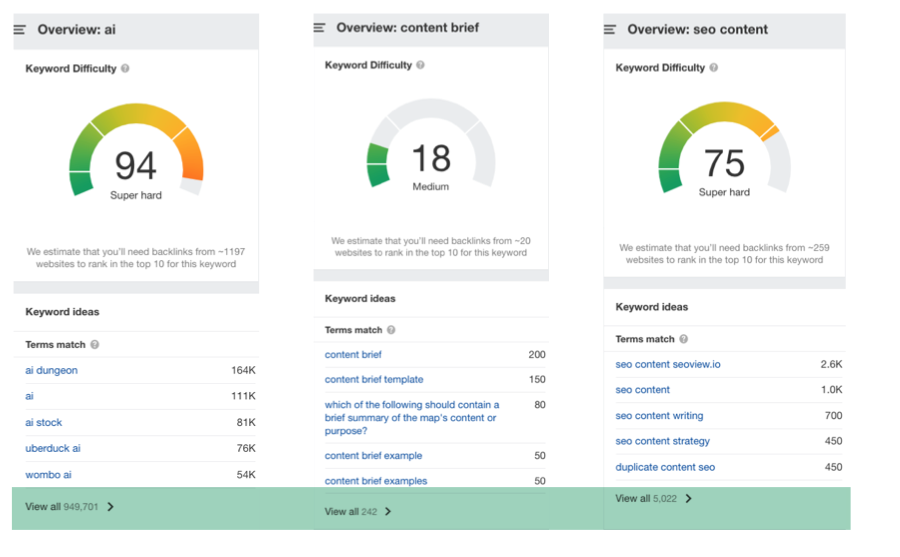 Search volume or traffic potential
The next criteria are to consider the search volume or traffic potential.
Click the view all link.
"SEO Content" has 5022 search queries and a monthly search volume of 24,000.
When you click parent topic, you'll get an idea of the number of cluster pages that you could include in your topic cluster.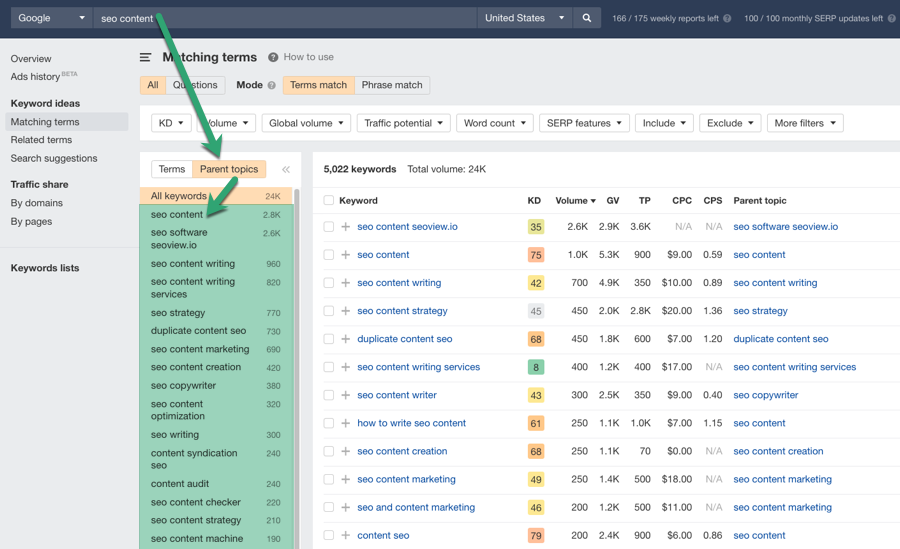 There are about 50 parent topics from which you would create cluster pages in this example.
Informational intent – the messy middle of the customer journey
The customer journey or buying process consists of 4 stages.
| | | |
| --- | --- | --- |
| Buying Decision Process Stage | Definition | Keywords contain |
| Problem Recognition | People search for a problem they recognize. | how, what, and, for, with, where, when, for, with, and, issue, fix, improve, increase, reduce, remove, lower, grow |
| Informational Search | They look for information from brands, products, and services that can solve that problem. | best, list, top, example, guide, learn, tutorial, video, calculator, best, top, bespoke, service, color, brand name, category name |
| Evaluation of alternatives | They narrow down and compare their preferred options or look for second opinions or reviews. | review, compare, comparison, vs., versus, alternative, similar |
| Purchase decision | Only doubt or peer pressure prevents a purchase. | Buy, nearest, cheap, dimensions, size, shop, store, discount, coupon, deal, sale, eBay, Amazon, offer |
The middle, informational search stage, as Google research shows, is very messy.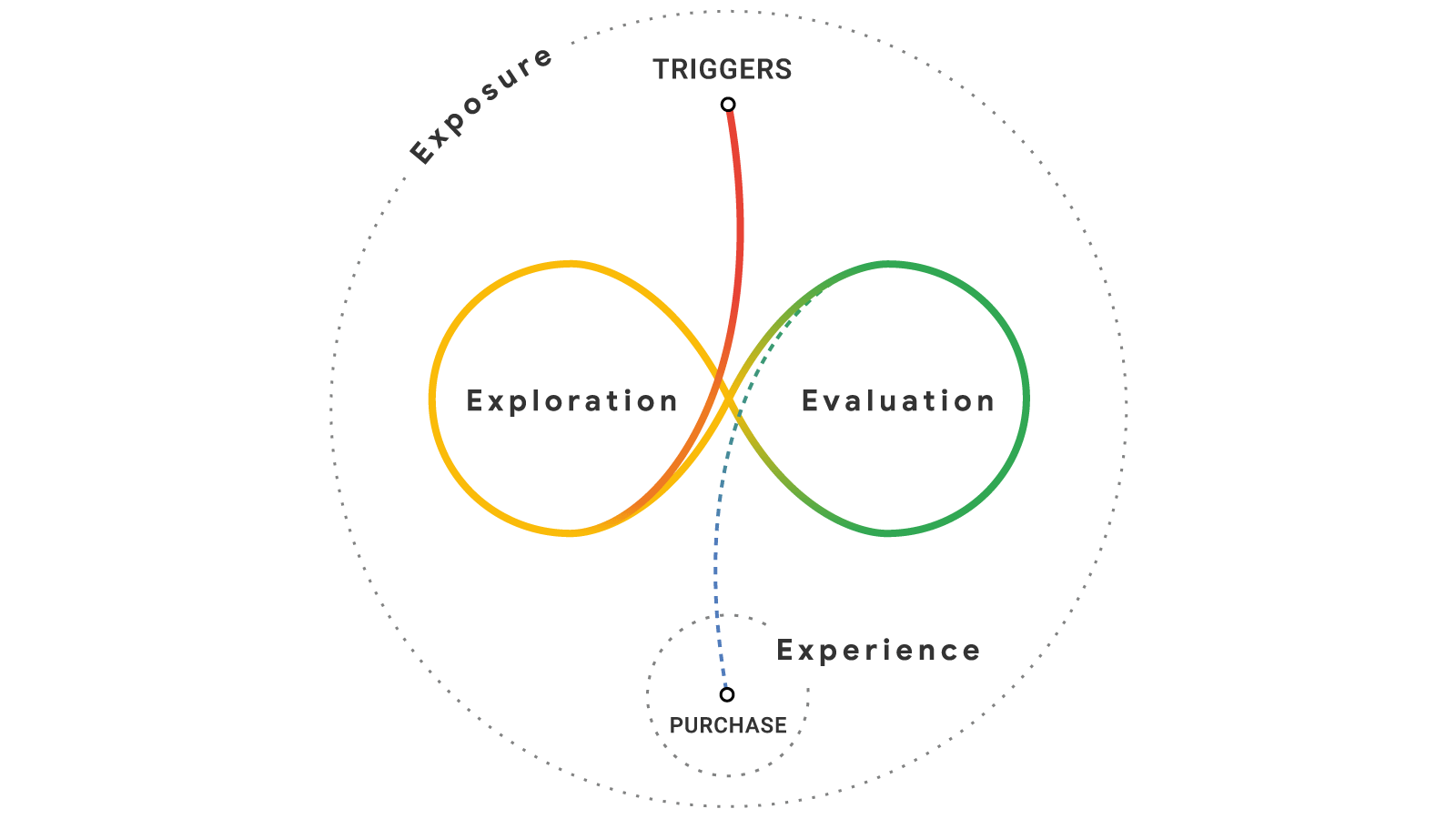 You should target your topic cluster at people in the informational intent (exploration and evaluation) stage of their buying journey.
Step 2: Keyword research
Keyword research can help choose relevant topics likely to generate organic search visitors.
Keyword tools to use
There are numerous keyword research tools, free and paid, that you can use for researching a topic cluster, but I'll focus on just two.
Ahrefs
I'll use Ahrefs in this example, but you can use Semrush or even Ubersuggest to do keyword research for a topic cluster.
Enter your seed keyword into keyword explorer.
Select matching terms.
Include -> Any word, e.g., copy/paste the keyword modifiers from the above table.
Exclude any competing brand names or terms.
Click Export (if you are using a basic plan, you can only export 1000 keywords at a time; so filter the keywords and export in batches.)
Frase Analytics
There's a new feature that we've just added to Frase Analytics that allows you to export all the keywords your website ranks for.
Select Analytics.
You can filter out branded or irrelevant keywords.
Download.
Import into Google Sheets
So that's a few data sources you can use; now, the next step.
Step 3: Map out the pillar page and topic cluster structure
The next step is to determine which keywords go to which pages using a keyword clustering tool.
It would be impossible to manually determine which keywords share the same SERP or intent and group them into clusters.
Frase Topic Planner
Use Frase Topic Planner to map out your pillar and cluster pages.
Select SEO Tools > Topic Planner
Enter a keyword in the search box
Choose a keyword from column 1
Select subtopics from column 2
Review sub-topics in column 3
Create Frase Documents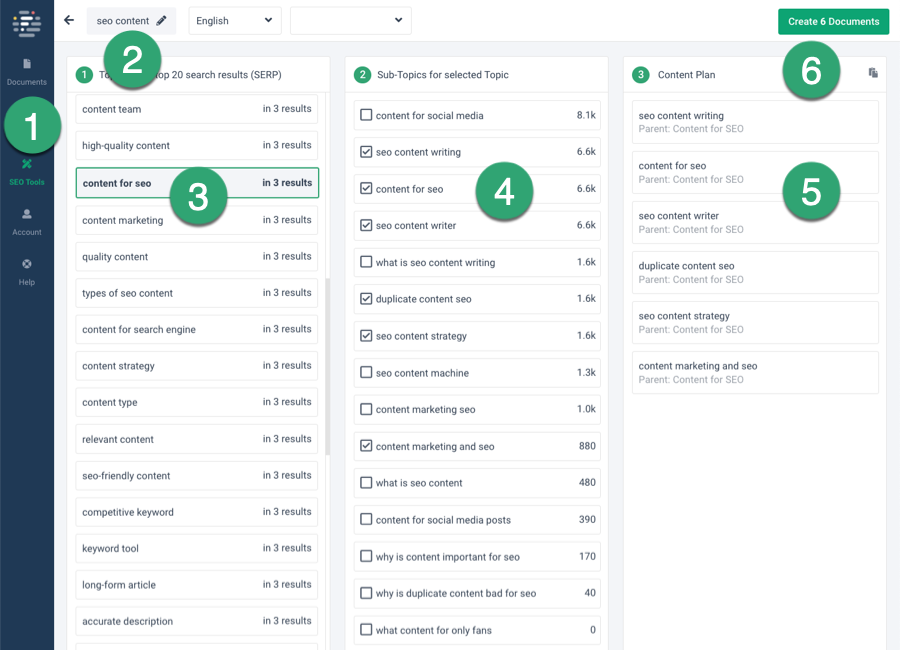 Ahrefs Parent Topic
If you used Ahrefs for keyword research, you could use the parent topic as the cluster pages.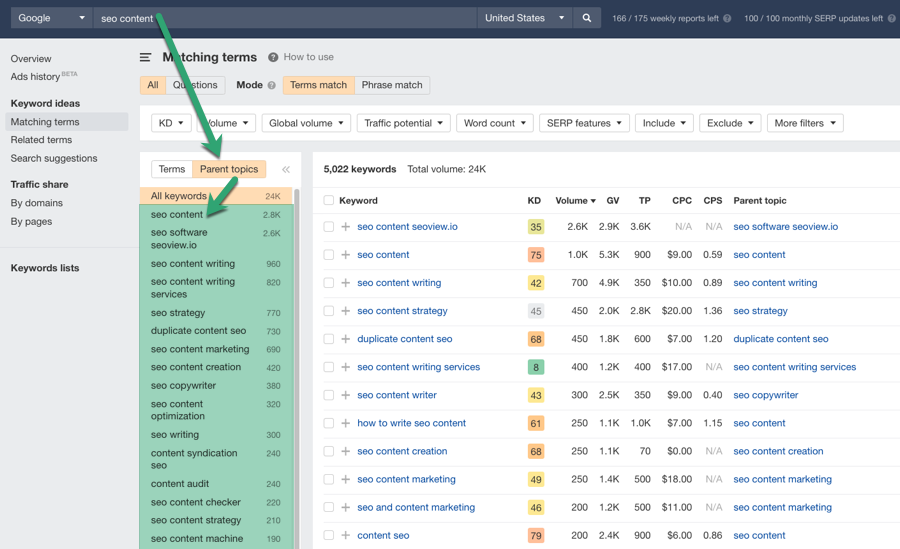 Keyword Insights
There are many keyword clustering tools, but in this example, we will use KeywordInsights.ai.
Upload your data.
View the spreadsheet after the analysis is complete.
Now you have a visual blueprint for everyone on your team, so they know in advance how the topic cluster will appear on your website.
Alternatively, use Frase to map out your topic cluster and pillar page.
Frase
Let's say that you provide personal tax services and decide "personal tax" is the core topic you want to focus on.
Select New Document.
Create New Content > Enter Target Query > Select your country under Advanced Settings > Create Document.
Select Let's Go to process the SERP analysis.
In the document window, click your cursor and press + > down arrow > Insert SERP Data > Topic Clusters.
These are the topic clusters you should create based on SERP analysis.
Step 4: Content project plan
A content project plan will help you manage the entire project, from selecting the pages, creating briefs, writing, and publishing content.
Use a tool such as Trello to manage this project's moving parts.
Content brief
Create your content briefs (with Frase, of course) to provide instructions to your content team or writers.
Content creation
There's usually more than one person involved in writing, producing, and publishing your content.
There are plenty of content writing resources such as our writer's directory, but you should use writers you trust to write industry or brand-specific copy.
Then you'll need design resources to create image assets for each cluster page.
Step 5: Publish content
As you publish each page in your topic cluster, make sure to optimize the page for SEO by including the keyword in the following:
Page Title
Navigation or breadcrumbs
Introduction
Headings
Sub-headings
Internal linking
Summary
Call to action to your important page(s)
Step 6: Group existing pages into a topic cluster
You might discover that some existing articles could be linked together to form a topic cluster.
For example, we have several articles about SEO content that we could link to from a pillar page about SEO content.
And finally.
Step 7: Measure
Finally, you need to measure whether your topic clusters are working for you or not.
You can check traffic and links inside Google Search Console or Ahrefs Webmaster Tools.
Google Search Console
Google Search Console is an excellent tool for measuring your organic performance, but you can also integrate it with Frase Analytics, and we'll provide you with an easier way to keep an eye on things.
Click Frase Analytics.
Monitor the monthly traffic trends.
Make sure the pages are initially ranked.
Check the opportunity filter to see if the pages are growing.
How about some examples of topic clusters?
Examples of topic clusters
Summary
If you've been struggling to grow your traffic, perhaps you lack authoritative content, and building topic clusters will help.
In this guide, you discovered seven easy-to-follow steps to help you build a topic cluster that can help improve your site's search engine rankings and authority.
Building a solid topic cluster isn't too difficult when you have the right resources and tools.
To get started creating topic clusters, log in or start a 7-day trial.