Create a topic cluster with Frase.io
In this article, you will learn the topic cluster approach and how to research, create and write SEO optimized pages for a topic cluster with Frase.io.
What is a topic cluster?
Pages within a topic cluster are related to one another.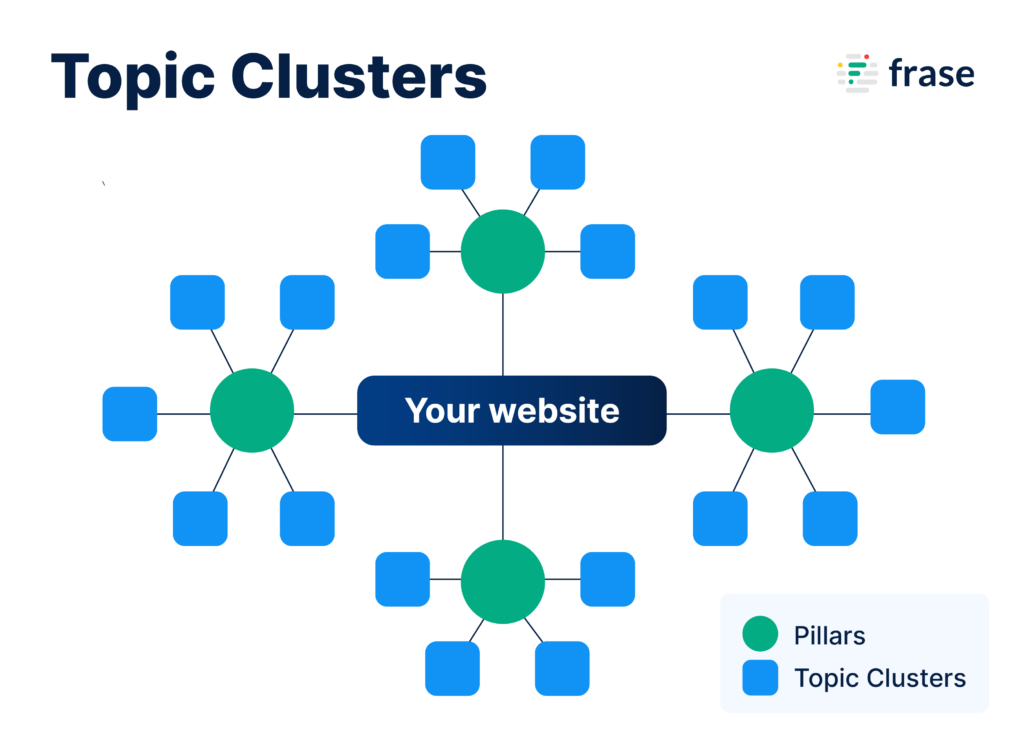 For example, you might have a topic cluster called "wine," which contains the following topics:
Wine basics
what is wine?
Styles of Win
Types of wine
Wine for beginners
…and so on.
Or you could have a topic cluster about wine regions, e.g.:
France
Argentina
Australia
Italy
Spain etc
You can also create topic clusters based on keywords or phrases.
Insert Topic Cluster Infographic
Benefits of a topic cluster
A topic cluster has 3 purposes.
Organization
If you sold different types of men's jeans, you'd put them all in the same section of your shop or website.
Topic clusters provide content structure for informational pages that make sense to readers and the website owner.
2. User Experience
Imagine you are a father, and your teenage son expresses a desire to work in the music industry.
You know nothing about this topic, so you Google "music careers."
You scroll through this broad topic and read about specific types of music jobs.
Managers
Promoters
Journalists
Producers
Event managers
Sound technicians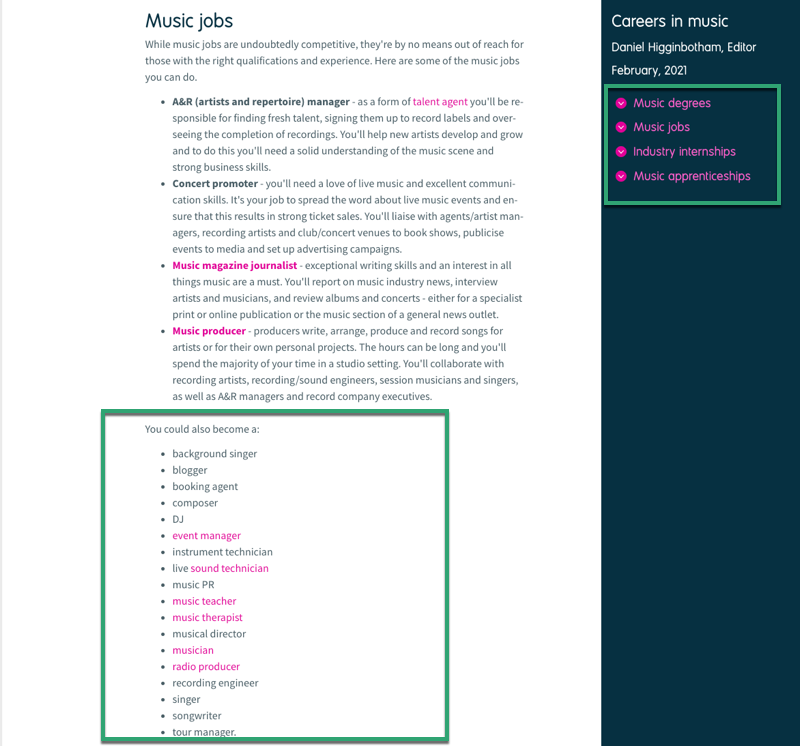 There are links to cluster pages about each job type and interviews with people in these positions.
The links to the cluster pages provide more detailed information on each job type.
As a concerned parent, you realize your child's career wish is not a pipe dream and more professional than you initially assumed.
3. Search Engine Optimization
A group of linked pages help bots crawl a website and better understand what topics are included.
Each page is aligned with the search intent of users.
Each page targets a precise set of keywords and drives particular traffic (or answers a specific user intent.)
The aim is to establish your pillar topic and content clusters as an industry authority.
Step 1: Pick your central topic
The first step is to determine your core topic.
Think about what you are known for or your main service or product, e.g., AI writing, copywriting, tax accounting, etc.
For example, "SEO" would be too broad; you'd be better with "e-commerce SEO" as a topic.
Use any keyword research tool to identify search volume and other keyword metrics, or use Frase Outline Builder.
Now, the next step.
Step 2: Use Frase to create a topic cluster
Let's say that you provide personal tax services and decide personal tax is the core topic you want to focus on.
Select Outline
Enter seed keyword and press return
Look at all related questions shown.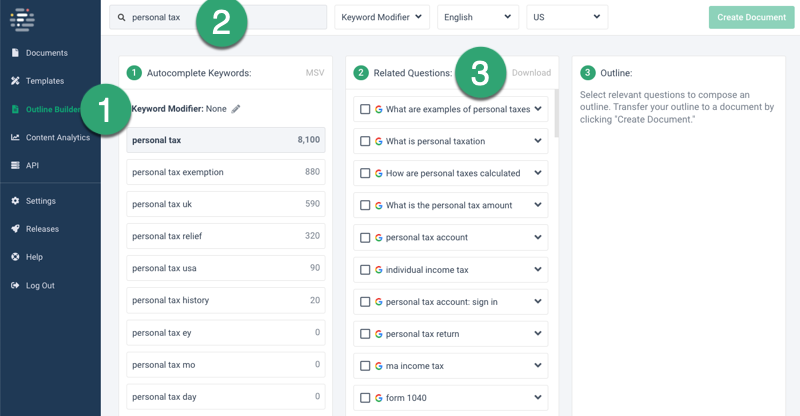 You could turn each question into a separate page or cluster.
Write down the relevant queries and the basic high-level questions using each keyword modifier.
If you have an existing website, identify relevant queries you already rank for using Content Analytics or Google Search Console.
Add each relevant keyword found to a spreadsheet to plan your cluster pages.
You could group your keywords by intent or map out chapters in terms of the complete customer journey.
Step 3: Write content
It's time to move on to the difficult part: content creation.
Content writing for topic clusters is like creating a typical blog post.
As you write in-depth quality content for each subtopic, make sure to optimize the page for SEO by including the keyword in the following:
Page Title
Introduction
Headings
Sub-headings
Summary
Call to action
Use and update existing content.
Creating brand new content for every page in your topic cluster isn't always necessary; use existing, relevant content.
Do a simple site search "site:yoursite.com + keyword" to see all the posts on your site on that topic.
These standalone pages may already be ranking well in the search results.
Use the content refresh strategy to improve the page content and rankings.
Step 4: Create a pillar page
Now create the pillar page as the framework for your topic cluster.
Pillar Page Title
Include the target keyword and words such as Definitive, Ultimate, or Comprehensive.
Pro Tip: use frase.io to identify the page titles your competitors are using.
Introduction
The pillar page introduction should include:
What the topic is and why it is important
How to keyword
Your expertise regarding the topic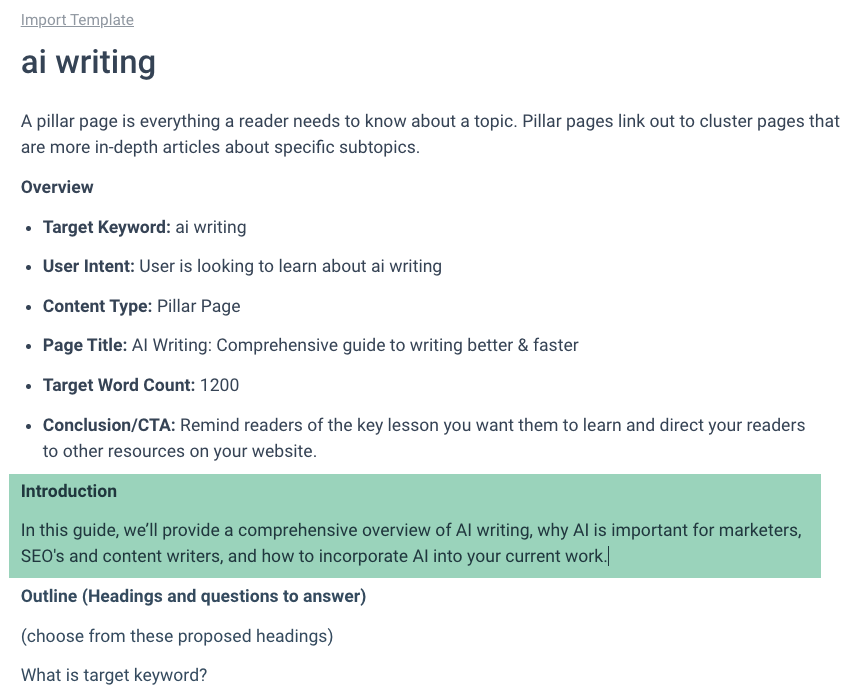 Frase tip: use frase.io AI template to write an introduction to your article.
Pillar Page Headings
Pro Tip: use frase.io to identify your competitors' headings or use these suggested headings for your pillar page.
What is [keyword], and why does it matter?
Background/History
Terms to know about
Pros and Cons
Examples
How to do a task
FAQs
Tips
Analysis/results
Resources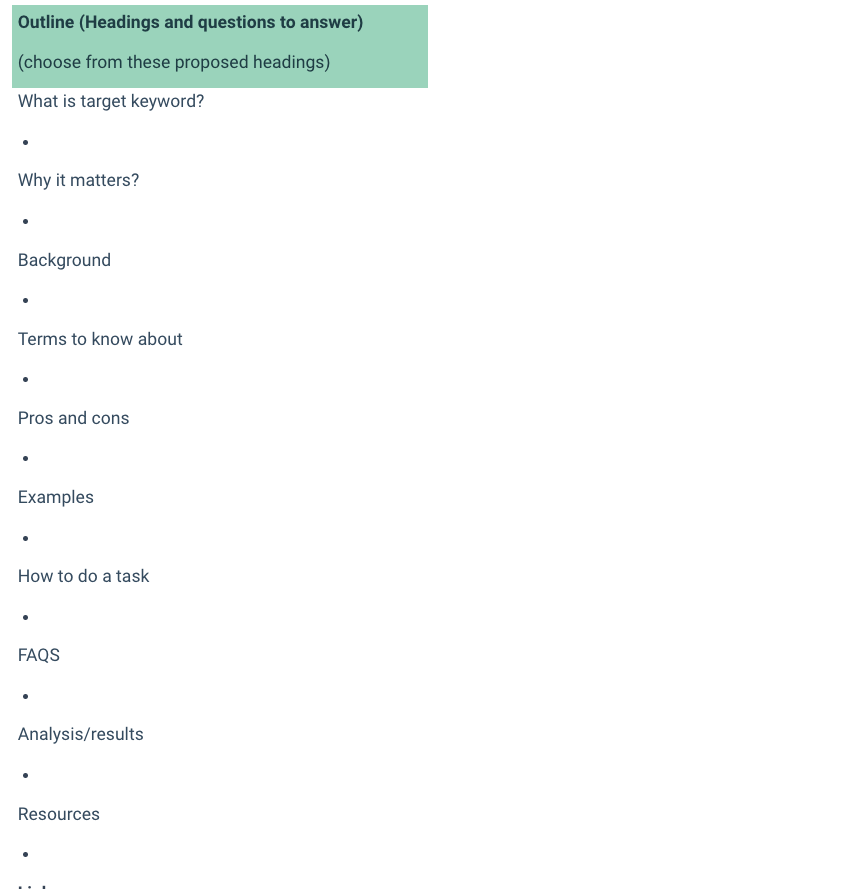 Conclusion and Call-to-Action
Make sure readers remember the main point you're trying to get across and direct their attention to the related clusters.
Frase tip: use a frase.io AI template to generate a conclusion.
Step 4: Connect clusters and pillar page
After publishing your pillar and cluster pages, the final thing to do is to create an internal linking structure to each piece of content.
If you're using WordPress, you might create a bespoke template, such as navigation links to each page or previous/next pagination at the foot of every page.
Or insert the Yoast breadcrumb feature, which will link each page back to the pillar page.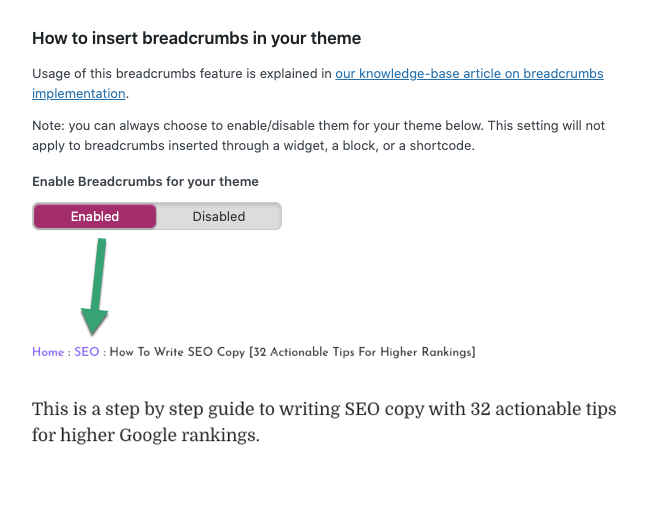 Those internal links now point back to the pillar page so that they can be found by Google's spider crawling through your site.
This gives your pillar page better SEO power.
Examples of topic clusters
Summary
A content-driven customer journey from awareness to conversion is the ultimate goal of a topic cluster model.
Get started creating topic clusters, log in to Frase or start a 7-day trial.