How to do a content refresh with Frase in 7 easy steps
Learn how to refresh content to better rank existing pages with these 7 easy steps.
We've included a link to the content refresh template.
What is a content refresh?
A content refresh is an easy way to update your existing content, ensuring that your new content gets a boost in search rankings and organic search traffic.
It can be as simple as updating one or two sentences on your website, but it can also mean rewriting an entire blog post.
Furthermore, you can use this content strategy to create fresher content regularly for any page of your site.
Why does content decay?
Competition
Over the last decade, content marketing's popularity has increased exponentially.
Companies of all sizes recognize that blogging and content creation can grow their organic traffic.
As more companies create more content, competition for keywords becomes even more challenging. And it's only going to become more demanding.
Freshness factor
Google considers freshness when determining which results appear at the top of its list for some searches. It expects to find out recent news updates and changes quickly.
A drop in interest
Some topics fall out of favor.
Look how Photoshop is slowly declining while its competitor, Canva, grows strongly.
A content update may be necessary if your content has been affected by an increase in competitors' websites or Google's freshness algorithm.
It may be harder to fix if your content decay is due to a lack of interest, but still possible.
Why refresh content right now?
I capitalized on a seasonal trend and increased traffic nearly 3 fold, a 265% increase.

Another example, in the UK, tax returns must be done by the end of January.
By refreshing content, your company can leverage greater demand and better rankings and clicks for January in December.
Why spend time refreshing old content?
Let's take a closer look at the benefits:
1. Improves your rankings
If you're struggling to rank higher in the search engines, you may not realize how important content is.
Google will eventually show other pages in the top results if you don't regularly update content.
This can lead to lost traffic and lower rankings.
2. Query Deserves Freshness
Google uses QDF (Query Deserves Freshness) to identify queries where users see new or the latest content.
For example, in January 2022, Google will favor an article about fashion trends for 2022 over an article about trends for 2021.
3. Improve your click-through rates
The organic click-through rate is the number of clicks divided by search impressions for a query.
Click-through rates are based on ranking position and influenced by a result's title tag, description, URL, and any rich snippets displayed.
The higher your click-through rate (CTR), the better.
For example, Hubspot revealed that adding brackets in headlines increased clicks by 40%.
4. It's cheaper and takes less time
But when it comes to updating old content, you already know the topic; you need to enhance what you've already written.
It takes, on average, 4 hours to write a new piece of content.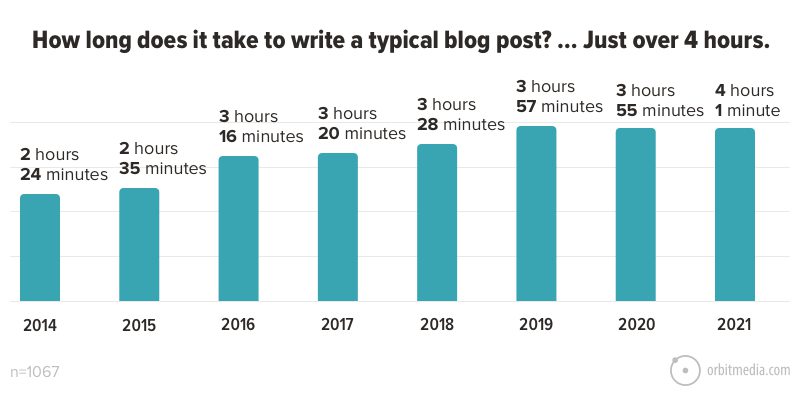 Content refreshing takes less time than writing a new content piece since you've already written most of the copy, saving time and money.
5. It helps build trust
If your pages are up-to-date with relevant information, you could be considered a trusted resource.
Is a page dated September 2016 still relevant in 2022?
Laws and regulations change in many industries, and companies should communicate the most up-to-date information to readers and clients.
Step 1: Identify SERP Performance
If there's been a decline in organic traffic in consecutive months, then you'll want to look into why that happened.
Because content decays slowly, it may take some time before you notice its effects.
To find decaying content, spend some time in Google Analytics or Google Search Console.
Go to the Google Search Console Performance Report
Look at the Page URL, Impressions, Positions, and Clicks.
Compare the last 28 days, last 3 months, or with this time last year.
Is your organic traffic up or down?
Look at specific pages.
Are they up or down?
If there's a page that's traffic has declined over this time period, you have content decay.
Step 2: How to choose which page to update
Search Console is a great tool, but Content Analytics from Frase makes it easy to analyze your pages and rankings and detect signs of decay.
We have created 4 page types.
Top Results
Quick Wins
Ranked
Decay
Opportunity
Unranked.
Let me explain each page type.
| | |
| --- | --- |
| Page Type | Definition |
| Top results | These are your pages with queries in positions 1-10 that haven't experienced any loss in rankings. |
| Quick Wins | Quick wins are pages have achieved a 1-10 position within 30 days of publishing. |
| Ranked | Ranked pages are generating clicks but don't have a leading average position. |
| Decay | Decaying pages or pages with declines in traffic are marked in pink have lost more than two positions, and clicks have decreased in the past 30 days. Decaying pages are alarming and a good signal that it's time to improve your page content. |
| Opportunity pages | Opportunity pages have queries in positions 10-50, and impressions are growing fast. |
| Unranked pages | Unranked pages are not generating any clicks and are in weak positions. |
So which page do you choose to refresh?
The most obvious pages to refresh are decaying pages.
But your business may have other content marketing goals and priorities.
You might decide to refresh a service page that has dropped off page 1.
Or focus on a particular brand or product category that you sell or make you the best margins.
Select Pages
Select a Page Type
Identify a page
Click + to create a Frase Doc
I identified this ranked page called SEO Quick Wins.
Select a query or 2 similar queries
Create Doc
Step 3: Create a document
When you click the link in the row of the query, Frase will create a new document for you.
You are returned to the queries view, now press the document link.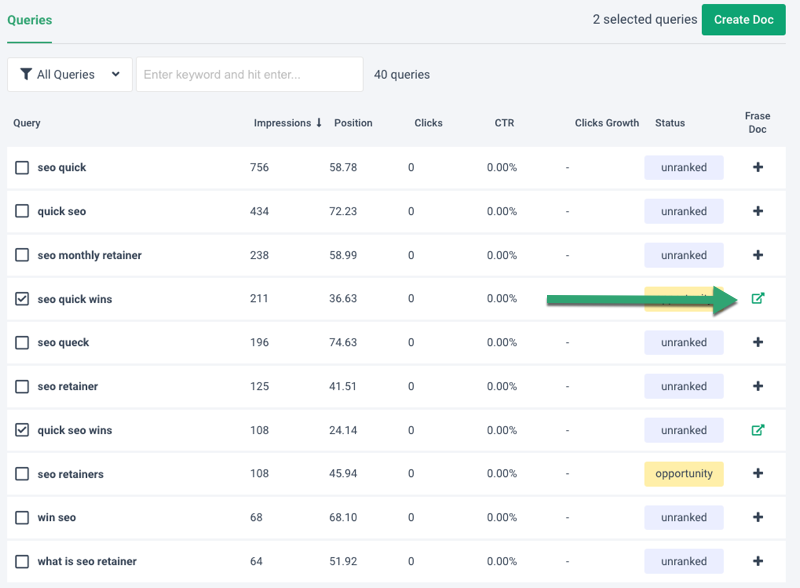 Frase asks you to check the document and confirm the import of the page into the document editor.
Frase Panel Overview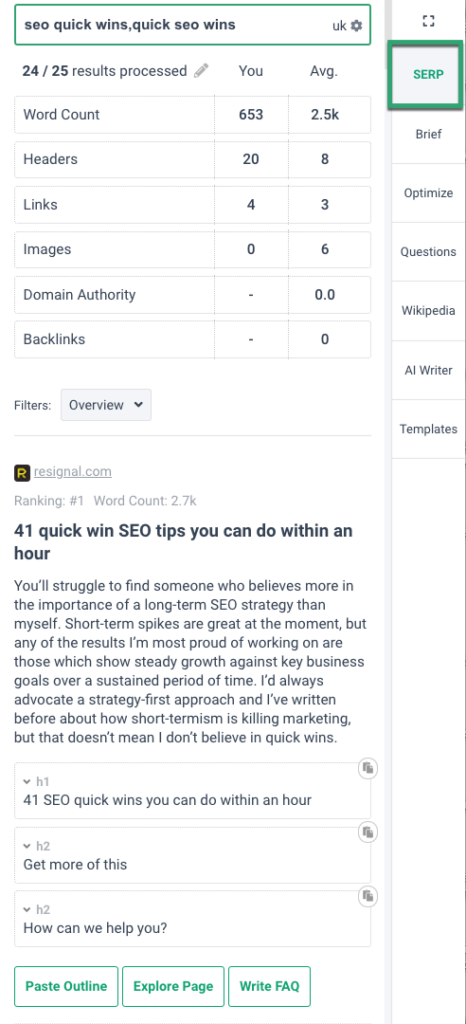 Frase's panel on the right side comprises 7 core tabs.
The only tabs we need for this step are the SERP and Optimize tabs.
SERP tab
With the help of our proprietary algorithm, Frase analyzes the top pages on Google related to your keyword.
It also returns each of the top results, including an outline for each.
Frase takes any search query that you want to rank for and, in seconds, analyzes the top 20 Google results for that query.
Optimize tab
Frase scans the top 20 search results for your query (or change to the top 10 results) and automatically extracts their key topics.
Click the pencil icon next to "results processed."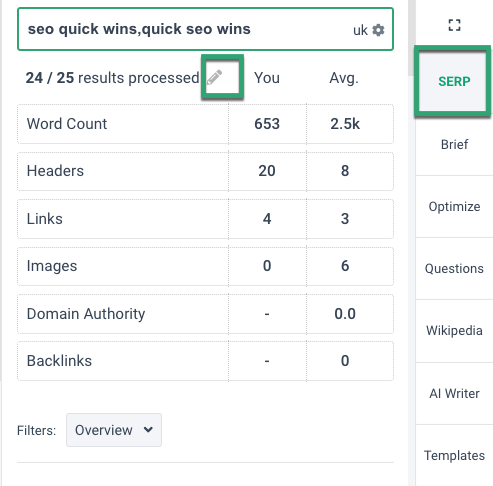 Select Top 10 and Save.
Now click the Optimize tab.
Compare your Topic Score with the average competitor topic score.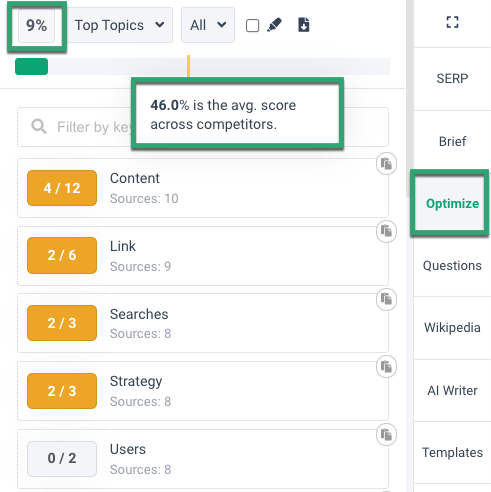 With such a low topic score compared to competitors, there's obviously something wrong with this content.
Either the topics isn't covered in enough depth or the wrong intent has been addressed.
Let's check to see if intent has been addressed.
From the Top Topics dropdown, select SERP Scores.
Read the page titles to provide clues about the types of content ranking on page 1.
In this example, notice that all the pages have numbers in the titles.
In the document editor, notice the page doesn't include any numbers but mentions "no monthly retainer"; suggesting this page is a service or sales page.
This suggests that a "list post" is the type of content users want.
List posts contain a numbered list of recommended resources, products, services, and tips for readers.
Compare these top results with the content format of your page.
In this example, it appears I have created a "service" page offering a service.
The page has addressed the wrong intent.
Google is unlikely to rank a service page offering service when users want a list of tips and tactics.
When you've addressed the wrong intent, you'll need to rewrite your entire page content from scratch.
Click the + button and type Content Refresh to create a new document to begin rewriting the content.
Step 5: Content brief
In the previous step, I highlighted that the page I analyzed addressed the wrong search intent and needed to be rewritten as a list post.
From the Content Brief tab, select Import Template.
Select the List Post template
Press Use This Template.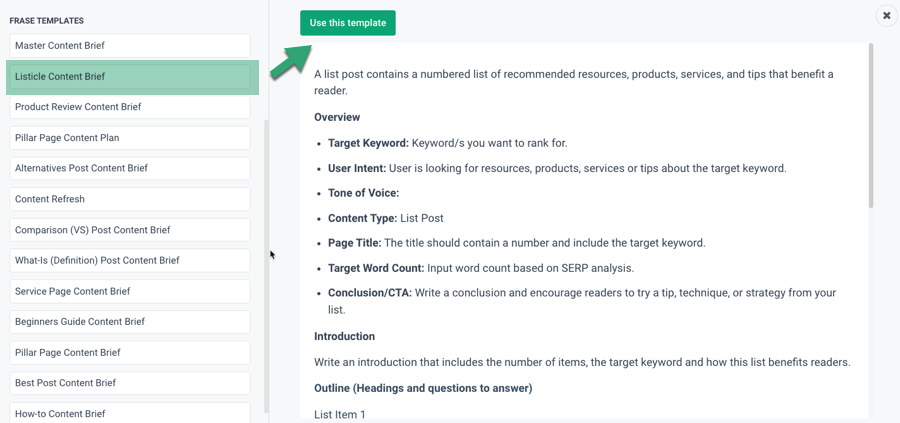 You now have a framework for briefing a writer (or yourself if you intend to write the copy).
Fill in the greyed-out fields in the overview, introduction, outline, and other brief sections.
Then click the Content Rewrite or Content Refresh tab you created.
Select the Brief tab over on the right panel.
Click the Share button, click the icon to the right of Share Full Document and send it to your writer.
Step 6: Identify Topic Gaps
But let's say the intent is correct; a different investigation is required.
This page is classified as ranked.
Impressions are growing, but most queries are in positions 1- to 50.

Click the URL to view the queries the page ranks for.
Sort impression in descending order.
Limited Company Tax has 435 impressions; the average global position is 37.46 but no clicks.
When I manually searched Google, the page was on the 3rd page of Google.
To analyze the page for this query against the top results, tick the box next to query and the + sign at the end of the row.
Create Doc.
Review the workflow and press Save and continue.
Now click the Frase Doc link.
Review the copy and press Confirm Import.
How to identify topic gaps
Click the SERP tab then the pencil icon next to "results processed."
Select the top 10 link and Save.
Now click the Optimize tab.
Compare your Topic Score with the average competitor topic score.
In this example, the page scored 32% versus an average of 42.9%.
Review Page Titles to identify an Intent Gap
From the Top Topics dropdown, select SERP Scores.
All the page titles are similar.
So the intent seems to have been addressed.
Manually read the page.
Read through the page and see if it's still as relevant today as it was when it was published.
For example, this page mentions 2019 and 2020; is the page providing the most up-to-date financial and tax information?
Word Count Gap
From the SERP tab, Frase will compare the document's word count with the average word count of the top results.
While word count is not a ranking factor, if there's a significant difference, perhaps the page you are reviewing has content gaps.
Other Metrics
You can use other metrics to review, for example, Domain Authority using our SEO Add-on.
Domain Authority is a 3rd party metric that rates websites on a score of 1 to 100 based on the quality and quantity of their backlinks.
In this example, the analyzed page is competing with more authoritative websites.
Header Gaps
Select Headers –> Top Gap from the Optimize tab
Several headings appear on the top pages that this page does not have in this example.
If you hover over 0/1 from the first heading gap, you'll see the prompt about headers.
Some other headers are missing.
Add some of these headings to your page to boost your topic score.
Long-Tail Gap
From the Optimize tab, select Long Tail –> Topic Gap
You will see a long list of phrases that do not feature on the analyzed page.
Cover the topic in more depth by adding the recommended long-tail keywords to your content.
Question Gap
The following steps help identify any questions the page has failed to answer.
Use the Questions to identify any missing questions.
Or select SERP –> Headings.
For example, this top page has a heading title "What is corporation tax in the UK?
The reviewed page has the heading "Introduction to limited company tax."
As part of the content refresh process, simply reword this heading.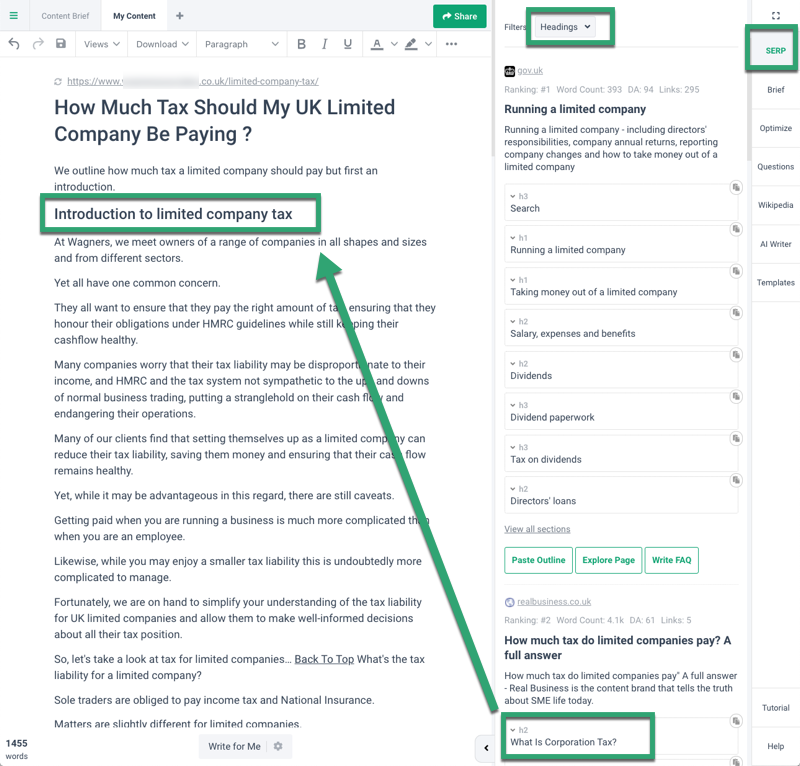 Step 7: Refreshing content (checklist)
Remember, the aim is to better answer the search query in your page content.
We can do this by communicating expertise in your page content and using the Frase Topic Score as a benchmark for tracking the improvements.
Content Refresh Checklist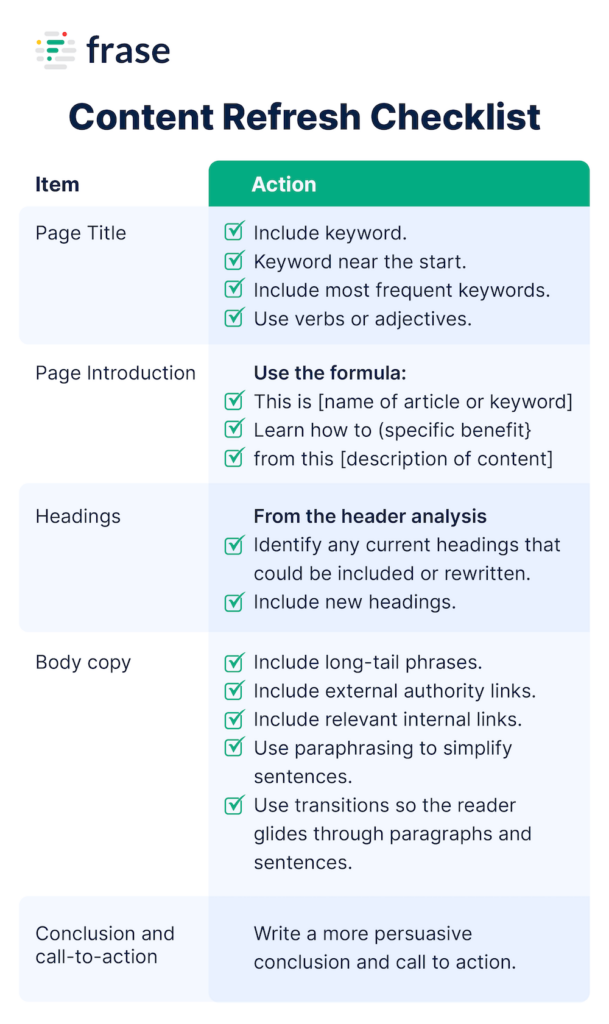 Developing a Content Refresh Habit
In summary, these are some key takeaways:
A content refresh is a way to ensure that your current content stays fresh and up-to-date without having to create entirely new pieces of content.
Create fresh content regularly for any pages of your site using the Content Refresh Strategy.
Get started today with the content refresh template.