Create a Pillar Page in 7 steps with Frase
Create a pillar page as the foundational page for your topical pages or topic cluster. Learn from examples and use our template.
What is a pillar page?
Say you are a company like Frase.io, and you want to dominate the online market for "AI Writing," you would create a pillar page around this broad topic.
So we would write a pillar page about AI Writing and then create several pieces of cluster content focused on narrower or more specific aspects of AI Writing.
A pillar page is usually the main landing page for a cluster.
It introduces the main idea and then goes into detail using internal links to related topics.
Pillar pages can be longer than blog posts because they cover all the aspects of the topic you're trying to rank for, but they aren't as in-depth.
A pillar page provides answers to questions but leaves space for additional content to be added later.
That's why we use clusters.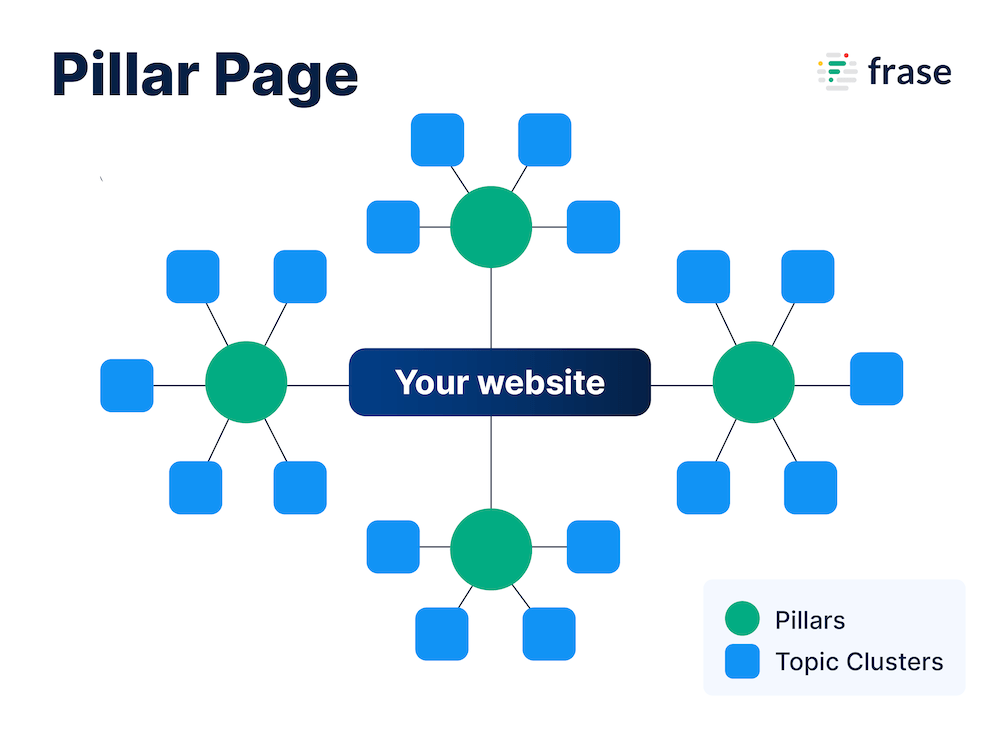 What is a topic cluster?
Topic clusters, also known as content clusters, are the hidden gem behind pillar pages.
A cluster is a group of related posts that directly relate to one another.
Each of these posts tackles one aspect of the topic at hand.
They're meant to be read after reading the pillar.
Pillar page length and word count?
Pillar pages are usually much longer than your typical blog post.
Budget for writing 2000 words or more.
What's important is that your pillar page comprehensively covers the topic.
Pillars won't work without content. You need both pillars and cluster pages to get results.
Like a bike's wheels, pillar pages rely upon clusters of linked pages.
The benefits of pillar pages and cluster pages
A well-organized pillar and cluster pages structure helps visitors find what they're looking for quickly and easily. It drives up engagement.
Longer sessions: Since the pillars are linked together, they keep people on the site for longer periods and page views.
You can provide better signals to search engines by organizing content into groups called pillars and clusters.
A comprehensive pillar page is an excellent way to provide valuable information for visitors and Google's algorithm.
Let's get started creating a pillar page.
Step 1: Decide your core topics.
To begin creating a pillar page, the first step is to determine which topic you want to rank for.
Think about broad pillar page topics, e.g., AI Writing, copywriting, tax accounting, etc.
For example, "SEO" would be too broad; you'd be better with "e-commerce SEO" as a topic.
How to choose a topic for a pillar page
The first step in creating your pillar page is deciding which core topics you want to cover.
You need something relevant to your business and product/service.
Frase Tip
Go to Outline Builder
Enter a target keyword, e.g., AI, wine, tax etc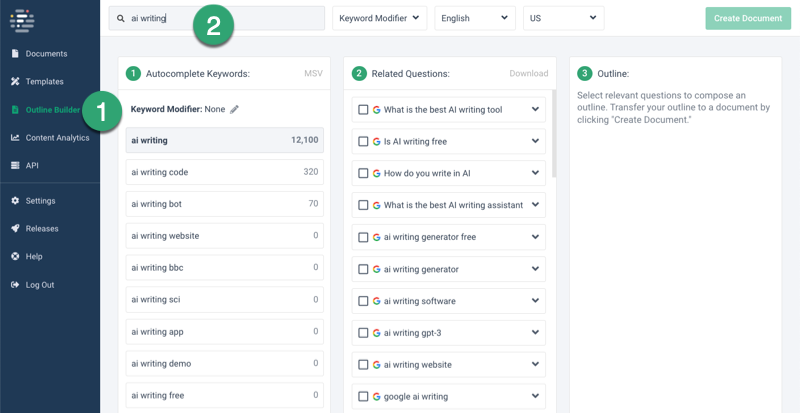 Your chosen topic should be both evergreen and broad but avoid being too general.
Choose a topic that you can break down into several supporting subtopics.
Use the 6 honest serving men from the Outline Builder drop-down, i.e., who, what where, why, when, how.
Write down the relevant queries and questions using each keyword modifier.
Can you answer every question the reader has who searched the topic?
As a rule of thumb:
If you want to rank well for a long-tail key­word, then don't create a pillar page.
Planning to explain a specific subject in detail? It isn't a pillar page.
If you want to write about the main points of a broad subject, then it's likely a pillar page.
If Outline Builder isn't answering every question, then use Content Analytics to determine which ones you might be ranking well for already.
Now, the next step.
Step 2: Create a new document
Frase helps you research, write and improve high-quality content in a fraction of the time.
From the Document menue, select new document.
Enter your target search query, choose advanced option and Create Document.
Import the "pillar page" template
Click Import Template.

Select the "pillar page" template.
Select "Use template."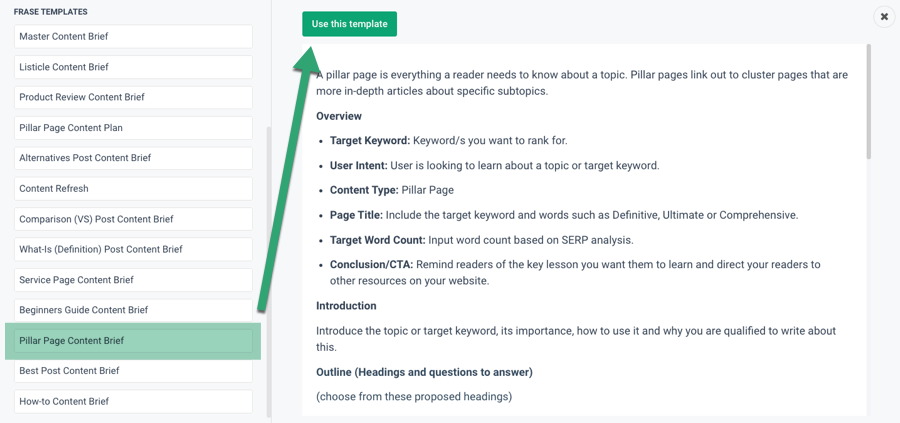 Fill in the content brief fields.
Edit the content brief fields and add further information.
Step 3: Write the page title
Includes your primary keyword and Ultimate, Definitive, or Comprehensive phrases in the page title.
That's the title formula; now to write the introduction to your pillar page.
Step 4: Write a compelling introduction.
The introduction to a pillar page should include:
An explanation of what keyword is
Why keyword is important
How to keyword
Why you are qualified to write about keyword
What you will be covering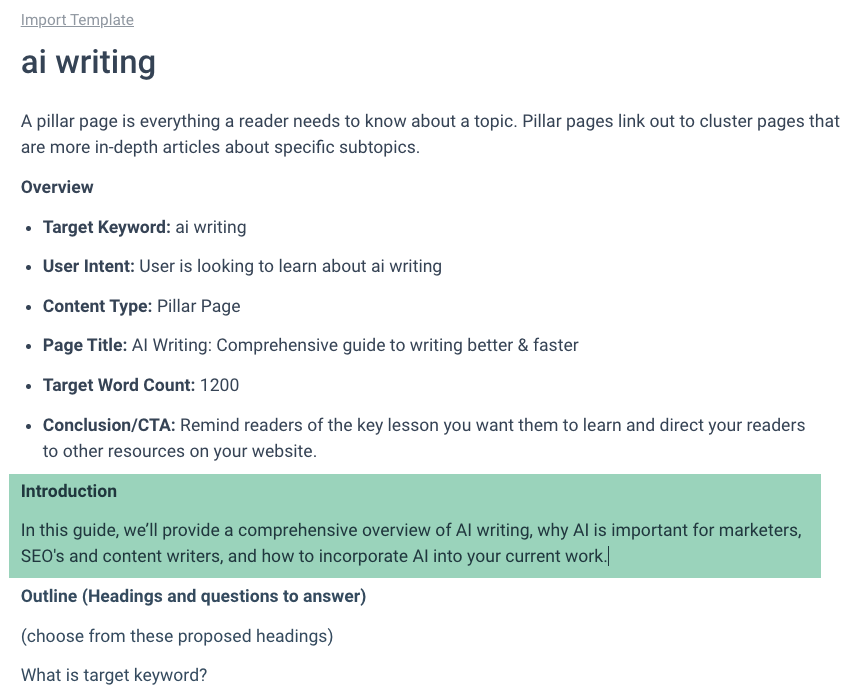 Step 5: Pillar page outline and headings
Choose from the following sections to outline the types of content in your pillar page, using H2 tags to format the primary headers and H3 tags for the secondary headers.
What is [keyword], and why does it matter?
Background/History of [keyword]
Terms to know about [keyword]
Pros and Cons of [keyword]
Examples of [keyword]
How to do a task with [keyword]
Tips about [keyword]
Analysis or results of [keyword]
Resources for [keyword]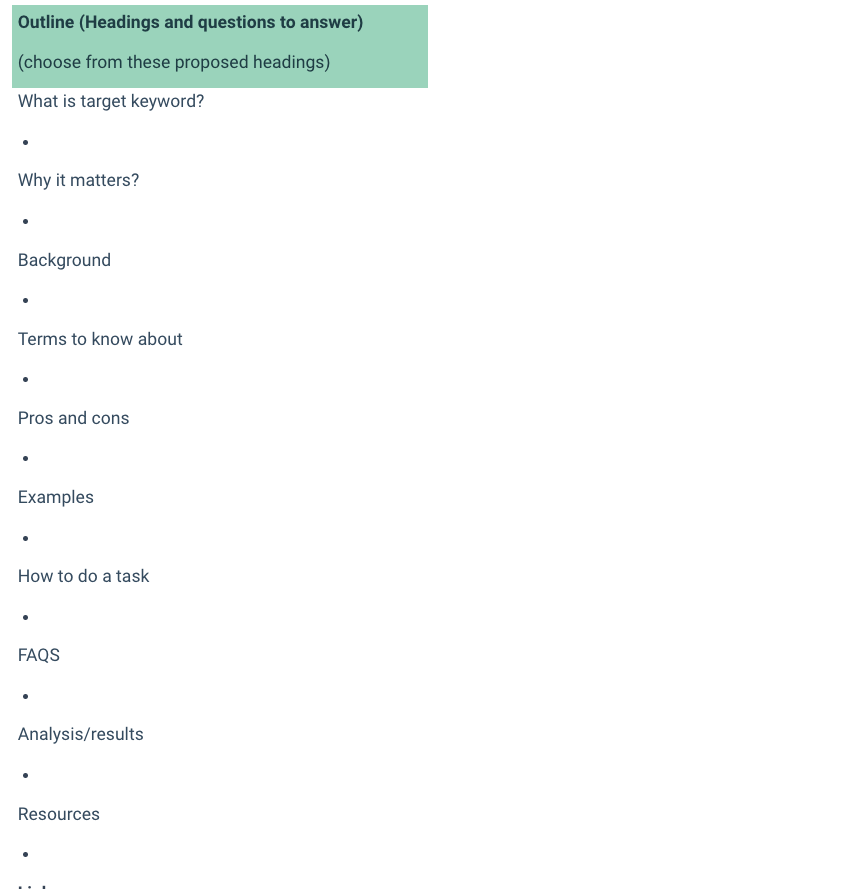 What is [keyword], and what does it matter?
An essential part of pillar page content is to define your topic at the beginning.
To explain something, you need first to be able to describe its importance.
You may wish to clear up any myths, misconceptions, or doubts readers have about the topic.
Frase tip
Use the Frase AI Introduction template to generate a definition of what your topic is.
Select / on your keyword, select Definition, type "what is" followed by your topic, and run the template.
Background/History of keyword
You may wish to explain the history behind the topic and why it was developed.
Provide some industry statistics and create link-friendly graphics that other readers can share and link to.
For example, we would link to our article on the "godfather of AI."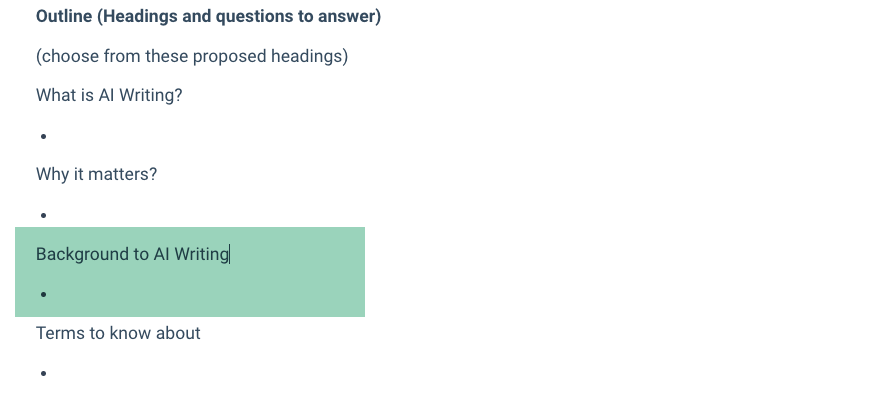 Terms to know about [keyword]
Explain some basic definitions for readers who may not know what these words or terms are.
Pros and Cons of [keyword]
Include both positive and negative aspects of your topic, so people know where they stand before reading any further.
Frase tip
Select / on your keyword, select "Pros and Cons," type your topic and run the template.
Examples of [keyword]
Proof points can be helpful to readers by providing additional evidence supporting an argument.
Let us say that we are talking about the topic of AI Writing.
We could provide 4 or 5 examples of content written with AI or a quick video demonstrating AI writing in action.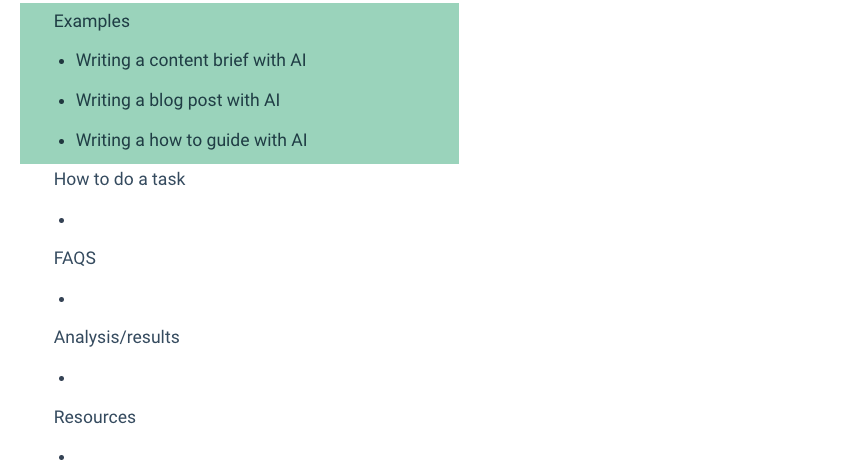 How to do a task with [keyword]
You may want to include a list of steps for "how to" questions you identified in your research.
Provide clear, precise, and correct when providing instructions for others.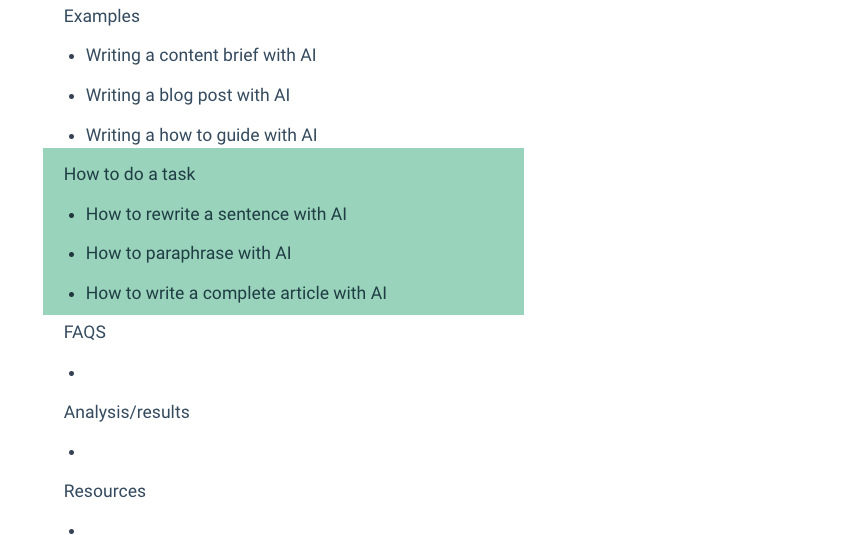 For example, we could show readers how to rewrite a paragraph using AI and outline the steps, e.g.:
Paste paragraph with up to up to 400 words
Frase AI will perform some magic to rewrite your paragraph
Your new paragraph re-written by Frase AI
See how clear, concise, and accurate the steps and instructions are.
FAQs
Personally speaking, this section is the easiest to identify and create.
Use the common questions you identified from your research.
We identified the questions using Frase Outline Builder and Content Analytics relating to our topic; AI Writing.
You need only write a few paragraphs about each question, but you should also link to a more detailed page answering the question.
Tips about [keyword]
Some readers may find certain concepts challenging to grasp when they first encounter them.
It's essential to approach any new idea by breaking it down into smaller pieces or best practices.
For example, background context was an AI term mentioned earlier.
A simple tip about background context would be "write a few lines to help Frase AI better understand your topic."
Analysis or results of [keyword]
If you're discussing business topics, provide an outline of how and why to evaluate your content and distinguish between good and bad in its outcomes.
Resources for [keyword]
Those new to the pillar page topic might find more helpful information.
We would link to our knowledge base or external links such as our Facebook Page, YouTube channel, and other resources.
Step 7: Write a summary and call to action
Remind people of the main point they need to remember from your post and link to relevant content elsewhere on your site.
Frase tip
Write "In conclusion" or "In summary"
Press Write For Me
If your guide is part of a series, you may want to introduce the next step.
Finally, include a call to action or relevant links to other pages or resources.
Share a brief with a writer.
Click the "Share" button.
Select either the "Share Content Brief" or "Share Full Document" option; the latter allows your writer to use all the features of the Frase.io editor.
Now you or your writer is ready to start writing your content.
Go to My Content.
Click the Brief tab.
This allows the writer to have the editing window and the content brief in view, side by side.
Get started
To use this template, log in to Frase or start a 7-day trial.