SEO Keyword Strategy. A guide to success.
If you want to get found by potential customers from the organic search results, you need an SEO keyword strategy.
Whether you're an affiliate business, e-commerce business, professional services business, or SAAS, you can use this guide to develop the right SEO keyword strategy.
What is an SEO keyword strategy?
An SEO keyword strategy is a long-term plan to generate organic search engine traffic from relevant keywords to achieve a specific goal, e.g., increase organic traffic by 50% within six months or become the number 1 brand in your niche.
Why is a keyword strategy important?
A keyword research strategy is essential for several reasons:
It helps you identify your target audience and determine the most relevant and realistic keywords for your business, product, or service.
Determines which tactics and budget are required.
According to BrightEdge, organic search remains the dominant source of trackable web traffic, greater than paid, organic social, or display traffic.
Supports the business's lead generation, inquiry, sales, and revenue targets.
Step 1: Your goal
The main ingredient of a keyword strategy is a goal; you're in business to make money (by exchanging service or product value).
I've created a revenue goal in each example below and worked it back to the estimated monthly traffic you need.
Generating leads or revenues online is directly related to these 4 metrics: audience, traffic, order value, and conversion rate.
Affiliate business goal
You use your website content and traffic to promote other people's products and services in exchange for a sales commission.
| | |
| --- | --- |
| Business Model | Affiliate |
| Goal | $10,000 per month |
| Average Order Value | $100 |
| Sales | 100 |
| Traffic Conversion | 2% |
| Traffic required | 5,000 |
Service business goal
For example, you are a property developer who does property conversions and renovations and aim to generate sales leads for your services.
| | |
| --- | --- |
| Business Model | Service business |
| Goal | $40,000 per month |
| Average Order Value | $10,000 |
| Sales | 4 |
| Lead Conversion | 10% |
| Leads | 40 |
| Traffic conversion | 2% |
| Traffic required | 2,000 |
or you install electric garage doors.
| | |
| --- | --- |
| Business Model | Service business |
| Goal | $20,000 per month |
| Average Order Value | $4,000 |
| Sales | 5 |
| Lead Conversion | 10% |
| Leads | 50 |
| Traffic conversion | 2% |
| Traffic required | 2,500 |
E-commerce business
Let's say you sell vehicle accessories.
| | |
| --- | --- |
| Business Model | E-commerce |
| Goal | $20,000 per month |
| Average Order Value | $250 |
| Sales | 80 |
| Traffic Conversion | 1% |
| Traffic required | 8,000 |
Amazon affiliate site
Andrew at Digitalworth.com uses this formula to plan for an affiliate website.
| | |
| --- | --- |
| Business Model | Amazon affiliate |
| Revenue per visitor | $0.10 |
| Visitors | 50,000 |
| Revenue | $5,000 |
Let's jump to step two.
Step 2: Don't start with keywords; start with your audience
You forecasted the traffic you needed to meet your goal in the last step.
Don't start with keywords; first, you need to determine that there is an audience for what you have to offer and at what stage they are at in the buying process.
Buying Decision Process
The buying process problem is the easiest model to use when planning a keyword strategy, and it looks like this.
| | | |
| --- | --- | --- |
| Buying Decision Process Stage | Definition | Keywords contain |
| Problem Recognition | People search for a problem they recognize. | how, what, and, for, with, where, when, for, with, and, issue, fix, improve, increase, reduce, remove, lower, grow |
| Information Search | They look for information from brands, products, and services that can solve that problem. | best, list, top, example, guide, learn, tutorial, video, calculator, best, top, bespoke, service, color, brand name, category name |
| Evaluation of alternatives | They narrow down and compare their preferred options or look for second opinions or reviews. | review, compare, comparison, vs., versus, alternative, similar |
| Purchase decision | Only doubt or peer pressure prevents a purchase. | Buy, nearest, cheap, dimensions, size, shop, store, discount, coupon, deal, sale, eBay, Amazon, offer |
Using the table above, we can map specific search queries to each stage in the buying process; it's not perfect but acts as a solid framework for keyword strategy.
Look at this e-commerce website selling accessories for cars.
The traffic to their top pages is product and category keywords at the informational search stage.
There are no top "how-to" or "review" keywords or pages.
Their business model is to sell their products, so they use relevant keywords to earn relevant traffic to support their business goals.
Step 3: Invest in paid-for keyword research tools
You can now begin researching your audience, products, and services in more depth.
Those serious about their strategy use paid keyword research tools; the 4 tools I recommend are Sparktoro, SimilarWeb, Ubersuggest, and Ahrefs.
I'll use the business model examples from step one to demonstrate how to build a keyword strategy for SEO.
Let's say you know absolutely nothing about electric garage doors.
Go to Sparktoro
Type "garage doors" into the search box and press search.
Sparktoro will return insight into what this audience talks about, follows, and visits.
Look for relevant websites under social accounts and websites they visit.
Copy those websites into a text file or Google Doc.
SimilarWeb
Go to SimilarWeb.com and paste one of the websites into the search box.
This one has total visits of 337,800 per month.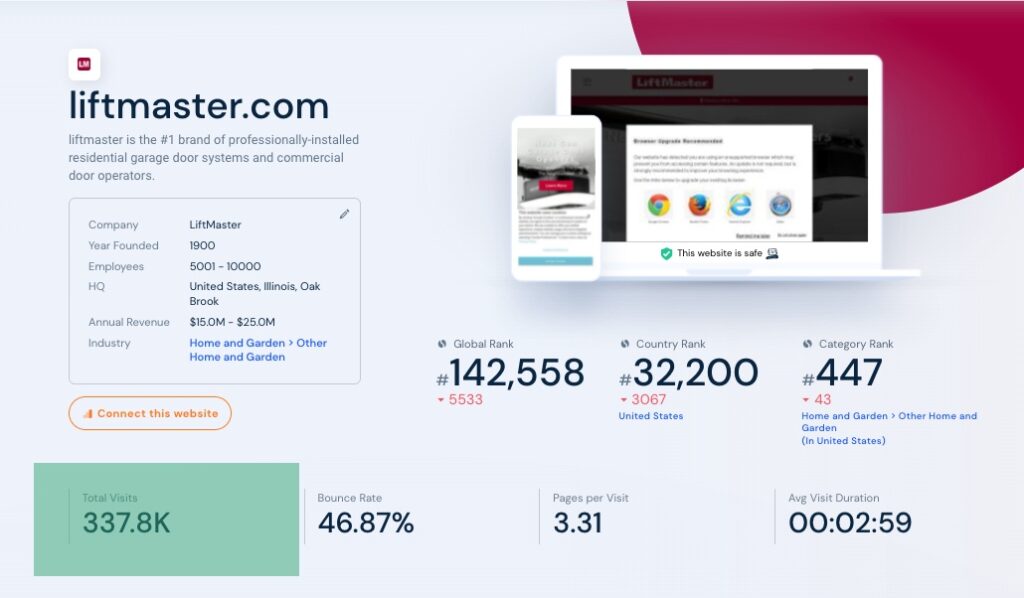 Scroll to the marketing channels overview section, and multiple the search traffic by total visits to get the estimated monthly organic traffic, i.e., 70% x 337,800 = 236,460.
Repeat the process for the next website on your list.
In step one, the goal for the electric garage doors was 2500 monthly visits; you now know the market demand exists.
Step 4: Seed keywords and modifiers
You not only save time using paid keyword research tools, but these premium solutions give you a crucial metric that free tools don't; traffic potential.
The starting point in the keyword research process is your seed keyword, so for "electric garage doors," you might start with a one or two-word keyword such as "doors" or "garage door" as your starting point.
Using Ahrefs
Enter your seed keyword into keyword explorer, select your country, and search.
Select matching terms and enter your full query.
There's high traffic potential for this keyword, but the keyword difficulty is also high, suggesting it's a hard topic to rank for.
Step 5: Build a master keyword list
You want to build a keyword list because it can form the foundation of your strategy and catch prospects at the beginning, middle, and end of the buying process.
Tick the box need to the keyword.
Add To, Keyword List, New List, Garage Doors.
Your keyword list appears to the left of the screen.
Step 6: Filter by cost, clicks, keyword difficulty
Select parent topic.
Filter out difficult keywords.
Filter by clicks per search (greater than one).
From step 2, copy and paste the keyword modifiers into the include, any box.
Another way to find keyword modifiers is to enter your keywords into Google, select the Images tab, and see related searches, e.g., wooden, roller, sectional, oak, anthracite, grey, double, black, etc.
Now look through the list, tick the box next to relevant keywords and add them to your list.
Once you've exhausted the list, sort by the TP (traffic potential column) and repeat the process; add any keywords you've missed.
To identify long-tail keywords, remove all filters, then filter word count by 5 or more words and clicks per search of one or more.
Step 7: Intent and content type
The next stage is keyword intent analysis to check what the user wants from a search result and if that contributes to your goal.
For example, if I targeted definition keywords such as "What is a garage door?" or "What is an electric garage door?" these keywords might have high monthly search volumes, but I'm looking to find people who are searching for garage door services, installation, and quotes.
1. Click your keyword list; I added 57 keywords to my list in this example.
2. Review the list, clicks the SERP button to view what types of pages rank in Google, and check and delete duplicates or any irrelevant keywords.
3. Then press export.
4. Make a copy of our SEO Keyword Strategy Template.
5. Click your mouse in cell A:1
6. Select File > Import > Upload > Select a file from your device.
7. Locate and select the file exported from Ahrefs.
8. Select Replace data at the selected cell.
9. Import data.
Step 8: Review and agree
The template shows the following SERP data.
List of keyword phrases
Country
Difficulty
Search Volume
Parent Keyword (topic)
Traffic Potential
Content-Type
Add to Plan
Bear in mind that the traffic potential is based on the national traffic to the number one search result.
Let's say you're working on a business that only operates in Texas; you might want to adjust the traffic potential for that state.
Select content type
We've listed these content types in the Content-Type column dropdown.
In the Content-Type column, we have provided a drop-down list of options for you to match the keyword with the content type.
The most suitable type of content should be evident to you from your keyword list.
What Is
How to article
List article
Best Post
Guide
Service category cage
Service page
E-commerce category page
E-commerce product page
Review article
Comparison (vs) article
Mixed
Calculator
Statistics
Tool
For example, if the keyword contains "how," the content type you will create is a how-to article to best match the intent.
Select "how-to article" from the Content-Type column.
If the content type isn't so obvious, copy and paste the keyword into Google and look for the most frequent type of content in the SERP.
You can, of course, do this within Frase after creating a document by selecting Optimize -> SERP Scores.
After you have selected an option for every keyword in the Content-Type column, you can involve clients or colleagues.
Share, agree and review
It's easy to share a Google Sheet, click the Share button, and select sharing options.
When instructing a client or colleague, ask them to review the list of keywords and select Yes/No from the add to plan column.
In this example, there is a traffic potential of over 300,000 monthly clicks; if you recall, the original goal was 2500 monthly visits.
Now you have a keyword strategy you can start to put it into action.
Step 9: Tactics
Keyword strategies are only as good as the tactics you implement.
The key tactics to implement your strategy, get ranked, and traffic is:
SEO Project Management
The best way to implement your tactics is to manage your project; we've outlined how to manage an SEO campaign in our guide.
Use Trello.
Move each item from the to-do list stage to the published stage.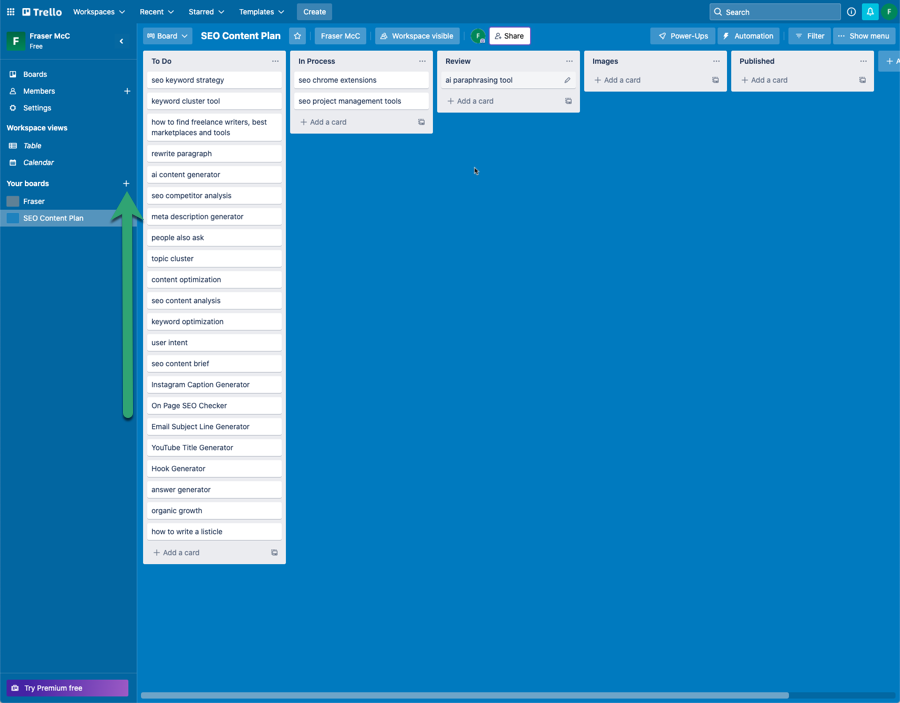 Content briefs
An SEO content brief tells a writer to create content targeting a specific keyword phrase to rank and earn traffic.
A well-written and properly structured brief ensures that there won't be any misunderstandings between a client and a copywriter.
A content brief will save you and your entire team time, money, frustrations, delays, and continual revi­sions and rewrites during content creation.
When you've written your briefs, pass them to your writers or use our content brief service.
Writers
The most important tactic that companies are concentrating on this year is improving the quality of the content.
OrbitMedia's study said that the average article takes over 4 hours to write.
Take that with a pinch of salt; the draft of this article took 8 hours.
It takes 3 days for me to research, write, edit, design images, and publish one article.
So if you don't have the time or expertise to write the copy yourself, you'll need to hire writers; you can check out our writer directory.
Using Frase to optimize your copy, make sure you have a higher topic score than the top competitors and check spelling, grammar, and plagiarism.
Then you're ready to export the copy into your CMS.
Website, CMS, design
WordPress is the go-to content management system; create a new page or post, paste your document from Frase, save it as a draft then add images and any other relevant assets.
Outreach and Promotion
Another important tactic, once you've published your content, is to distribute and promote it.
Your efforts will depend on your brand's power in other channels and your available time and resources.
Semrush has a guide to promoting your content.
Step 10: Review, measure, repeat
The final step in a keyword strategy is to put measurement systems in place.
Make sure you set up or have access to Google Search Console or Google Analytics, as these tools will help you track keyword rankings and clicks.
Frase customers can use Frase Analytics which provides invaluable insights such as quick-win opportunities and measuring traffic.
We reviewed our campaign after 6 months, then repeated the process, doubling down on what worked and ditching what didn't work.
Conclusion
To develop an effective SEO keyword strategy, you must first have a traffic goal.
After that, research your audience and choose keywords related to your business model and goals.
Finally, you must create content around those keywords that can earn you traffic.
Don't forget to make a copy of our SEO Keyword Strategy Template.