7 Free SEO Project Management Tools
This article explains how you can manage SEO projects with a few free tools that we use ourselves that we hope can be helpful for SEO agencies, consultants, and content creators.
But first,
What is SEO project management?
SEO project management is the process of managing an entire SEO campaign from start to finish, including keyword research, content creation, link building, optimization, and measurement. It is also about making sure everything happens on time so you or your clients can get the results you want.
Why is it so difficult?
Managing SEO projects is difficult because it involves managing so many different parts across multiple projects or clients simultaneously, each with various stakeholders, deadlines, budgets, and expectations.
And every project is different from every other one.
Effective SEO project management is a skill and mindset; project management software isn't going to solve your problem or get the work done.
Let's go through the main stages of a successful SEO project. We'll use some tools to help us manage our projects.
Step 1: Discovery
Every project has a beginning or starts with a conversation that leads to a discovery meeting.
The tools we use to kick start things are Google Calendar and Google Meet.
Google Calendar
We use Google Calendar to schedule meetings.
It allows us to create events and online meetings, share calendars with others, and view shared calendars.
You can also add tasks, notes, and documents for each meeting.
Go to your calendar, and select a time within a date.
Name the meeting.
Add a time.
Add guests.
Add a Google Meet link.
Add a notification to be reminded in advance of the meeting.
Your guests will be sent an email asking them to accept the invitation, which they can add to their calendar of choice.
Google Meet
Google Meet is a browser-based video conferencing tool that allows users to meet with others in real-time.
Since we are operating in several time zones, physical meetings about SEO are out of the question, so video conferencing is the best alternative.
Step 2: SEO Goals
One of the great things about Google Meet is that everyone can share their screen. For example, I'll show slides or a keyword research presentation, or Tommy will share his Google Search Console for insights on how Frase is performing.
The meeting aims to identify or agree on a goal or problem that needs solving.
Should things progress well, both parties agree on a goal; there's generally a contract created; using a Google Doc that is added to EchoSign for signature.
Step 3: Planning
Next comes the planning stage.
When we did our SEO planning last year, our goal was to drive non-branded organic traffic by identifying relevant topics.
We set up an Ahrefs Webmaster Tools account to review the site's traffic, pages, ranking positions, and backlinks.
You can set up as many website as you want with Ahrefs Webmasters Tools; as long as you have authority to verify them.
We used Ahrefs for keyword research to discover opportunities at the top, middle, and bottom of the funnel.
We exported a keyword list from Ahrefs to Google Sheets and added custom fields.
Some of the opportunities we identified required web development and design resources.
Step 4: Team
This leads us to our SEO team.
SEO doesn't sit in a silo; in our case, we would never have grown our non-brand organic search traffic without buy-in from the CEO and the development team.
Project Manager.
Keyword Research.
Content creation.
Developers.
Designers.
Outreach and link-building.
So how we get we get things done?
Step 5: Tools to manage content creation
Project management is a matter of getting things done; there are plenty of tools, but we're only going to cover Trello and Google Sheets.
Search Engine Journal asked their audience which tools they used to manage SEO projects; the findings were:
41 percent of SEO pros use Trello to manage their SEO projects.
22 percent collaborate with their SEO teams using Asana.
19 percent prefer other project management tools.
18 percent utilize BaseCamp for SEO project management.
Trello for SEO Project Management
Trello is an online project management tool that helps you organize your projects into boards, lists, cards, checklists, and comments.
You can create multiple boards for different purposes and assign tasks to them. You can add attachments to each card and comment on any task on the board. You can share boards with others so they can collaborate with you.
Trello is an online project management tool that enables team collaborations on projects. You can create boards for projects, add cards to them, assign tasks to your team members, and track progress in real-time.
How to use Trello for managing SEO projects
Let's run through our very single Trello board for managing our SEO project.
1. Create a new board.
Name the board and press create.
(change the background color)
2. Create list titles
Now create a list of titles within the board.
We use these titles:
To Do
In Process
Review
Images
Published
3. Add cards (tasks) to the To-Do List
Now add cards or individual tasks to the To-Do List.
These project tasks are the pages or topics we are targeting that was signed off from the content planning spreadsheet.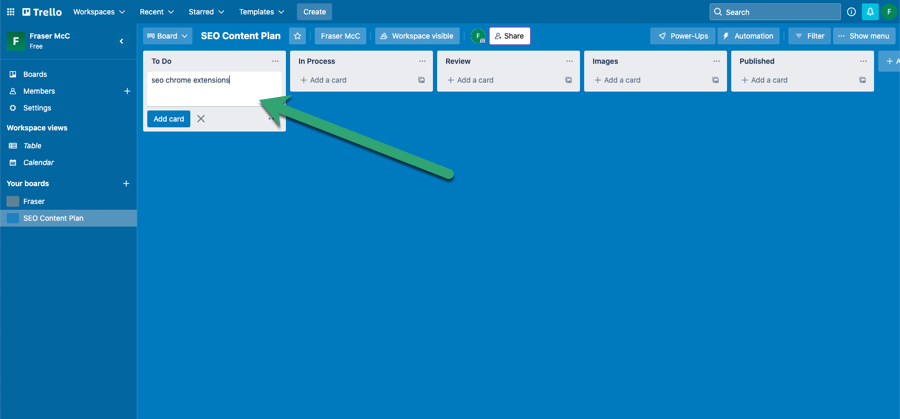 4. Invite collaborators to your board
Click share and enter the email address of collaborators.
5. Assign tasks
Go back to your tasks and include any descriptions, instructions, or notes associated with the task.
If this includes multiple sub-task, use the checklist features.
Add a due date and add a member to the card.
6. Notifications and managing
The great thing about Trello is that you and your collaborators will get task notifications with email updates; because most people leave things to the last minute.
The board is always evolving; you are constantly progressing tasks through the board, from left to right.
7. Add other boards
If I were managing multiple clients or projects such as outreach, I would create a new board and repeat the above steps.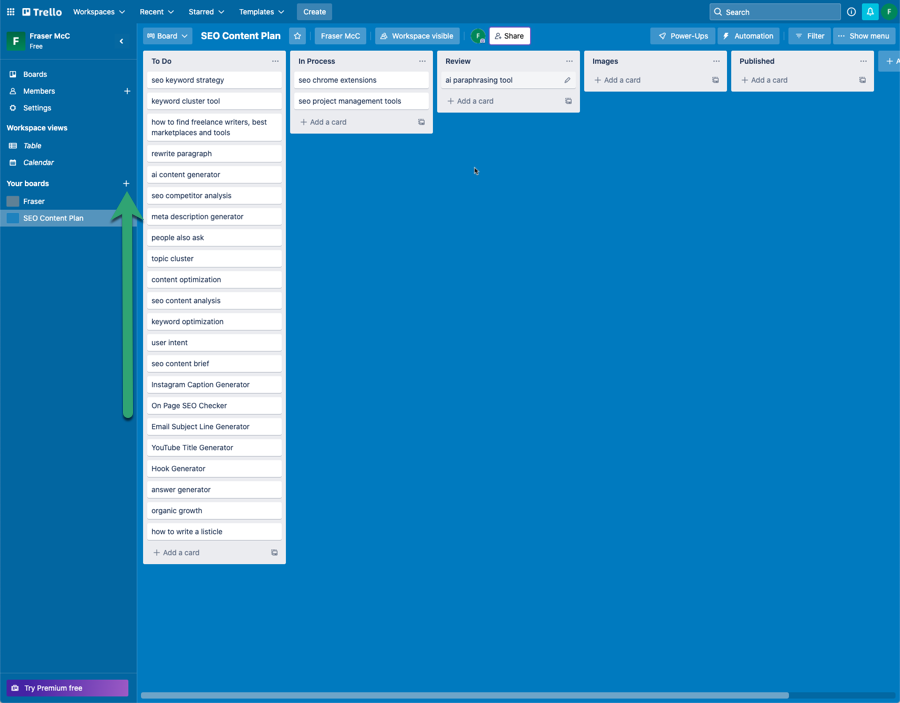 8. Power-ups and add ons
We use the free version of Trello, but there are project time tracking and invoicing add-ons.
So that's Trello; how about Google Sheets?
Google Sheets to manage SEO projects
Google Sheets allows users to create and edit spreadsheets, share their work with others, and collaborate on their projects.
How to create and use a custom Google Sheet for managing SEO and content projects
We created our keyword research and content plans in Google Sheets, as I mentioned earlier.
I conducted a content audit for the second phase of our SEO strategy.
In the first tab is an audit of all Frase web pages.
There's a handy content audit template that Ahrefs developed, which I used and customized.
I created a column to assign the action for each page; leave, refresh, delete, move.
Second tab
I added the pages to be refreshed to the second tab and further researched opportunities.
Priority
Status
Target Date
Category
Title
Angle
Target Keyword
Traffic Potential
Brief link
Live URL
However, Google Sheets can get messy; you end up with long email threads with co-collaborators when updating them on tasks and project statuses.
Note:
Google Sheets and Trello are not project time tracking tools, nor do they let you set an hourly rate for team members; that's an add-on or feature you would need to develop.
Monday.com
Monday.com is an online work management platform designed for teams and organizations to track projects and workflows, visualize data, and collaborate.
It's a paid tool with pricing based on the number of users or seats.
This video from Mike at ClickedMarketing.com outlines how to build and manage processes for managing SEO campaigns.
This brings us to Slack.
Slack
Slack is an internal messaging app for desktop and mobile devices that allows users to create channels where those involved in an SEO project can send messages to each other on that channel.
We have a channel set up called "Content-SEO," and you can see there are 4 people involved in the channel.
This is where the actual project conversations happen.
Step 6: Measurement
95% of newly published web pages do not rank in the top 10 results in a year, and the lucky ones take 3 to 6 months, according to a study of 2 million keywords by Ahrefs.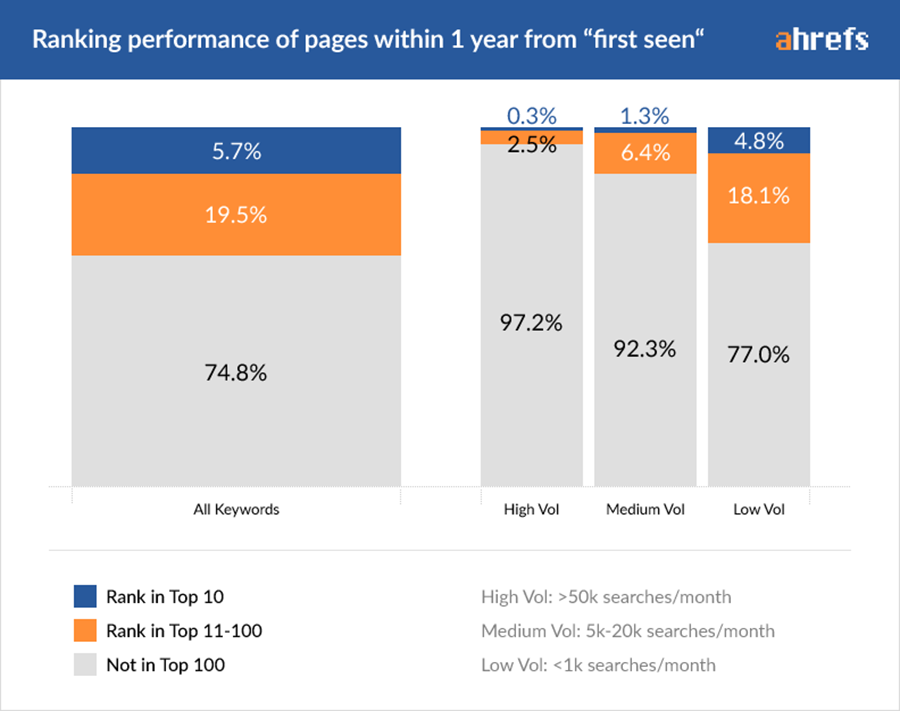 So effective SEO project management isn't just about managing tasks; it's setting expectations and measuring progress.
We use a blend of Google Search Console, Google Analytics, and Frase Analytics for measuring SEO.
However, you can integrate Trello with Google Analytics (for a small fee).
Google Analytics shows us the conversion rate of our organic traffic.
And Google Search Console and Frase Analytics let us track organic growth over a period of time.
Frase automatically analyzes the pages, queries, and questions that your domain is ranking for and assigns it one of the below statuses:
Top Result: Position is 1-10 and has not recently experienced ranking loss.
Quick Win: Achieved 1-10 positions within 3 months from publishing.
Ranked: Generating clicks, but no leading avg. position.
Decay: Lost more than 2 positions, and clicks decreased.
Opportunity: Position is 10-50, but impressions are growing fast.
Unranked: No clicks generated, and weak position.
So what are the key things I should be measuring?
Impressions
If pages are not getting impressions for the keywords you are targeting, then you have one of the following issues:
Your content does not align with user intent.
Website performance and UX issues.
Lack of domain authority.
Click-Through Rate
If your pages are getting impressions and the CTR is below 5%, then:
You're not on page 1.
Your title and description are not compelling.
Your SERP is not more attractive than other results.
Your content does not align with user intent.
Conversion Rate
If you look at your landing page conversion rate within Google Analytics and it's below 10%, then:
You may not have a CTA on the page.
There is no compelling offer on the CTA.
The CTA is poorly positioned on the page.
Step 7: Double down and repeat
During the measurement stage, you will find out what is and what isn't working.
Keep doing or refine what is working.
In our case, we discovered creating one type of content worked well over the others, so we're doubling down on that and including it in the second phase of our SEO plan.
Templates
Here's 3 template resources for Trello, Monday and Google Sheets.
Conclusion
Trello is growing on me as a project management tool; it's easy to use and customize and move tasks from start to completion.
There's no magic wand to wave in successful SEO project management; the most important thing is implementing tasks and not letting processes or systems get in the way.