4 Best Keyword Cluster Tools to build topic clusters
Keywords play a huge role in search engines ranking web pages, but how do you know which keywords go to which pages when faced with thousands of keywords?
Keyword clustering is a way to group related keywords, questions, and long-tail keywords together.
Once you've done that, you can start creating content and ranking for those keywords.
There are several advanced keyword clustering tools available; plus a few free tools. This article will outline how to use start clustering keywords.
What is keyword clustering?
Keyword clustering is the process of analyzing and grouping thousands of keywords into smaller clusters with a similar meaning or intent for better rankings in search engine results.
For example, the keywords "SEO content plan" and "SEO content creation strategy" share similar intent and would be grouped on a page called "SEO content strategy" along with another page called "SEO content marketing" that would link to and from a pillar page called "SEO content".
Pillar Page: SEO content
Cluster: SEO content strategy
Cluster: SEO content marketing
Keywords:
SEO content strategy
creating a content strategy for SEO
SEO and content strategy
SEO content creation strategy
SEO content planning
SEO content plan
Keywords:
SEO content marketing
SEO and content marketing
what is content marketing in SEO
how content marketing helps SEO
content marketing optimization SEO
how to do content marketing in SEO
Why does keyword clustering matter?
You might already be doing keyword clustering during the keyword research stage of a website or content plan, and you already know some of the main benefits.
Build topical authority.
Better search engine rankings.
Increase search traffic.
Helps organize website structure.
Better internal linking to improve the crawling of a website by search engine bots.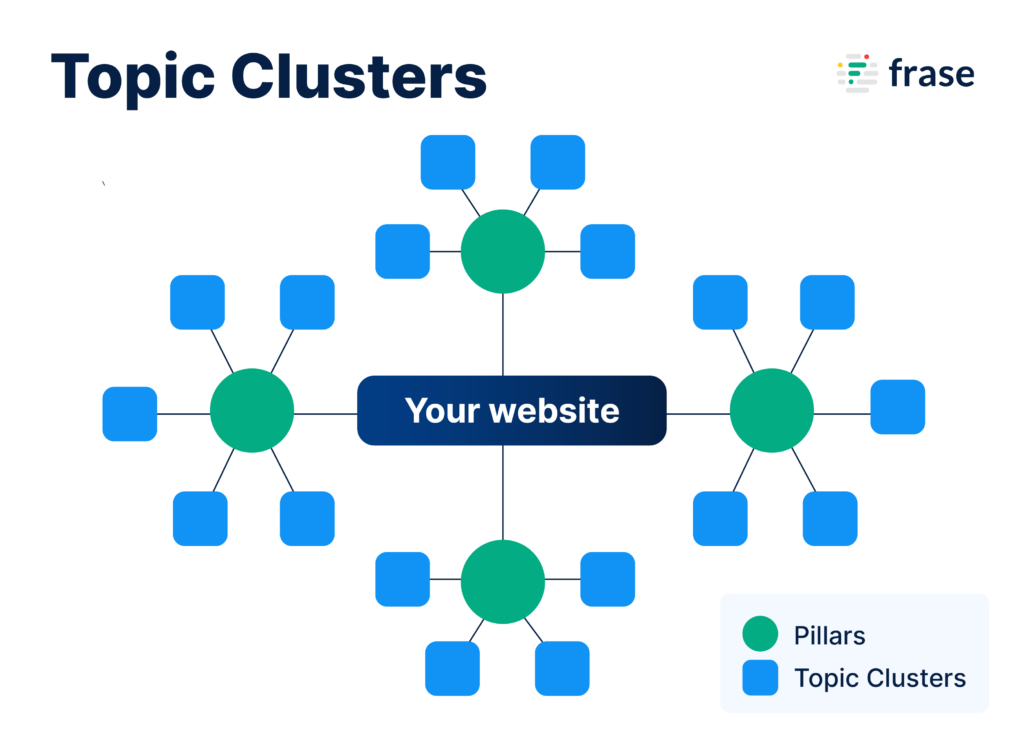 However, not all SEO experts agree that organizing your content will lead to better SEO performance.
From my own experience, I've had plenty of pages on many different websites performing well in terms of rankings and clicks without using a pillar page/cluster or hub/spoke model.
Terms to know about
Since search marketers like Brian Dean and Hubspot have taken it upon themselves to invent new SEO terms, here's a quick glossary.
A topic cluster is a model of building a library of content around a central idea; a Pillar Page.
A Pillar Page is the same as a Hub.
A Content Cluster is the same as a Spoke.
A content cluster or hub is made from a group of keywords with very similar meaning or intent achieved by keyword clustering.
The Parent Topic (in Ahrefs) is the keyword responsible for sending the most traffic to the top pages for a keyword, e.g., for the search query "led lights for garage," the parent topic is "led lights."
How to build a topic cluster with a keyword cluster tool
The keyword clustering process consists of 4 main steps.
Step 1: Create a list of keywords
You need a keyword dataset that includes the keyword and search volume as a bare minimum obtained from a keyword research tool or Google Search Console.
Frase users can now download all the keywords their website ranks for inside Frase Analytics.
If you're working with no existing data, use either Ahrefs or Ubersuggest, depending on your budget.
You should have an extensive keyword list of at least 1000 keywords.
Step 2: Group keywords into clusters
The next step is to group keywords into clusters; doing this manually would be extremely time-consuming, hence why keyword clustering tools exist.
Step 3: Create cluster pages
Once your keywords are grouped, your content planning begins by creating cluster pages.
Create a content brief for your content writers; with Frase, of course.
Then write the copy for the pages, optimize it, add images and publish.
Step 4: Create a pillar page
The next step is to create your pillar page.
A pillar page is everything a reader needs to know about a topic.
We've created a pillar page content brief template that outlines precisely the content that your writer should include.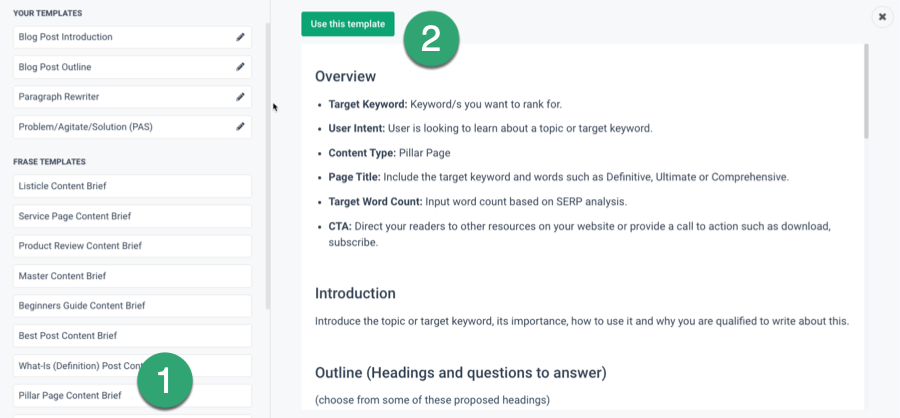 Then, the pillar page links out to cluster pages using internal links.
So, let's look at some of the keyword grouping tools available that should save you hours of keyword research time.
Keyword Cupid
Keyword Cupid looks at the first 5 to 10 pages of Google and figures out how closely related these words are to each other and then groups them into tightly themed clusters.
Import your keyword data into a project.
View the mindmap or download the spreadsheet.
I used Keyword Cupid twice last year using my own Google Search Console keywords.
As you can see, this report shows the page theme (cluster page), all the keywords in that cluster, and the total search volume for the cluster.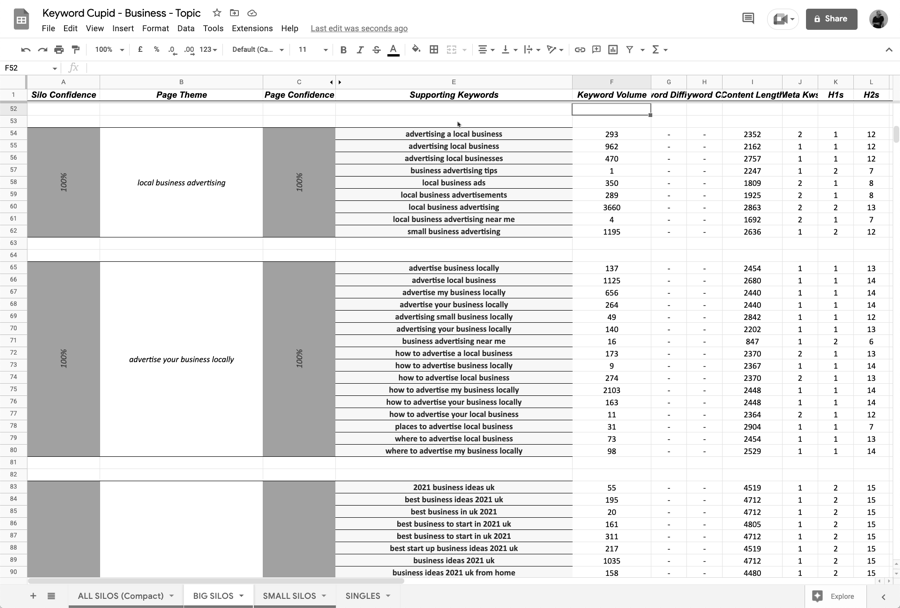 For example, it suggested the intent behind "local business advertising" and "advertise your business locally" were different.
Link
Here's a link to the full keyword clustering report.
Pricing
There's a free trial where you can import 500 keywords or pay $49.99 a month for 5,000 keyword credits.
Keyword Insights
KeywordInsights.ai is an excellent keyword clustering tool endorsed by many SEO professionals that position its service as "the smartest way to group keywords and classify search intent at scale."
They have introduced a keyword discovery feature for monthly subscribers, for pay-as-you-go customers, you will need to bring your keywords.
Create a project and select the options and default settings.
Review and generate your report.
Keyword Insights will notify you by email upon the report completion.
Click the project tab and open up the Excel file or with Google Sheets (via the Drive link).
There are a few tabs where you can view the data, but I prefer the Cluster Data tab, which shows 3 columns:
Cluster (the page to create).
The column with keywords (all the keywords grouped into the cluster).
Total Search Volume of all the keywords in the cluster.
Since I only uploaded 400 keywords, the report isn't very different from using the Ahrefs parent topic for keyword clusters.
However, in the sample report based on 3,500 keywords, you can see over 50 pages you could create, with search volume per day between 780 and 86,300 per month.
Link
Here's a link to the full keyword clustering report.
Pricing
A basic report for 3,500 keywords costs just over $55.
SEO Scout
SEOScout's free keyword grouping tool clusters related keywords into groups using n-gram word similarities, not SERP analysis.
Here's how to use the tool.
I exported 848 keyword ideas related to "SEO content" from Ahrefs.
Import the CSV into Google Sheets.
Copy and paste the keywords into SEO Scout.
The results are displayed in your browser, which you can export and then import into Google Sheets.
Since there is no search volume data associated with each keyword, you'll need to manually count the number of keywords per cluster or create a pivot table to determine the best clusters.
Link
If you want to try SEO Scout, you can copy the keywords in this spreadsheet in the 2nd column of the first tab.
Pricing
Free
Charly Wargnier's keyword cluster tool
Charly Wargnier is a UK-based developer who has created a keyword clustering tool where you can use data from Ahrefs, Semrush, or Google Search Console.
First up, I exported 848 keyword ideas related to "SEO content" from Ahrefs.
I dragged the CSV file into the tool and received the results instantly.
Then exported the report and imported it into Google Sheets.
Keyword clustering reports aren't easy to interpret; you'll get a column for the keyword and cluster name while retaining the original data.
It would be helpful to see the number of keywords in a cluster but let's not forget this tool is in beta mode.
Link
If you want to try this keyword clustering app, you can copy the keywords in this spreadsheet in the 2nd column of the first tab.
Pricing
Free
Interview with Suganthan Mohanadasan of Keyword Insights about keyword clustering
We interviewed Suganthan Mohanadasan, CEO of KeywordInsights.ai, who answered some questions we had.
What is keyword clustering, what problem does it solve, and where in the SEO workflow does it come into play?
Keyword clustering involves grouping keywords that are similar to each other together. Essentially a "keyword cluster" is a group of keywords that mean the same topically and can be targeted together on a single page.
Where in the SEO workflow does keyword clustering come into play?
It's helpful in many cases, such as identifying content gaps, forming new content strategies, and most importantly identifying keyword cannibalization.
Do you have any website examples that implemented what you consider a world-class keyword clustering strategy?
I really like how Forbes content is built around topic clusters. For example, if you visit their credit cards page. https://www.forbes.com/advisor/credit-cards/
You will see how they have the generic high-level topic supported by a bunch of spokes (supporting content) such as "best credit card," "best reward credit cards," and "best airline credit cards."
Is there any minimum number of keywords required for keyword clustering to be worthwhile?
It depends on the topic you're researching. We recommend using as many keywords as possible to get a full picture of the topic.
I also recommend doing some cleanup of the keywords by removing duplicates, branded terms, and any irrelevant queries from the list.
How do you measure cluster-level organic growth and revenue?
You can measure the organic growth and revenue by ranking your high competitive and generic terms highly on Google.
As I showed in the Forbes example, you can clearly see that they rank #1 for "credit cards," and this is a place that used to be owned by Nerdwallet for a while. Not only do they rank their head terms, but they also rank well on their clusters.
It's likely the revenue is coming from Ad revenue and commissions. So, it can be measured.
How do you tackle fractured/mixed intent inside a cluster?
At Keyword Insights, we developed a machine learning model that can accurately detect three types of content in the top 10 results of Google for a given keyword. We call this context.
We can detect how many of the top 10 results are articles, product pages, or other types of pages. So, when you cluster keywords, we also apply the context to your keywords and your clusters.
So when you see the intent is mixed.
Let's say for a given cluster you see 5 articles and 5 product pages ranking; in this case, I would optimize both my article for the cluster and look at the terms that trigger the product pages and optimize that as well.
The idea is to try and capture both spots.
The beauty of our context is you can run this periodically and map the 'intent shift' over time, and optimize your strategy accordingly.
How do you evolve from keyword clusters to a hub/spoke content plan?
After we create clusters (based on Google results), we use natural language processing to find semantic relationships between the clusters. This creates hierarchical clustering.
We use keyword search volume to determine the 'head cluster' or the head term.
We know from the above Forbes example that 'credit cards' is a head term (highest search volume and generic keyword), so Keyword Insights will create a hub/spoke model based on this logic.
You can use this to map the site architecture and how content should be structured. For example, which keyword should be targeted as a hub and which keyword clusters should form the supporting content.
Links
Conclusion
There are several benefits to organizing keywords into well-organized groups on your site using some of the data sources and keyword clustering tools we've outlined.
Will keyword clustering work for me? Well, it depends; try it.
Next step
Start a Frase.io trial and start creating content briefs and optimizing content for pillar and cluster pages.