Write a Listicle in 8 steps with Frase.io
Learn how to research, write and rank a listicle (list post) with our template.
What is a listicle?
A list post differs from a regular article because it contains a numbered list of recommended resources, products, services, and tips that benefit a reader.
Aim for about 10 or 20 items on your list.
According to a study of content marketers, a list or best article is the 2nd most popular format to create.
Advantages of listicles
Engineered for readers with short attention spans
Targets prospects in the information gathering stage of the buying process
Provides value to readers
Easy content to create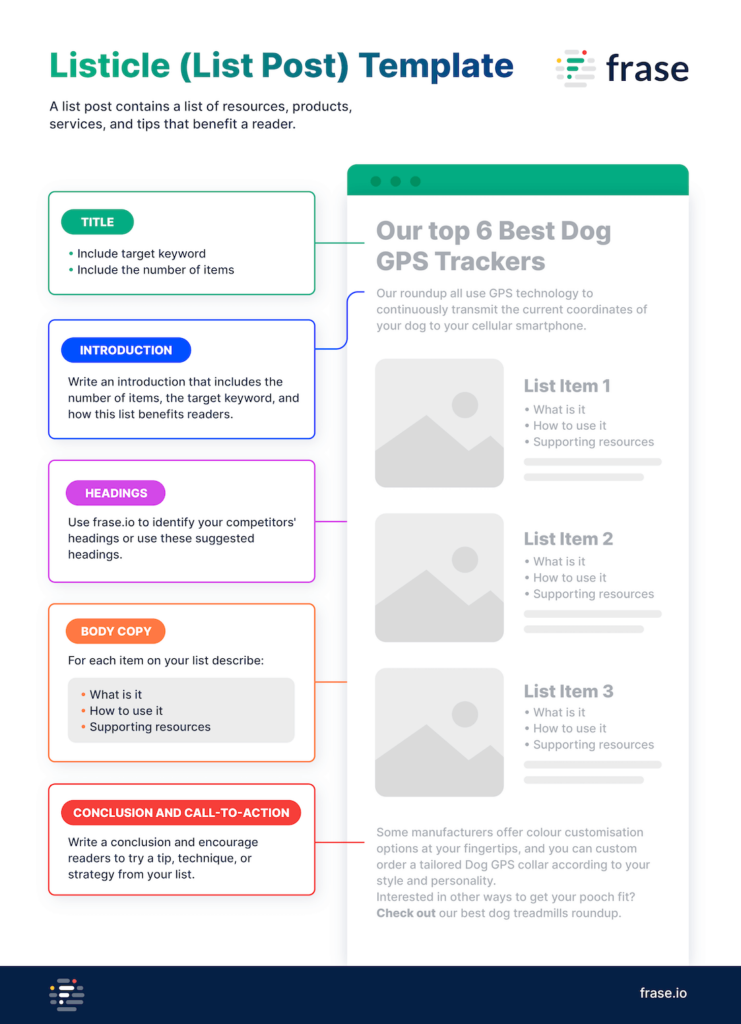 Step 1: Choose your topic
Start the keyword research process by researching topics you know about, or products or services you have used.
Use your preferred keyword research tool and filter the results with the modifier "best," top," or "list."
For example,
best golf shoes
best WordPress forms
best first-time buyers mortgage
Step 2: Create a new Frase document
Frase helps you research, write and improve high-quality content in a fraction of the time.
Log in to Frase or start a 7-day trial to use this template.
Enter your target search query, e.g., best WordPress forms.
Choose advanced options and select your country and language.
Press Create Document.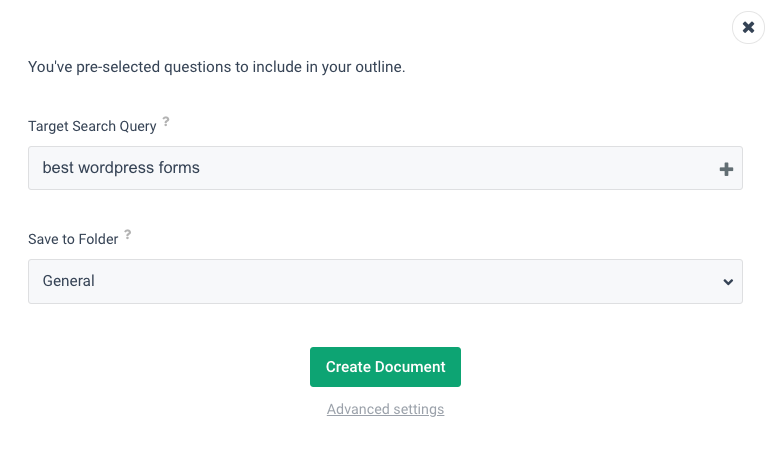 Step 3: Import template
Click Import Template.

Select the "listicle" template.
Select "Use template."
Complete the content brief fields.
Edit the content brief fields and add further information.
Share brief with writer
Click the "Share" button.
Select either the "Share Content Brief" or "Share Full Document" option; the latter allows your writer to use all the features of the Frase.io editor.
Step 4: Page Title
The listicle title should contain a number and include the target keyword.
Frase tip
Select SERP–>Headers or Optimize–>SERP Scores to identify the page titles your SERP competitors are using.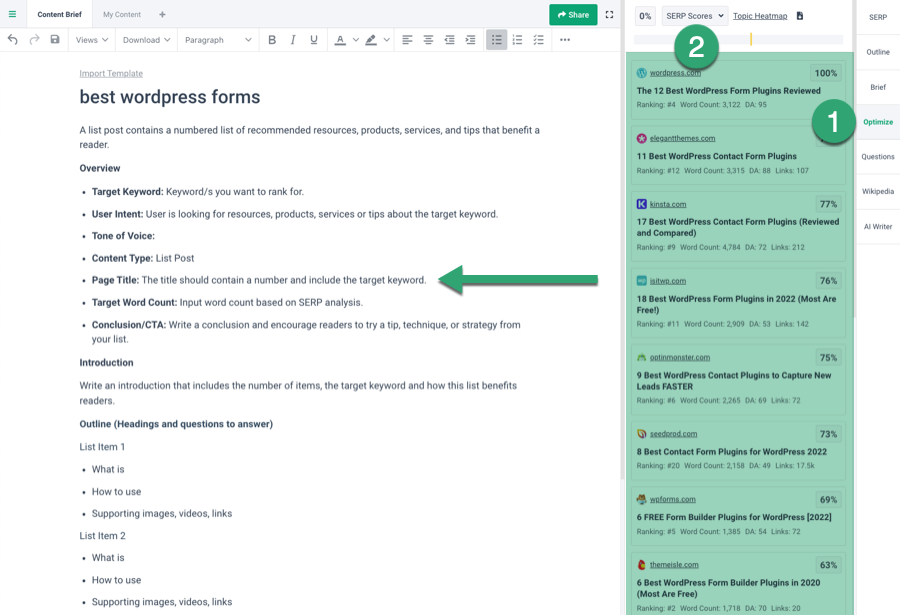 Step 5: Introduction
Write a short introduction such as "In this post, we provide number, keyword, and how you will benefit from them."
Give your readers a few reasons why they should be interested in your writing.
If this is about consumers, talk about how it makes them happy, feel good or look good.
If you are writing for business professionals, mention this can save time, make money or improve efficiency.
Frase tip
Select AI Writer > Write For Me > Write detail background context > set length to 100 > X to close window.
For example " "I am going to write about the 17 best WordPress form plugins; both free and paid for."
Click your mouse where it states, "start writing here."
Type / on your keyboard and select Blog Introduction.
Copy and paste the background context and press run template.
AI will write a unique introduction.
Step 6: List Headings
After introducing and explaining the topic's importance, it's time to brainstorm your list.
Write down your ideas.
If you are stuck, imagine talking to a client or customer.
What are their problems or questions?
What are the simple tips or strategies you would offer them?
Use these tips or strategies as list headings.
Or
Examining the headings of top pages in Google provides insight into headings you can include in your list.
Do this by manually reading through the top pages.
Frase tip 1
Use frase.io to identify your competitors' headings.
Or use these suggested headings.
Step 7: Describe each list item
You should explain why the item is on your list and how it benefits the reader.
It could be a couple of sentences or a couple of paragraphs.
If your list includes real people or businesses, it is good to show the example with a video, photo, or quote.
Frase tip
AI can write an introductory paragraph after your heading.
Under each H2 header press, CMD + Enter (Mac) or CTRL + Enter (PC) for AI to write.
Or select / and Paragraph for Heading and enter the title of your heading, and press run.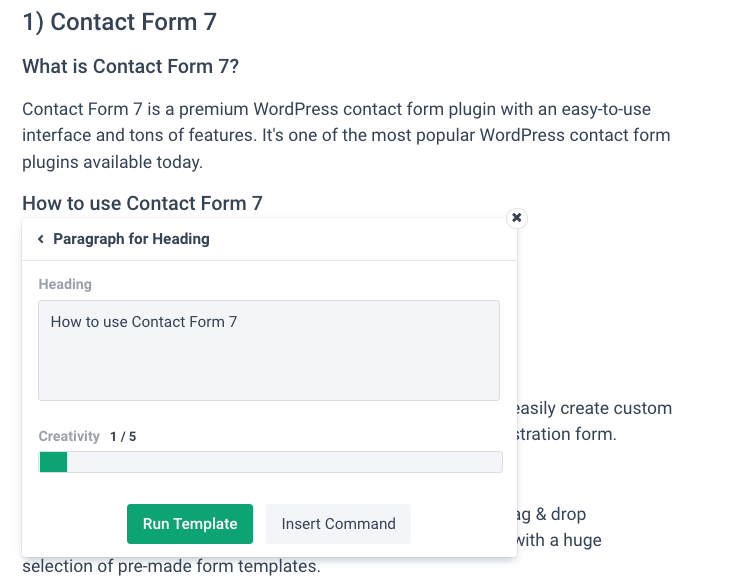 Use the AI templates such as Next Paragraph or Paragraph Answer to write copy.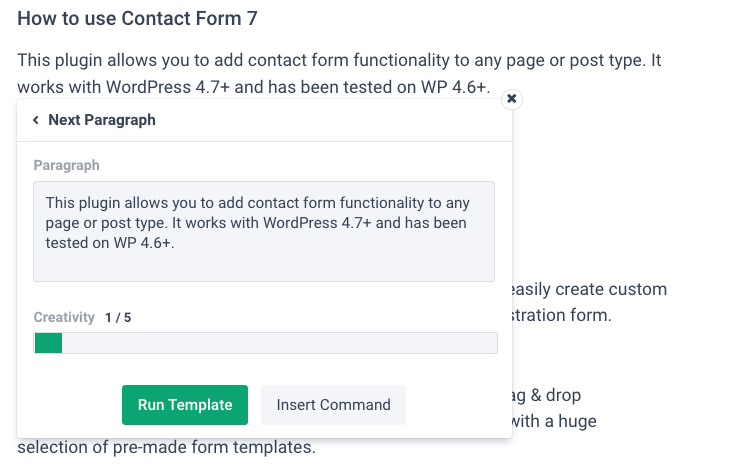 Or type a transition and press Write For Me eg:
In addition,
Furthermore,
In conclusion,
Include a picture, screenshot, or video describing or explaining this step.
Step 8: Conclusion and call to action
Wrap up your post with a great conclusion.
Readers should be encouraged to take action.
Ask them to try a single tip, product, technique, or strategy from your list.
Frase tip
To write a conclusion, type "In conclusion," then Write For Me.
Finally, add a call to action.
Now you or your writer is ready to start writing your content.
Go to the My Content section, and click the Brief tab, which allows the writer to see the editing window and the content brief side by side.
Get started
To get started, log in or start a 7-day trial.