SEO Content Analysis – how to rank better, faster
In this guide, you'll learn how to perform an SEO content analysis that improves the rankings and clicks for your web pages.
What is an SEO content analysis?
An SEO content analysis is a strategy used to determine if your website's content is optimized for search engines.
You can learn which keywords a web page ranks for and earn more traffic by improving these pages.
Problems with your content
There are several reasons marketers analyze their content.
Not happy with the writing.
Failure to address user intent.
Targeting the wrong query.
Out of date information.
What are the benefits of an SEO content analysis?
Here are some of the benefits of an SEO analysis:
SEO: Boosts search engine rankings and traffic.
Evergreen: Content that's regularly analyzed helps ensure its relevance for years to come.
Content strategy: part of your SEO strategy.
1. How to start an SEO content analysis with Frase.io
Frase.io enables marketers and SEO to do a content audit with our content analysis tools.
Sign up for a trial with Frase.io or log in.
Go to the Content Analytics dashboard.
Select Integrate with Google Search Console.
Select your account.
Allow access.
Welcome to the Content Analytics dashboard.
The dashboard provides a summary and overview of each website's search rankings.
Last 30 days metrics.
The report provides an overview of your organic search performance:
The website.
Number of web pages that earn organic traffic.
Percentage of all pages with traffic.
Total number of organic clicks.
Click growth.
Your average page ranking.
A bar chart visualizing organic clicks for the last 12 months.
In this guide, you'll learn how to perform an SEO content analysis that improves the rankings and clicks for your web pages.
2. Pick a page or keyword
Inside Content Analytics there are various ways to analyze your content.
Organic traffic trend.
You can observe from this chart a downward traffic trend and a decline in clicks of 21% against last month.

Pages, queries, questions, and clusters.
The Content Analytics dashboard provides different ways to analyze your content.
Analyze a page, query, or question.
Analyze top results
This is your top-ranking content in positions 1-10 that have not experienced a ranking loss in the last 30 days.
Click the page URL to see the queries and the metrics of this page.
Try to target queries with high impressions without affecting the other queries your page ranks for.
Click the + sign to create a Frase Doc and start your analysis.
To improve page relevancy, identify content gaps within the document, such as headings, long-tail phrases, and words.
Quick wins
Pages that achieve a 1–10 ranking within 30 days of publication are known as quick wins.

While there is only one quick win for this website, it's currently just outside the top 10 positions (on average).
Click the + sign to create a Frase Doc and start your analysis.
Ranked pages
The next option is to analyze "ranked" pages.
Pages that are ranking well for keywords may not generate enough traffic yet are defined as ranked pages.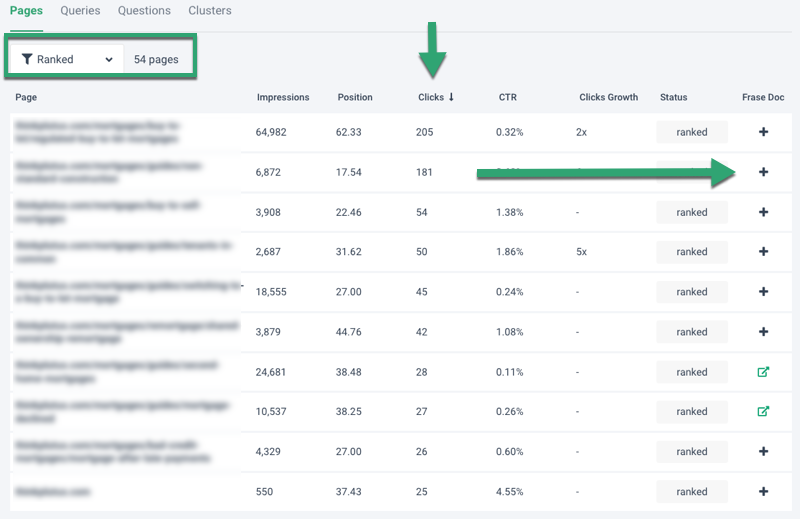 Sort by Clicks or Impressions.
The second page has 6872 impressions and 181 clicks; perhaps we can analyze the content and improve the traffic.
Click the + sign to create a Frase Doc and start your analysis.
Decaying content
Decaying pages or pages with declines in traffic are marked in pink have lost more than two positions, and clicks have decreased in the past 30 days.
There can be many reasons for page decay.
Select the "decay" option from the pages dropdown.
Identify a decaying page.
Click the + sign to create a Frase Doc and start your analysis.
Opportunity pages
Opportunities pages have queries in positions 10-50, and they're seeing an increase in their number of impressions over the previous month.
Click the + sign to create a Frase Doc and start your analysis.
Unranked pages
Unranked pages are not generating any clicks and are in weak positions.
These new pages may take some time to generate clicks.
Click the + sign to create a Frase Doc and start your analysis.
Questions you rank for
Another way to analyze content is to identify questions you rank for.
Click the questions link.
Sort impressions or positions to identify a question.
For example, locate a question in a top position with a high number of impressions.
Click the + sign to create a Frase Doc and start your analysis.
Keywords you rank for
You can also identify your current keyword rankings.
Select Queries.
Then select an option from the dropdown, e.g., a decaying query.
Click the + sign to create a Frase Doc and start your analysis.
Topic Score
After creating a document for analysis, use Frase Topic Scores to compare your content against the top-performing pages.

For example, this page has a score of 22% compared with an average 37% score of the top pages.
The topic score helps you gauge if your content is under or overperforming for your target query.
3. User intent
A key goal of Google is to satisfy user intent.
Write your content to address intent, and you'll rank better than trying to write for SEO.
Use Frase to understand the intent behind a query.
Select the Optimize
Select SERP Scores
For example, this page targets "SEO content analysis," and most of the top pages have "SEO content analysis" in the title.
But what does a user want to achieve after doing a content analysis?
Their aim or intent is for better ranking in Google and more traffic from organic searches.
4. Page Title
As quoted by Google, "one of the primary ways people determine which search results might be relevant to their query is by reviewing the titles of listed web pages."
Imagine wanting to rank higher for "search engine optimisation adelaide."
You're in position 20.
After reviewing the top results, all the top results display "SEO Adelaide."
How does a user choose which result to click when the page titles of the top pages all look the same?
To review page titles in Frase, select the SERP tab and review the top pages.
Select Optimize
Select SERP Scores.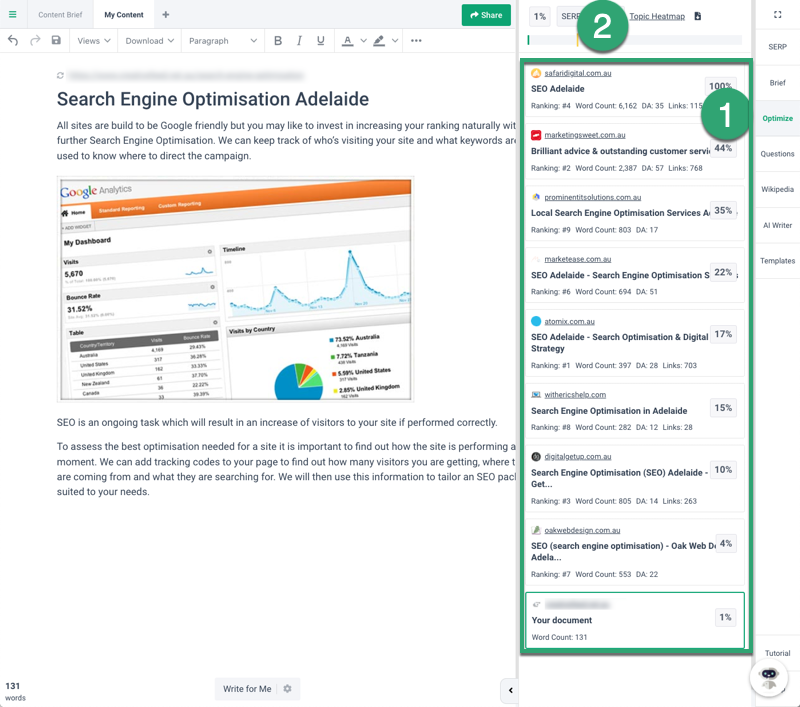 To optimize the page title, you frontload it with the query you are targeting.
The owner of this web page must focus on the intent or an outcome a reader wants from such a service.
Re-word or re-arrange the words in the page title.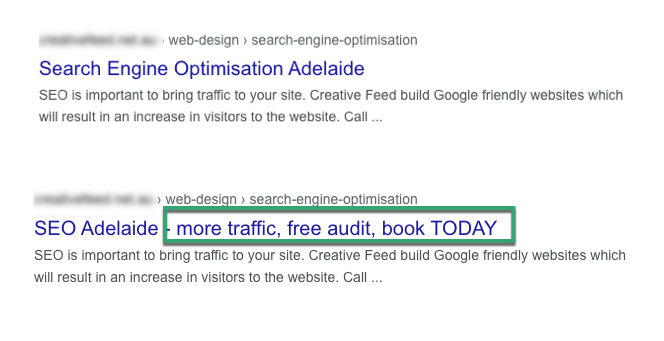 Or use our free page title generator tool.
5. Meta description
A meta description describes the content of a webpage so that both humans and machines can understand its purpose.
Preview the descriptions of the top results in Frase in the SERP tab.
Most meta descriptions are extensions of the page title.
If you want to improve the meta description for your web pages, write a compelling headline that describes what happens when someone clicks on your link.
Use our meta description tool.
While Google is rewriting most meta descriptions, it is still good practice to write unique descriptions.
6. Introduction
The first sentence or paragraph should encourage the reader to scroll further down your page for additional content.
Use a copywriting formula for your introduction.
The PPPP copywriting formula appears in Joe Vitale's Hypnotic Writing book.
7. Content depth
In this example, the page has 131 words, whereas the top results average 1500 words, indicating that the page needs to cover the topic more comprehensively to rank higher and boost clicks.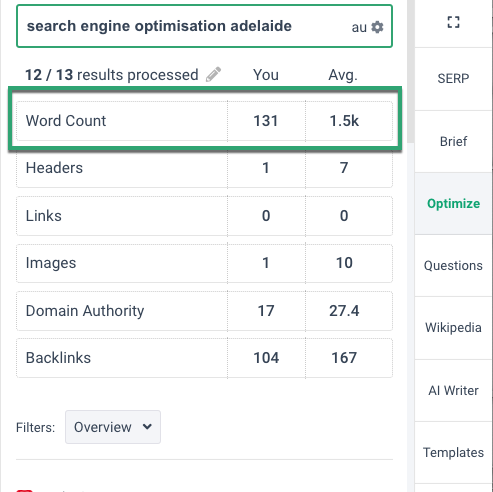 Content or topic score
The Frase Topic Score is at the core of an SEO content analysis.
Frase compares the words and phrases used on your page with the top 20 search results for this search query.
As a result, your page has a topic score expressed as a percentage.
This topic score is colored in green on a progress bar, with the average competitor topic score shown as a yellow line.
In this example, the topic score is 2%, and 37.1% is the average competitor score.
In this example, the content depth is very low, so a rewrite or content refresh is recommended.
Ps: I have just rewritten the copy for this page and increased the topic score to 24%.
8. Subheadings
To quote Google, "We do use headings when it comes to search. But we use them to better understand the content on the pages."
Use h tags for headings (H1, H2, and H3) to get readers to read your page content.
This article suggests the order of headings is a signal to determine the angle and topic of content.
Heading optimization
Go to the Optimize tab.
Select Headers.
Select Topic Gap.
Hover over the score tab, and you'll see this message.
Your headers don't include images.
The competition referenced it in at least one header.
Add some of these headings to your document to boost your topic score.
9. Copy
Select Optimize.
Long Tail.
Topic Gap.
Hover over any of the long-tail keywords, and you'll see the following message.
One way to improve your topic score is to cover the topic in more depth by adding the recommended long-tail keywords to your article.
A Topic Score higher than competitors signals that your content has improved and you've covered the topic in depth.
Don't forget to double-check your content for spelling and grammatical errors before publishing it online.
Next step
Start analyzing your content and improving your rankings and traffic, log in or start a trial with Frase.io.