SEO Page Content Analysis – how to rank better, faster
Learn how to perform an SEO page content analysis to rank your new and existing web pages better in the search results.
What is SEO content analysis?
SEO page content analysis is the process of analyzing the words, phrases, and/or entities to improve the performance of a web page in the search engine results.
The biggest problems with content
Marketers typically measure content success through sales, and most surveyed marketers expect to invest more in their content budgets.
However, on the flip side, most web pages don't get any organic traffic from Google.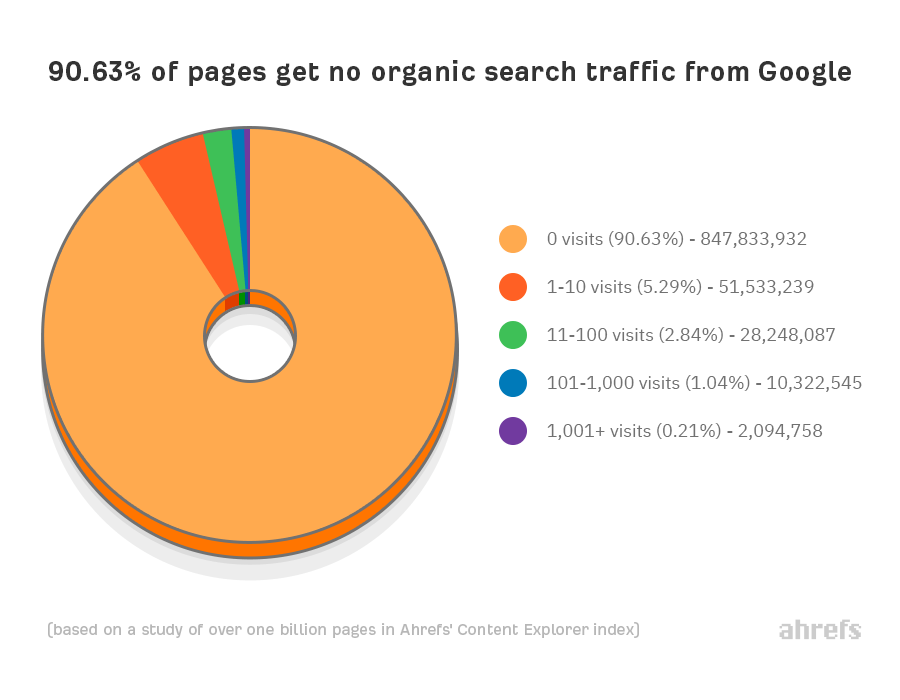 Why is that?
Poor keyword targeting.
The page doesn't answer user intent.
No unique angle (information gains score).
The content is out of date.
Content lacks topic depth.
Poor writing.
Step 1: Choose the right keyword to target
You'd think it would be easy to choose the right keyword to target with hundreds of popular keyword research tools available.
A keyword research tool can show you high volume, high commercial intent keywords but can you realistically rank on page 1 for it?
At the other end of the scale, too many people choose cold keywords that no one is searching for or have no chance of generating any traffic at all.
So how do you choose the right keyword?
If you already have a website
I'd target a page with keywords that already rank in the search results.
You can use Google Search Console or use Frase Analytics to target opportunity, ranked, or decay pages.
How to do this in Frase Analytics
Select Analytics.
Select your site property.
Select your country from the country filter.
Sort by impressions in descending order
or choose pages.
Choose a ranked, opportunity, or quick win page from the dropdown.
This page has high impressions and low clicks and is a good candidate.
Click the page and sort by descending impressions.
Your first instinct is to choose the keyword with the most impressions; however, there could be another query you're ranking for that stands a better chance of ranking on page 1.
Once you've decided on that query, click the + button, save and continue and open the document.
So what about choosing keywords for a new website?
For a new website
You'll need a keyword strategy based on the buying decision process of your target audience at the top, middle, and bottom of the funnel.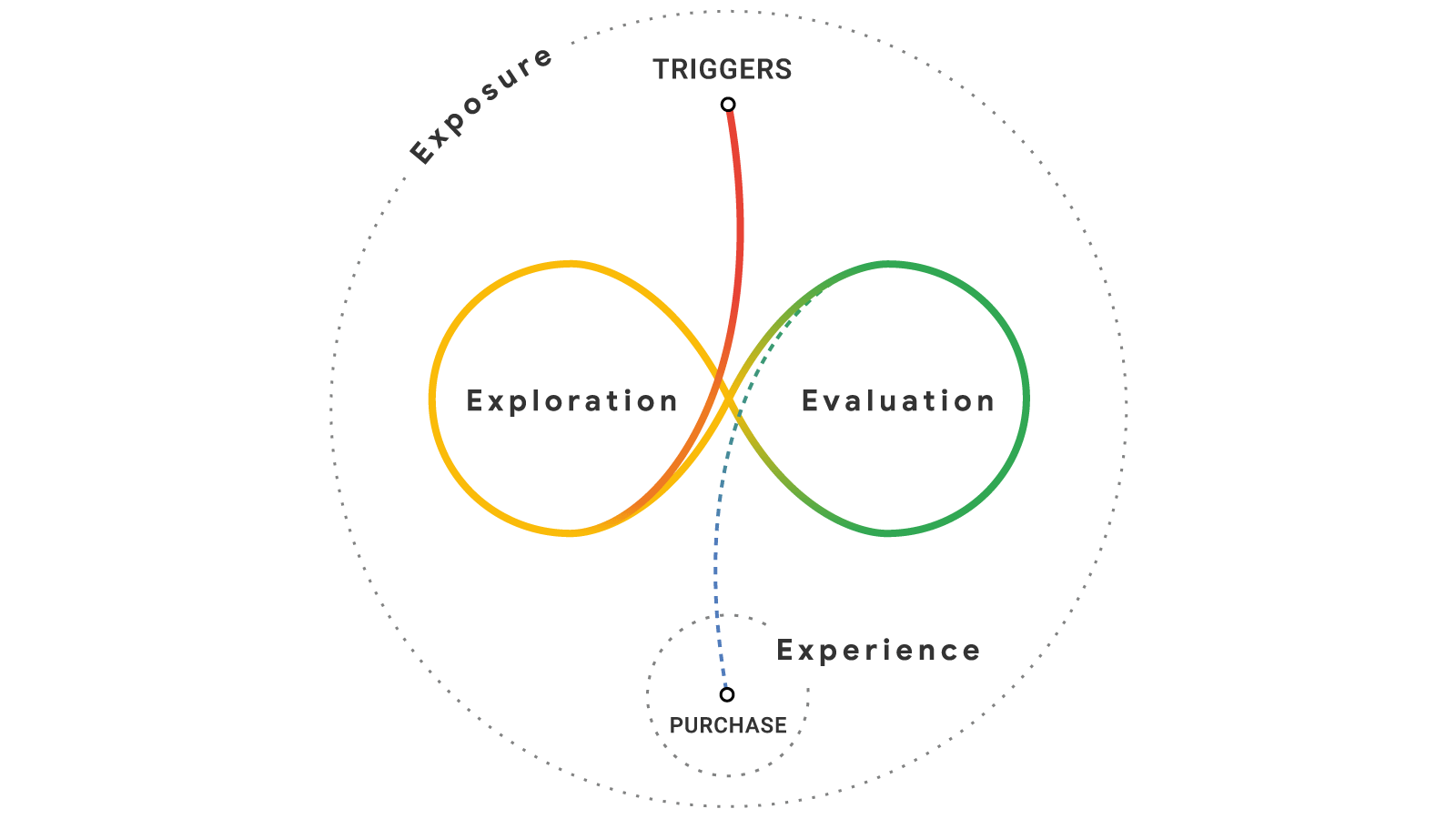 For example, when you introduce a new line of products or services, you'll want to target keywords with commercial intent related to your products or services.
How to do this in Frase Analytics
From your content plan, select a keyword you wish to target.
Go to Frase and create a new document.
Now, let's move on to the next step.
Step 2: Use a content analysis tool
Several SEO content analysis tools help you identify the topics, keywords, phrases, and questions for your target query to create relevant, comprehensive, and high-ranking content.
These tools simplify your SEO efforts and give you features to write optimized content for this keyword.
Of course, you could analyze the SERP manually by Googling the target keyword and scraping the top results, but this is a time-consuming process that a tool like Frase does in 20 seconds.
How to use a content analysis tool like Frase
In the research tab is a summary of the SERP results, and, using the filters, you can view the headers, questions, links, news, and statistics on these top pages.
In the outline tab, you can vertically scroll the top results and select any heading to create an outline or AI draft for the content you want to write.
On the optimize tab, the topics in your competitors' content have been analyzed and broken into five categories:
Long Tail Topics: Shows more detailed and specific topics
Top Topics: Most common topics used.
Title Topics: Topics used in your competitors' titles.
Header Topics: Topics used in your competitors' headers
Topic Clusters: Topics grouped by cluster
Next, probably the most important step in analyzing page content is user intent.
Step 3: Analyze user intent
Your content will perform better in the search results when you better understand what the user wants from your page after searching the target query.
User intent is why someone searches for something online; for example, if someone searches for "frase reviews," it's pretty obvious they want to read a review of Frase before deciding to pay for a subscription.
However, a query like "traditional marketing techniques is not obvious."
Do users want a definition, guide, examples, a list, or a comparison with other techniques?
There are 3 ways to analyze intent.
1. Look for clues in the query, e.g., "how to" in the query, suggesting that the user is looking to solve a problem.
2. You can analyze the page titles of the SERP results.
3. Read one of the top results for the keyword you're targeting and determine how they address the query and intent.
Use Frase to analyze user intent.
Create a Frase document with your query as the target keyword.
Select Optimize > SERP Scores.
Look for action verbs or outcomes in the titles of the top pages, e.g., increase your rankings.
Or look for action verbs or outcomes in the meta descriptions by clicking the Research tab.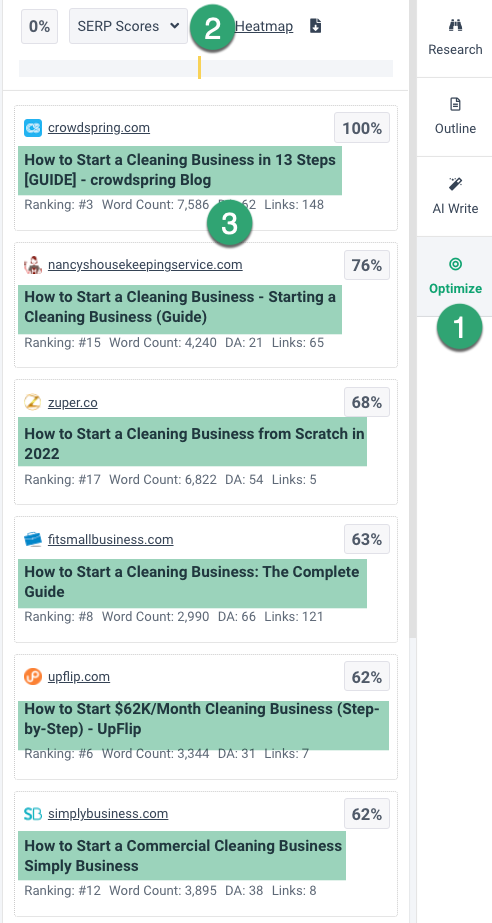 Spend a little time figuring out intent; it will help make the next steps easier.
Step 4: Content or Topic Score
Many content analysis tools provide a scoring system to measure content quality and help your content goals align with user intent.
Focusing on improving your Frase Topic Score is a surefire way to analyze page content.
Select Optimize > SERP Scores.
For example,
For this article, my score is 60%, and the average competitor score is 69.3%, but I'd like to score to be higher.
Likewise, with an existing article, you can analyze your topic score.
Step 5: Word count
While word count isn't a ranking factor, a content length analysis is helpful for your writers to know how detailed the page copy should be.
When your content is more in-depth, it can provide Google with more clues about the page.
Typically informational content such as how to, product reviews, or comparison articles are longer than product pages.
Shopify suggests a product page only needs about 300 words describing the product's features and benefits in a few paragraphs and bullet points.
Use Frase
Click the Research tab to see our word count or the average competitor's word count.
Step 6: Page title and description
Let's look at two aspects of content on a web page; the page title and meta description.
Page title analysis
A page title is text you see when you hover over a link in a search engine. It appears underlined, so it's important to make sure it describes your page well and includes your target keyword.
As quoted by Google, "one of the primary ways people determine which search results might be relevant to their query is by reviewing the titles of listed web pages."
We recently created an article to rank high for "SEO keyword strategy."
Use Frase to analyze page titles.
Select Optimize > SERP Scores to check page titles of the top results in Frase.
Include your target keyword near the start of your page title.
We noticed that the top 3 results contained "guide" in the title.
We figured user intent was "organic success."
We arranged the words in the page title to read; "SEO Keyword Strategy: A guide to organic success."
Meta description analysis
A meta description is a short piece of text that appears below your title in the search results; it helps readers decide whether or not they want to click through to your page.
The meta description should be unique, concise, and include the keyword you target.
Use Frase to preview meta descriptions.
You can preview the meta descriptions of the top results in Frase by selecting the Research tab and reading the text underneath the page titles.
Meta descriptions are usually just an extension of the page title.
To optimize the meta descriptions, write a clear call to action for the user to click on your page.
Use Yoast SEO, RankMath, or Mangool Tools to preview or rewrite your description.
While Google rewrites most meta descriptions, writing original descriptions is still good practice for SEO.
Step 7: Introduction
The page introduction or first sentence appears at the start of every web page used to introduce the topic, explain why it matters, or give context to the page.
The introduction should include your target keyword and encourage the user to keep reading or scroll down your page to find the answer or outcome they were looking for.
Use Frase to write or rewrite an introduction.
Select AI Write (or buy this add-on if you don't have it yet).
Select Blog Introduction.
Type your target keyword or the page title you wrote in the previous step.
Frase will generate page introduction examples; load more, then add to your document.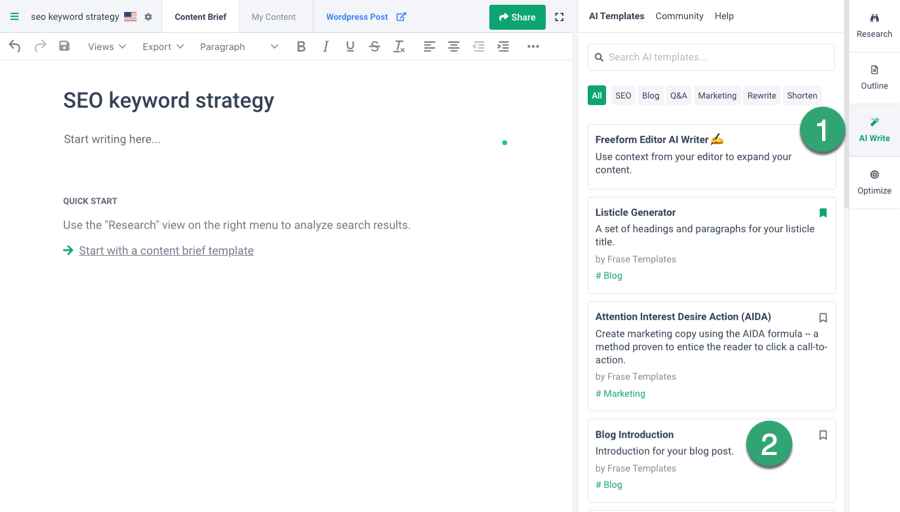 Alternatively, search the AI Templates for PAS, the problem, agitate, and solution copywriting formula, and generate an introduction with this technique.
Step 8: Headings and subheadings
Users will find it easier to browse and read your page if the headings are marked as h2 and h3.
They help users navigate through pages, but they also help search engines understand what each page section is about.
To quote Google, "We do use headings when it comes to search. But we use them to better understand the content on the pages. "
This article suggests that the order of headings is a signal to determine the angle and topic of content.
How to analyze headings before creating a new page
Let's say your target keyword is "how to start a cleaning business," and you're creating content from scratch.
You've followed the previous steps.
Click start with a content brief template.
Select the template that matches the keyword, e.g., how to template in this example.
The template provides suggested headings.
Look at the headings in the SERP overview.
Or select Outline > Open SERP Explorer.
Compose your outline by selecting headings from the search results.
Then include these headings in your content brief.
Then, provide the brief to your writer or go to the document tab to start writing from this brief.
But what if you already have a page written and ranked in the search results?
How to analyze and optimize page headings
From the My Content tab of your document.
Go to the Optimize tab.
Select Headers.
Select Topic Gap.
Hover over the score tab, and you'll see this message.
Your headers don't reference <the keyword>.
The competition referenced it in at least one header.
You want to edit the existing headers in your content or think about how to include these header gaps when you rewrite your content.
Step 9: Copy
Your web page copy consists of the words and sentences that help answer the user's query or encourage them to take the action you want.
In the previous step, you created headings to help you structure and plan your writing.
Follow these steps after you've completed your draft copy.
Go to the My Content tab of an existing Frase document.
Select Optimize > Long Tail > Topic Gap.
Look at the first 10 topics on the list.
These are the topics you should include on your page to increase your topic score.
Alternatively,
Go to the My Content tab of an existing Frase document.
Select Optimize > Long Tail > Topic Gap.
Look at the first 10 topics on the list.
These are the topics you should include on your page to increase your topic score.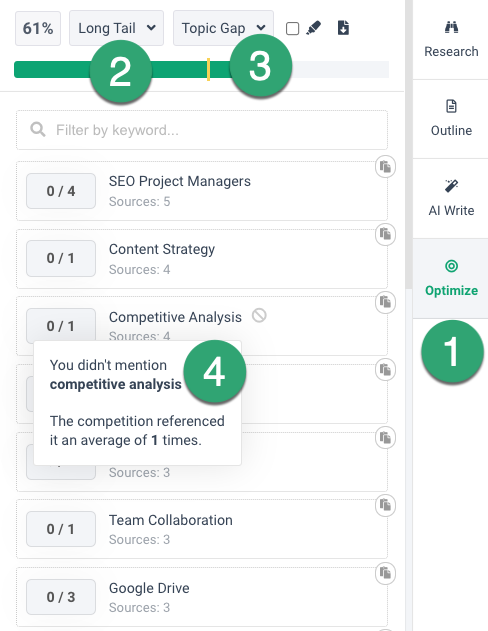 Step 10: Questions
The penultimate step in analyzing page content is to see if you need to include questions and answers on your page.
So what are the benefits of adding questions and answers to your page?
It can help you rank for a featured snippet.
Because of the passage ranking algorithm, Google isolates the most relevant paragraphs and phrases deemed most relevant for the query and rank the page accordingly.
Filling in content gaps provides content comprehensiveness.
How to find and include answers to questions with Frase?
Select Research and Questions from the dropdown.
Add the relevant question to your page formatted as an h2 or h3 heading.
To write an answer to a question using this formula – [the full question] [conjunction] [brief answer] [further details].
Or use the Paragraph Answer template inside Frase.
And last but not least.
Step 11: Conclusion and CTA
A conclusion is a summary or reminder of what the reader has learned from reading the content. It's not an essential component for all content, but it should be written in a few sentences if required.
This ties in nicely with the next step, the call to action.
A CTA is a web page element encouraging visitors to take action, e.g., "Learn More" or "Download Now," and should be relevant to the page the reader is browsing.
However, pages such as e-commerce category, product, and basket pages have system-wide CTA's that you have little control over.
We don't have a call to action on most articles; offering a free guide to content analysis would be relevant for this page.
How to write a call to action with Frase.
Go to the end of your Frase document.
Select AI Write.
Select Community.
Type "call to action" and select it.
Enter the keyword you're targeting.
Select Run Template.
Use or edit one of the suggestions.
Conclusion
We outlined how to perform an SEO page content analysis to rank your new and existing web pages better in the search results with our 11 steps.
Start analyzing your content and improving your rankings and traffic, log in or start a trial with Frase.io.