How to do an SEO Competitor Analysis and beat the competition
Learn how to outrank and beat the competition by doing an SEO competitor analysis with Frase.
I'm going to show you how to analyze your competitors' websites and find your weaknesses.
This way, you can improve your page rankings and start climbing the SERPs.
What is an SEO competitor analysis?
Competitor analysis helps you understand how your competitors are performing online.
This allows you to determine where they have strengths and weaknesses and take advantage of them.
Why should I do an SEO competitor analysis?
There are several reasons why you should perform an SEO competitor analysis:
Knowing what works for your competitors will give you ideas on how to improve your web page and increase its position in Google.
Use this information to see what keywords your competitors are ranking for.
See what content your competitor is using.
Use your findings to determine whether or not you should focus more on paid advertising.
Use the data from your competitor analysis to determine if there are any ways that you can improve your content.
Why is an SEO competitor analysis important?
If you're feeling overwhelmed by SEO, don't worry! We've got some tips for you below.
But here's what my years of marketing have taught me:
SEO is not half as complicated as people make it out to be
Your competitors can be your greatest allies
To quote The Art of War: "if you know the enemy and know yourself, you need not fear the result of a hundred battles."
Imagine being able to reverse engineer someone else's success and identify their weaknesses so you can win bigger and more frequently.
That's the beauty of competition.
The way to tap into that is through competitive intelligence.
Your goal is to get insight into the strategies working for others in your market so you can adopt them, improve them, and gain an edge.
When it comes to search engines, this has never been more important.
With all the hype and speculation that surround how these search engines and algorithms work and evolve, it's easy to forget why they exist in the first place:
To provide the best possible search experience for users through relevant, high-quality content.
For marketers, at the heart of that process is keyword research.
Interestingly enough, most people have no idea how to find and select the types of keywords that matter.
Sure, they may generically choose a few keywords to target.
They may occasionally stalk some random competitor's website.
But I have news for you – it doesn't work.
Here's where many people fall short:
They don't take into account how competitive their target keywords are.
They don't consider what kind of content is required to rank.
They don't accurately gauge the resources that they'll need to compete.
If you're tired of being outranked, I'm going to show you a comprehensive method for analyzing your SEO competitors and your important keywords.
Let's get started using Frase.
Using Frase as an SEO Competitor Analysis Tool
Let's start with a web page that you are already ranking for, but you're not on the first page of Google.
In this example, we want to improve our ranking for "SEO competitor analysis."
Sign up or log in to Frase
Connect with Google Search Console
Go to Content Analytics
Step 1: Go to Frase Content Analytics
Frase.io has become one of the most popular AI-powered content optimization tools used by content marketing teams and SEO pros alike.
Go ahead and sign up for a trial with Frase.io.
Go to the Content Analytics dashboard.
Select Integrate with Google Search Console.
Select your account.
Allow access.
Here is the Content Analytics dashboard.
Each website has its own dashboard showing which keywords they're ranking for and their current position within Google's results page.
Last 30 days metrics.
The report shows:
The website
Number of web pages that earn organic traffic
Percentage of all pages with traffic
Total number of organic clicks
Click growth, i.e., summarizes if your traffic is growing or declining over the previous 30 days.
Your average page ranking
A bar chart visualizing monthly traffic for the last 12 months
Organic traffic trend.
In this example, you can see clicks are down 14%, and the overall trend is a decrease in monthly clicks.
Pages, queries, questions, and clusters.
The next section of the Content Analytics dashboard enables you to preview your page and query impressions, position, clicks, click-through rate, click growth, status, and a link to creating a Frase document.
You can use various tools within Content Analytics to help improve the performance of your pages.
You can either choose a page, query, or question.
Before we start, here's a glossary of terms.
Impressions: Similar to search volume, the number of times the page or query appears in Google's top 100 results.
Position: the average page or query position in the search results; globally
Clicks: the number of clicks to the page or from a query from the search results
CTR: click-through rate is the number of clicks divided by impressions expressed as a percentage
Clicks Growth: the growth rate of clicks in the last 30 days compared to the previous 30 day period.
Top results
Top results are pages in positions 1-10 that have not experienced a ranking loss in the last 30 days.
Typically these pages will be your home, about, contact, or location pages.
When you click the page name, you'll see the queries and the metrics of this page.
For example, this laundrette ranks for "washateria ayr" (the brand and location) with 49 impressions, an average position of 2, a CTR of 10.2%, and 5 clicks.
In contrast, the query "laundrette ayr" (the business type and location) has 160 impressions, an average position of 5.85, a CTR of 1.25%, and 2 clicks.
The website owner should optimize the query with higher impressions while retaining other keyword rankings.
Another option to select a top result is to click the Frase doc link, where you can compare the topic score of the page with competitor sites.
To improve page relevancy, you can identify content gaps within the document, such as headings, long-tail phrases, and words.
Identify Quick wins
If you are not publishing content regularly, you may not find pages appearing in this section.
Quick wins are pages have achieved a 1-10 position within 30 days of publishing.
This tourism website is experiencing many quick win pages.
Sort by most clicks or pages with the most impressions to further analyze quick win pages.
In this example, I sorted page impressions into descending order, and now I can drill further into any page to identify optimization opportunities.
Identify ranked pages
Select "ranked" from the pages dropdown option.
Ranked pages are generating clicks but don't have a leading average position.
You may wish to identify specific pages that you want to improve, such as product or services pages.
It has some good traffic.
Use the arrow to look at more pages.
This service page has decent impressions but few clicks.
Click the page link to view queries ranking for this page.
This service is called "click forecasting," but "forecasting SEO traffic" is a better search term to understand what users want.
If I decided this is the query I wish to analyze, I would click the Frase Doc link to begin optimizing my content for this query.
Identify decaying content
Decaying pages or pages with declines in traffic are marked in pink have lost more than two positions, and clicks have decreased in the past 30 days.
Pages that are decaying often indicate that they need improvement.
So if you're providing financial advice for an industry where regulations may be changing quickly, you need to keep up with them so that you don't get caught out by any changes.
Select the "decay" option from the pages dropdown.
Choose a page.
Then sort queries by descending order.
Identify Opportunity pages
Opportunity pages have queries in positions 10-50, and impressions are growing fast.
It would be helpful for you to capitalize on these pages and questions so they get seen by people who might benefit from them.
Follow the same steps as above.
Identify unranked pages
Unranked pages are not generating any clicks and are in weak positions.
You need to remember that these pages may be new, and they will need some time before ranking well in Google.
Identify questions you rank for
Alternatively, select the link to optimize for questions.
Sort impressions or positions to identify a question to optimize.
For example, locate a question in positions 8, 9, or 10 with a high number of impressions.
e.g., how to choose the right keywords for SEO
Before creating a Frase Doc, double-check that this is the primary query you want to target.
Target keyword
You may also select a particular keyword for which you wish to optimize.
Select Queries.
Then select an option from the dropdown, e.g., a decaying query.
Targeting keywords or queries at the foot of page 1 or the top of page 2, e.g., positions 8 to 20, is a good approach.
e.g., website structure template, 667 impressions, pos 15.92, clicks 2
Click + to create a Frase Document, and you can begin optimizing
Step 2: Identify SERP competitors
Your competitors aren't who you think they are, and they are different for each search query.
Analyzing competitors you already compete against is one of the most effective ways to find new opportunities for improvement.
When the document opens, and you land on the My Content tab.
We scrape the content of your page inside the editor.
Then on the right side, you will see a SERP summary of your competitors.
Scroll down, and you'll see a detailed summary of each SERP result:
The domain name
Page Title
Headings
Content within each heading
Other page sections
Step 3: Domain authority and backlinks
The next step is to compare the domain and link strength of your page against the top-ranking domains.
I recommend comparing your page with the top 10 competitors.
Click the arrow next to "results processed," choose top 10 and "save."
Look at the SERP summary tab.
Word Count
Our document has considerably fewer words than competitors and could be a reason for our search engine rankings position.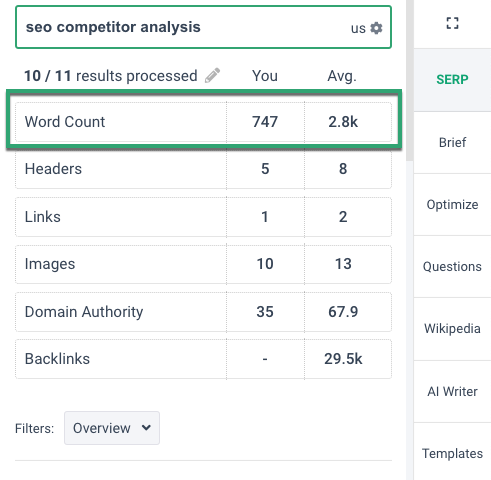 Headers
Our web page has fewer headings suggesting the page isn't structured as well as competitors.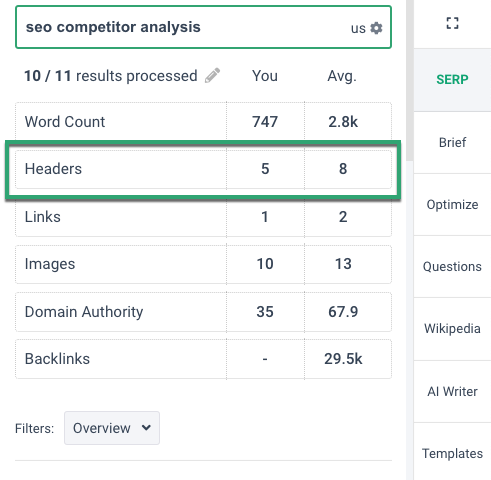 Images
For e-commerce category and product pages, this could be useful when comparing your image content with competitors.
Domain Authority
When your competitors have a higher domain score than yours, you may find yourself having trouble competing against them for some keywords because of their domain strength.
To overcome this problem, you need to analyze the gap between their rankings and yours.
Google tends to favor higher domain authority sites on page one, so our lower Domain Authority score could be another reason we are not on page 1.
Backlinks
Backlink analysis is one of the most important parts of competitive analysis.
If one of your competitors has a significantly better backlink profile than yours, especially if they have quality links from reputable sites, then you may find yourself having trouble competing against them unless you can improve your backlink profile.
We have no links to our page, whereas competitors have many.
When competing against an authority website, one way to outrank them is by earning more links to your page.
So, to recap, our page has less content, fewer headers, lower domain authority, and fewer backlinks than competitors.
Now, let's move to the next stage of the analysis.
Step 4: Topic Score (of content)
In this step, you will analyze your content with the competitors.
Does the competition produce high-quality content?
Do they publish in-depth articles?
We will now analyze our content against the competitors, which will help us identify opportunities to improve our search rankings.
Select the Optimize tab, and you see your Frase Topic Score compared with the average topic score of the selected competitors.
12% versus 46.6%.
Our Topic Score summarizes how well your page covers the topic, the keyword you target, and compares your topic coverage with competitors.
In the previous step, I highlighted our page had 747 words, and the competitors had 2800 words on average.
A lower word count means that our content isn't comprehensive enough; therefore, it doesn't cover every aspect of the topic well enough.
Step 5: User intent
Satisfying intent is one of Google's main goals for its users.
Web pages that match their content to the user's intents perform better than those designed solely for search engines.
Intent is the reason or purpose a person enters a search query into a search engine.
Go to the Optimize tab and select SERP Scores from the dropdown.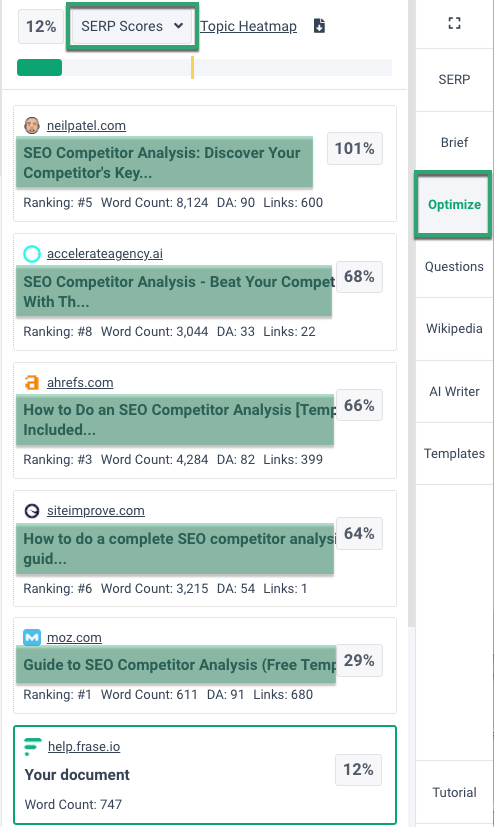 Read the titles of all the competitor's pages.
Then compare these titles with the title of your page (which appears in the editor).
Figuring out the intent of your target audience or users is not easy.
Next, visit a few of the top pages, read the content, and put yourself in the shoes or mind of the user.
Ask "what do they want next?" or "what would they search for next?"
Why would a website owner want to do SEO competitor analysis?
The intent in this example is that the user wants to do an SEO competitor to rank high and beat the competition.
And if you look at the 3rd result in the SERP Scores, this is the only web page that explicitly addresses user intent in the page title; beat the competition.
In the following steps, we'll identify two content gaps.
Step 6: Find heading gaps.
We mentioned in step 2 that our page had fewer headings than competitors; let's analyze those headings in more detail.
Heading gaps are headings on competitors' pages but not on yours.
From the Optimize tab, select Headers and then Topic Gap.
Hover over a header on the list.
Our page doesn't reference this header on your page, while competitors do.
You can't possibly fit every header on your web page, but it will help if you focus on the ones that make sense for your page.
You will use some of these headings to rebuild the structure and provide greater topic coverage on your page.
Step 7: Find keyword gaps.
In a keyword gap analysis, you find the keywords or phrases on competitors' pages but not yours.
From the Optimize tab, select Long Tail, then Topic Gap.
You'll be presented with a list of long-tail phrases that are included in your competitor's pages but not on your page.
When you rewrite your page, include some of these phrases.
To recap,
The key to doing SEO competitor analysis is to identify missing topics on your page.
Analyze competitor pages to understand what content they're missing.
Identify gaps in your page's content, such as headings, keywords, etc.
Fill in the gaps with a rewrite or refresh of your page.
Refresh content inside Frase and republish your page
Use our content refresh template to start improving your content or do it within the editor.
I followed the exact steps in this article and improved the Topic Score from 12% to 49%.
Now I can republish the page and add a reminder to check the rankings, and actual search traffic has improved in 30 days.
Next step
Log into Frase.io or start a trial to use our SEO competitive analysis tool, beat the competition, and grow your organic search traffic.