21 SEO Chrome Extensions for SEO's and content marketers
We have curated a list of 21 SEO Chrome extensions to help SEO professionals, marketers, and writers with their SEO workflows.
We've categorized these resources into audience and keyword research (for finding potential audiences), content creation (for creating content), and performance (for measuring and improving success).
Jump to a relevant extension using the links below.
What is a chrome extension?
A Chrome extension is an add-on or plugin that can be added to the Chrome web browser, allowing users to perform specific tasks without leaving their browser. Some examples include checking grammar and analyzing traffic or metrics of a website.
Audience and Keyword Research Extensions
The first category of Chrome extensions can help you find or learn more about your potential audiences.
Many of these extensions only provide high-level information, so if you need to deep dive into keyword research, competitor, or backlink analysis, then use paid SEO tools.
Glimpse – Google Trends
The Glimpse extension for Google Chrome adds enhanced data to the default Google Trend experience, including monthly search volume, related trends, and longtail keywords.
It's commonly used for researching keywords and finding business and e-commerce opportunities.
How to use
After installing the extension, you'll need to sign up or log in (don't worry, there is a free account option with 5 free searches a week).
You'll be directed to Google Trends.
After following their onboarding instructions, enter a keyword or topic in the search bar.
In this example, I can see the upward trend for "ai copywriting," but I can also see related trending topics such as "NFT generator" and "image upscaler."
Scroll further down the report, and you'll see other topics people search for.
SimilarWeb
SimilarWeb lets you view website traffic estimates and key analytics for any website, including site engagement rate, traffic ranking, and traffic source.
How to use
After installing the extension, visit a website you wish to analyze and click the extension button.
A panel is laid over the website showing metrics such as bounce rate, pages per visit, monthly visits, and average visit duration.
If you scroll down the panel, you'll see traffic by country and traffic sources, including direct, search, referral, email, social, and display ads.
As the metrics are estimates, I recommend analyzing a few competitors to have comparative data, which you can include in a report.
SimilarSites
This extension does exactly what it says in the name; it finds similar websites to those you're currently browsing.
We use Ahrefs, and it proposes competing domains, but this is a free extension that shows similar sites and their monthly traffic; idea; if you're conducting some preliminary or basic competitor research.
How to use
After installing the extension, visit your own website
Click the icon, and a window will show similar sites and their monthly visits.
Copy the sites and their traffic into a spreadsheet.
Repeat the process by visiting another website.
Semalt SEO Extension
The best feature within the free Semalt SEO extension allows you to see the most popular keywords and positions a website ranks in the search engines.
You can quickly look at your own or competitor's websites and see any position changes over time. Still, you are better off using Frase Analytics or a rank-checking tool for comprehensive analysis.
How to use
After installing the extension, visit a website.
Click the extension button.
Scroll down to the "Rankings by keywords" report.
Select the Top 10 option.
Ubersuggest
Ubersuggest has a FREE SEO chrome extension that shows monthly organic traffic, domain authority, keyword search volume, position, and estimated visits per keyword.
The graph shows an upward trend in Frase's traffic over the past 6 months, and the data is fairly accurate.
How to use
After installing the extension, visit a website
Then click the extension button, and the extension will lay the data over the website.
Use the vertical tabs to view keyword and backlink data.
vidIQ
The vidIQ Chrome extension provides tools to analyze your YouTube audience and competitors before creating new content.
How to use
After installing the extension, visit your YouTube channel and competitor link on the left-hand menu.
Then enter up to 2 competitors.
The tool will show you a thumbnail and title of their most popular videos.
Use these titles as inspiration for your next videos.
Next, click the channel audit link to see the content you should double down on (i.e., repeat) and some of the top search terms you can create content around.
Content extensions
The second category of Chrome extensions can help you create or optimize content.
Grammarly
The Grammarly Chrome extension helps users check their writing before publishing it online. It checks spelling, grammar, and plagiarism.
How to use
After installing the extension, go to the document you are writing or editing and click the Grammarly extension button.
Use the setting button to change your writing language (I switch between American English for Frase and British English for my writing).
The toolbar will highlight recommended changes, remove redundancy, rephrase sentences, correct punctuation, and even propose complete sentences you should rewrite.
Click the proposed change, and Grammarly will update that content on your page.
PrintFriendly
PrintFriendly is a chrome extension that generates a PDF from any web page that you can download and save.
Use the PDF for lead magnets after visitors opt into a web form.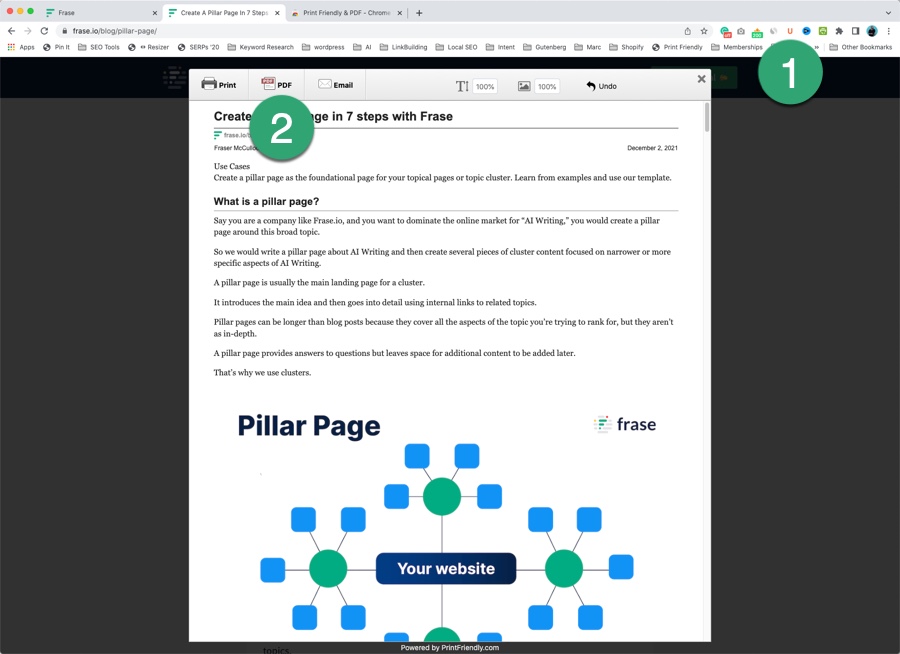 How to use
For example, here's our guide to creating a pillar page.
Visit the URL you wish to generate a PDF.
Click the extension button.
Click the PDF link to generate the PDF
Press Download PDF to save your download folder.
Frase Article Summarizer
The Frase Article Summarizer chrome extension helps marketers get a quick snapshot and outline of a web page.
How to use
After installing the extension, visit a web page you wish to analyze.
Click the icon on your toolbar.
Frase will reveal the page title, meta description, and the key headings of the page.
Hunter
Hunter is a free Chrome extension that helps you find and validate the email addresses of websites' contacts.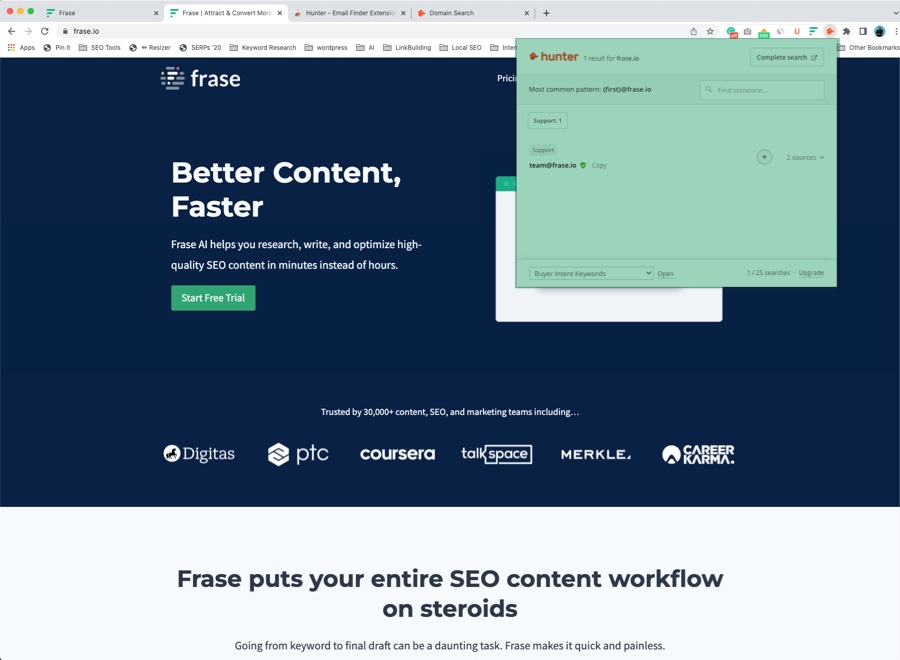 How to use
After installing the extension, visit a website, then click the extension button in your browser.
Then, you'll be asked to register (for free) or log in.
Go back to the website, refresh your browser, then click the extension button again.
A box appears showing the verified email addresses of contacts related to the website.
Hover over the email address, press copy, and add to a contact spreadsheet or text file.
Alternatively, press the + button to add the contact to Hunter.
The Hunter free plan allows you to search 25 websites per month; they also have an email campaign feature from which you can do email outreach from the contacts you've collected and verified.
Copysmith
This chrome extension helps you write or improve content using AI from your browser but is only useful for trial or paying customers; there are no free options or credits.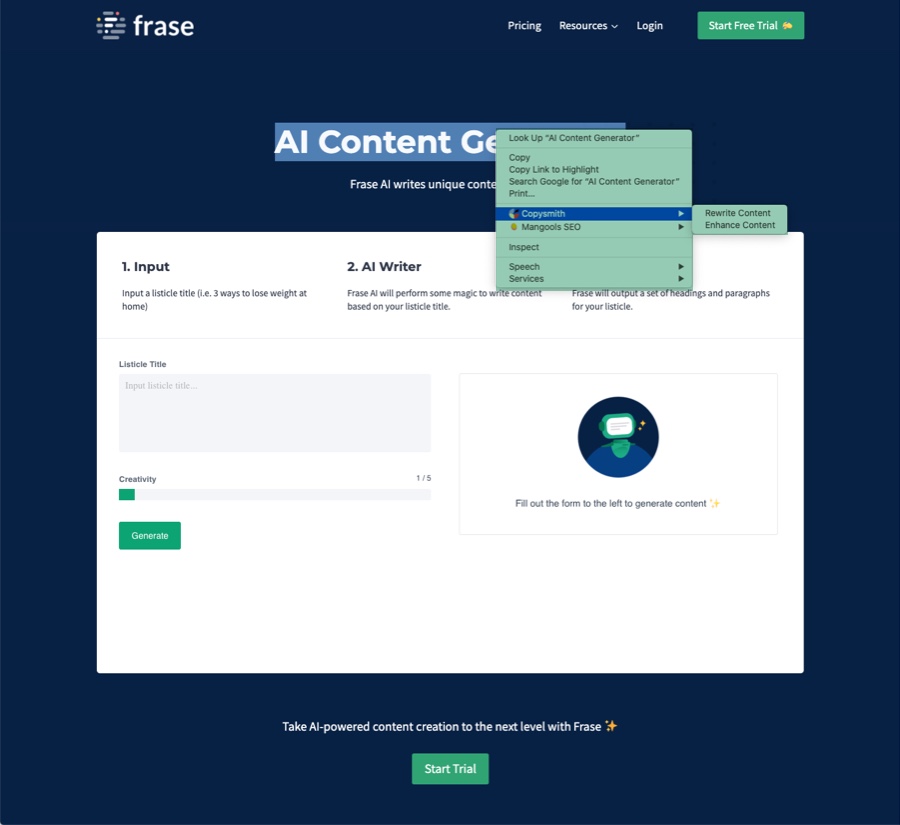 How to use
Install the extension, visit the web page you're working on, highlight the copy you wish to enhance and right-click.
You'll see the Copysmith option
Choose rewrite or enhance
Log into Copysmith, select an option, then generate copy variations.
Scribe
Scribe enables you to auto-generate step-by-step guides with images just by clicking a record button.
This tool is handy for training or onboarding customers who prefer documentation in written and visual format instead of videos.
How to use
You will be asked to register with Scribe before using the tool or extension; don't worry, there's a free plan option.
Go to the destination you wish to record instructions, e.g.; I'll use the Frase Outline tool as an example.
Click the Scribe button in your browser and press "Start Recording."
Go ahead and perform the steps required to teach users or customers.
Click the Scribe button again, then press "Stop Recording" when finished.
You'll be directed to your Scribe account, where a workflow contains details of all the steps you took, including the URL, text, and screenshots.
Now edit the workflow and press copy link or share link; you can use the share link to embed on a web page.
Loom
The Loom Chrome extension lets you record your screen and camera with one click.
This is useful when troubleshooting SEO or content issues with your team or clients, recording instructional videos, and presenting ideas.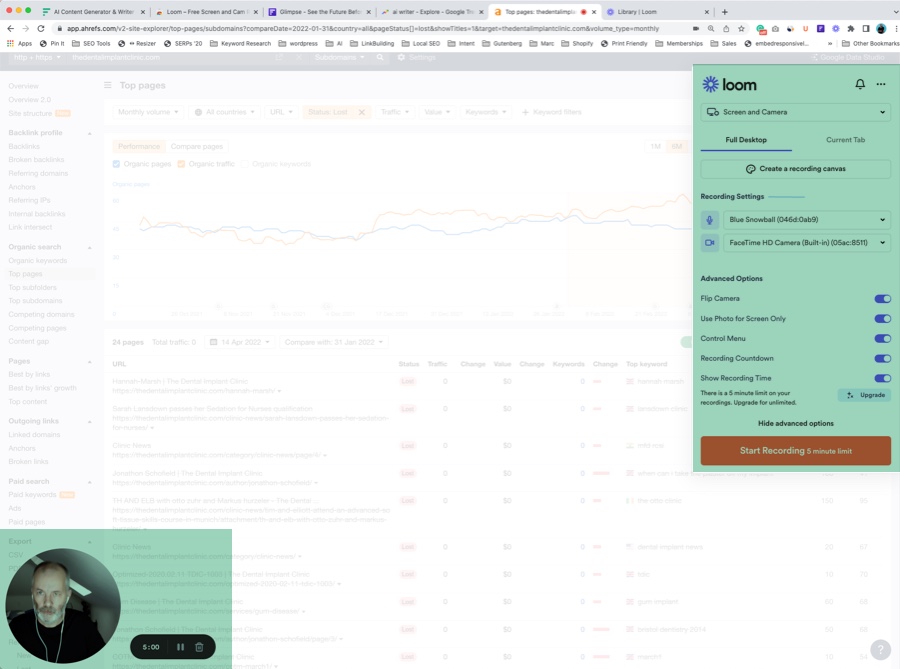 How to use
After installing the extension, you'll be automatically logged in or asked to register an account; there's a free plan.
Next, go to a browser window you wish to record
Press the Loom button in your browser
Customize the options in the top right and bottom left of your screen.
Press Start Recording
Technical and Performance Extensions
The third category of Chrome extensions can help you identify SEO issues, improve performance, or measure success.
MozBar
The Mozbar Chrome extension provides Page Authority and Domain Authority for any keyword you search or web pages you visit, provided you register or log into Moz.
Additionally, MozBar will provide information about on-page elements such as the title, description, headings, links, and markup.
How to use
I searched for "SEO chrome extensions," and you can see Moz data laid out on top of the top results.
Frase has a Domain Authority of 37, and these top pages have significantly higher authority.
Additionally, these top 3 results have many links, making it difficult for this page to rank high quickly.
I visited our AI content generator page to review the on-page elements using the Mozbar.
You can move the toolbar to the top or bottom of the page and then use the tab to review different elements.
Mangools SEO Extension
This is an extension to promote their free trial and subscribe to their service, so I'm not recommending this service; simply including it so this page is topically relevant.
How to use
Go to a web page after installing.
Click the icon on your browser.
I can get metrics such as Domain Authority and Page Authority for free with Mozbar.
No keyword information unless I subscribe.
No backlink data with registering.
But On-Page SEO information is provided.
But one tool from Mangools that I use regularly is their Google SERP Simulator, where you test and preview title tags and meta descriptions.
I entered a URL in this example, and the tool fetches the page title and description.
Now click the mobile option to see how your tags are displayed on a mobile browser.
Link Checker
This extension runs through links on the current pages and checks whether they work; it's especially great for identifying broken links.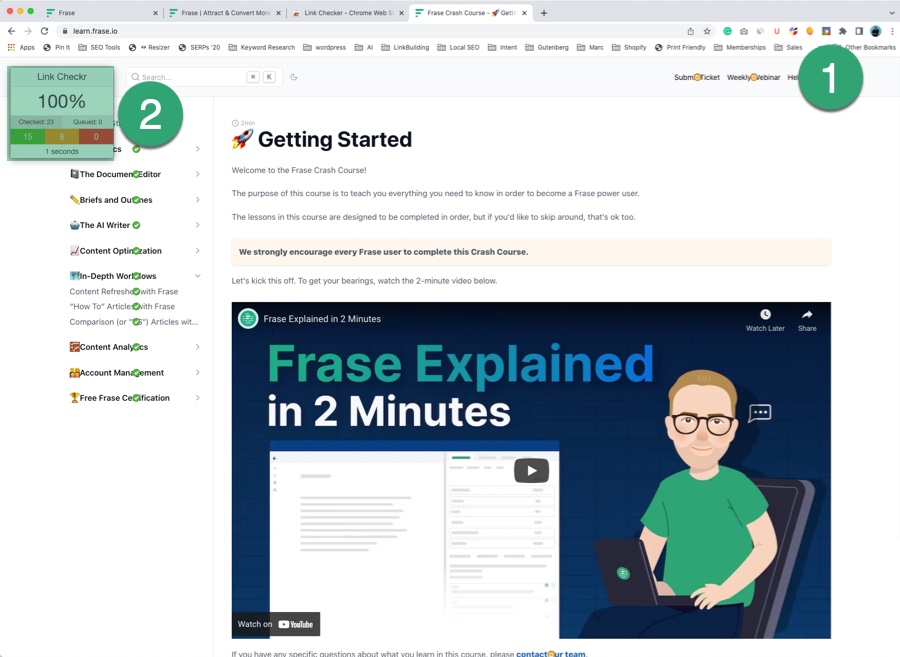 How to use
Install the plugin.
Visit a web page you wish to analyze.
Click the Link Checker button on your browser.
You can also check all the links on a web page by clicking the green, amber, and/or red sections in the pop-up window.
You can then click the link to find out where it is on the web page.
SEO Minion
SEO Minion is another Chrome extension to help with tasks such as on-page analysis, but it has a few other features the others don't have, such as a Google location checker.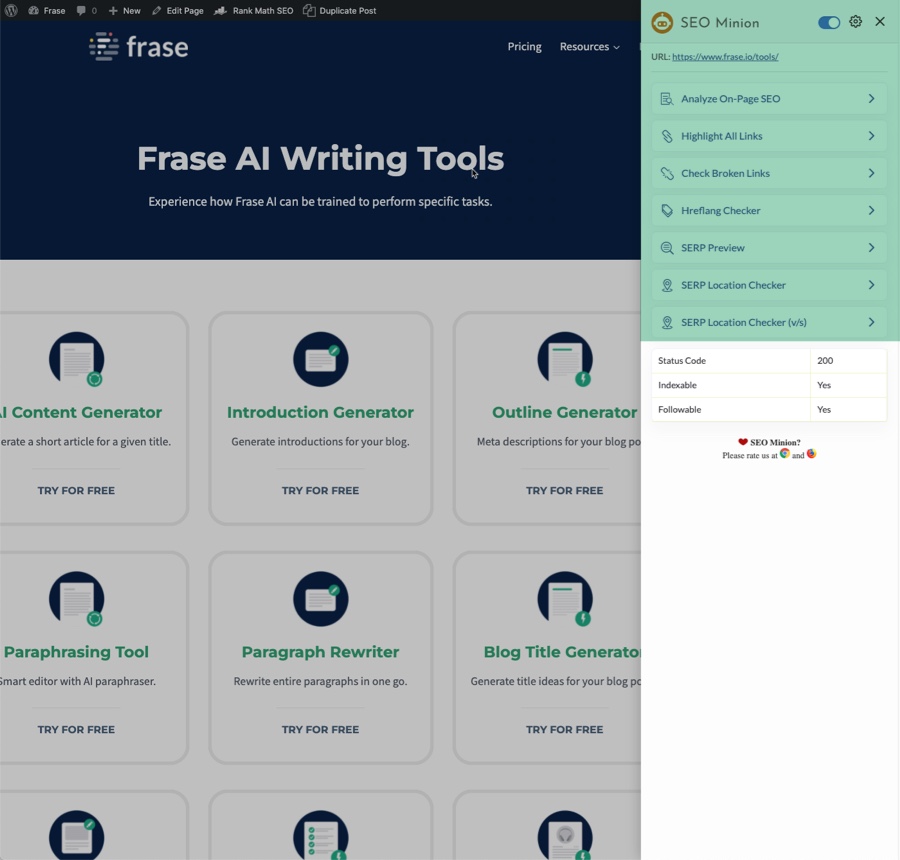 How to use
Click the web page you are analyzing after installing the extension, then click the SEO Minion icon in your browser.
This opens a window showing several features:
Analyze On-Page SEO
Highlight All Links
Check Broken Links
Hreflang Checker
SERP Preview
SERP Location Checker
SERP Location Checker (v/s)
My favorite feature is comparing search rankings for a search query in different countries with the SERP Location Checker (v/s) feature.
Click SERP Location Checker (v/s)
Enter a query
Change the dropdown options to the two countries you want to analyze
SEO Minion will show the SERP side by side so you can compare ranking positions.
Google Tag Assistant
The Google Tag Assistant helps troubleshoot issues related to installing various Google tags, including Google Analytics, Google tag manager, etc.
How to use
Here's Google's official video on how to use the Tag Assistant.
SEO Pro Extension
SEO Pro Extension helps you check and analyze SEO information about your website to improve its performance in search.
Title
Description
URL and Canonical
Core Web Vital score
Page headings
All internal links and external links
Images and Alt text
Schema
How to use
After installing the plugin, click the plugin button on your browser and visit the web page you wish to analyze.
Detailed SEO Extension
The Detailed SEO Extension is similar to SEO Minion and SEO Pro Extension; they all display SEO information about your web page.
How to use
Install the plugin.
Visit the page you wish to analyze.
Look at the information in each tab to identify any issues.
Conclusion
There are many other great Chrome extensions for SEO, like the Ahrefs SEO toolbar, but we've tried to stick to ones with free plans.
These extensions should help you with keyword research, content creation, and SEO performance, but installing too many can slow down your browser.