12 Keyword Optimization Tips to bring more search visitors
Use these 12 keyword optimization tips and tactics to bring in more visitors from organic search results.
What is keyword optimization?
Keywords are the words people use when searching for a product, service, or information on the internet.
The goal of keyword optimization is to make sure that the keyword or query you target increases its organic ranking and helps to bring you to get more traffic.
Why do I need a keyword optimization strategy?
To bring visitors to your site from the organic search results, you need to identify the right phrases for your target audience.
There are 4 main types of keywords.
Informational keywords
Keywords with informational intent are searched by those looking for answers to a question or general information.
"how to do a kickflip."
Navigational keywords
Keywords with navigational intent are made by searchers trying to find a website or page.
"under armour men's t-shirts."
Commercial keywords
Keywords with commercial intent are made by searchers looking for information about products, services, or brands.
The user has the intention to complete an action or purchase sometime in the future.
"best skateboard shoes under $100"
Transactional keywords
Keywords with transactional intent are made by those looking to buy a product or service.
"buy blue yeti microphone."
What are the benefits of keyword optimization?
Identifying user intent helps you understand why people search in the first place. This lets you know what they want from your web page.
Focus on optimizing keywords that have greater traffic potential.
By optimizing keywords, your web page can better engage potential customers and address their needs.
How to start keyword optimization with Frase.io
Sign up for a trial with Frase.io or log in.
Go to the Content Analytics dashboard.
Select Integrate with Google Search Console.
Select your account.
Allow access.
Welcome to the Content Analytics dashboard.
The dashboard provides a summary and overview of each website's search rankings.
Last 30 days metrics.
The report shows:
The website.
Number of web pages that earn organic traffic.
Percentage of all pages with traffic.
Total number of organic clicks.
Click growth, i.e., summarizes if your traffic is growing or declining over the previous 30 days.
Your average page ranking.
A bar chart showing organic clicks for the last 12 months
Organic traffic trend.
In this example, you can see clicks are down 14%, and the overall trend is a decrease in monthly clicks.
Pages, queries, questions, and clusters.
The next section of the Content Analytics dashboard enables you to preview your page and query impressions, position, clicks, click-through rate, click growth, status, and a link to creating a Frase document.
To optimize a keyword, you have several tools within Content Analytics.
You can either choose to optimize a query or question.
Before we start, here's a glossary of terms.
Impressions: Similar to search volume, the number of times the page or query appears in Google's top 100 results.
Position: the average page or query position in the search results; globally
Clicks: the number of clicks to the page or from a query from the search results
CTR: click-through rate is the number of clicks divided by impressions expressed as a percentage
Clicks Growth: the growth rate of clicks in the last 30 days compared to the previous 30 day period.
1 Target keyword
Select Queries.
Choose from the list of keywords the query you want to optimize.
Click + to create a Frase Document to analyze the page content.
2 Questions
Alternatively, select the link to optimize for questions.
Sort impressions or positions to identify a question to optimize.
For example, locate a question with a high number of impressions.
e.g., how to sell your house without an estate agent
Before creating a Frase Doc, double-check that this is the primary query you want to optimize.
Topic Score
After creating a document:
Click the SERP button.
Click the pen icon next to results processed.
Click Top 10 and Save.
Click Optimize and compare our Frase Topic Score with the average competitor score.
For example, this page has a score of 42% compared with an average 65% score of the top pages.
The topic score informs you that your content is under-optimized for the query you are targeting.
3 User intent
A primary goal of Google is to satisfy user intent.
When websites match their content to the end user's needs, they tend to be more successful than sites designed just for search engines.
You can get an idea of how well-written content serves its intended audience if you analyze the most highly ranked websites.
Select the Optimize.
Select SERP Scores.
For example, this page targets the query "how to sell your house without an estate agent," and most of the top pages include "how to sell your house without an estate agent" in the title.
But what does a user want to achieve after searching this query?
Their aim or intent is obviously to sell their property, but perhaps they need reassurances they can actually do it themselves.
4 Page Title
As quoted by Google, "one of the primary ways people determine which search results might be relevant to their query is by reviewing the titles of listed web pages."
Imagine wanting to rank higher for "how to sell your house without an estate agent."
After reviewing the top results, all the page title are essentially the same.
To review page titles in Frase, select the SERP tab and review the top pages.
Or select Optimize and SERP Scores.
To optimize the page title, you frontload it with the query you are targeting.
Differentiate your page title from the competitors; use a promise, guarantee, offer or a verb that addresses the users intent.
eg: in this example, we could rewrite the page title (obviously you have to back up your claim or offer).
5 Meta description
Meta descriptions provide additional information for search engines and users under the page title.
Preview the descriptions of the top results in Frase in the SERP tab.
Most meta descriptions are extensions of the page title.
To optimize the meta description, extend the page title by writing a clear call to action, offer, or outcome the user might get by clicking onto your page.
Even though Google has rewritten most meta descriptions, writing unique ones is still a good idea.
6 First sentence or paragraph
Once a visitor has clicked through from your organic listing to read your web page, the first sentence encourages them to scroll further down your page for additional content.
Use a copywriting formula for your introduction.
The PPPP copywriting formula appears in Joe Vitale's Hypnotic Writing book.
7 Content depth
In this example, the page has 1100 words, whereas the top results have an average of 2300 words, indicating that the page needs to cover the topic in more depth.
8 Content or topic score
The Frase Topic Score is central to keyword optimization as it provides a content gap analysis.
Frase compares the words and phrases used on your page with the top 20 search results for this search query.
As a result, your page has a topic score expressed as a percentage.
This topic score is colored in green on a progress bar, with the average competitor topic score shown as a yellow line.
In this example, the topic score is 42%, and 65% is the average competitor score.
You can add extra content like headers and copy to help Google better understand the topics within your page.
9 Subheadings
To quote Google, "We do use headings when it comes to search. But we use them to better understand the content on the pages."
If you want people to read through your web pages sequentially, mark each step as an H2 or H3 heading.
Research indicates that the order of headings is a signal for determining the angle and topic of an article.
Heading optimization
As I optimize and rewrite this page, the Frase topic score recommends adding "realistic asking price" as a header.
For example, competitors have referenced "realistic asking price" in their headings.
This website owner could either reword or include these headings when they refresh their page content.
Go to the Optimize tab
Select Headers
Select Topic Gap
Hover over the 0/1 box and you'll the message "Your headers don't reference realistic asking price".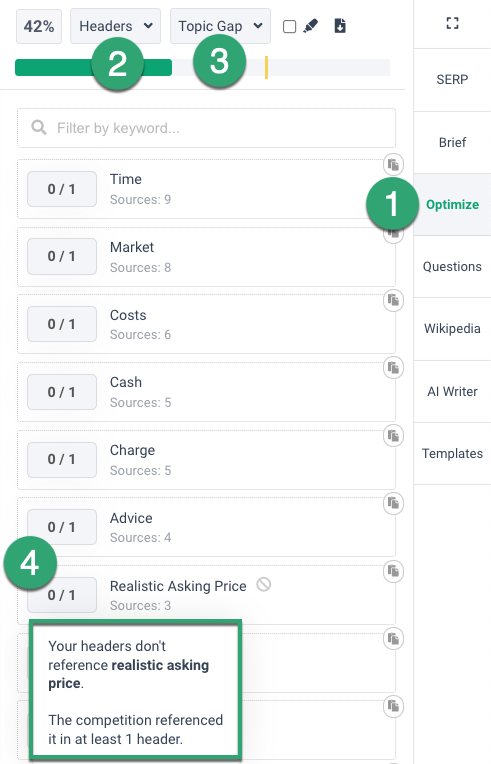 I've added these headings to my draft in the Frase editor, and I can write about these topics later.
10 Copy
Use the Fraser Topic Score as a tool to guide content optimization work.
Select Optimize
Select Long Tail
Select Topic Gap
Hover over any of the long-tail keywords, and you'll see the message about keywords you've not mentioned.
For keyword optimization with Frase, a good rule of thumb is that your topic score increases by 1% for every long-tail entity you add to your content.
Use heading and long-tail gaps to optimize your page content so that your score is higher than the average competitor score.
Don't forget to double-check your content for spelling and grammatical errors before publishing.
11 Blocks of text
If you want your content to look good, don't write long sentences and paragraphs.
Break your copy into short sentences and paragraphs.
12 Images
An excellent way to improve your page performance is by adding visual content such as images and videos.
It is crucial to use image tags to ensure that search engines see them.
Many people use the image tab on the internet to find clothes they are looking for, and content marketers use it to find relevant graphics and illustrations for their blog posts.
By describing your images with alt text, users can find your photos with or without visual impairments.
Summary
Optimize a keyword with traffic potential.
Study the intent behind the keyword.
Optimize page elements including the title, first sentence, headings, and long-tail entities.
Next step
To begin optimizing your keywords, log in or start a trial with Frase.io.