12 Keyword Optimization Tips to bring more search visitors
Use these 12 keyword optimization tips and tactics to attract more visitors from the search engine results.
But first, a definition.
What is keyword optimization?
Keyword optimization is the process of using keywords in various places on your web page so that search engines can better understand what your page is all about so the pages are easier to find for people who search those keywords.
The goal of keyword optimization is to make sure that the keyword or query you target increases its organic ranking and helps to bring you a boost in traffic.
Benefits of keyword optimization
Keyword optimization is an important part of your SEO strategy because if you don't optimize your keywords, your web page may not be found by a potential customer.
Traffic potential: Optimization helps you understand the organic traffic potential of your targeted keyword.
Writing compelling content: Including optimized keywords in your website's content connects you directly with prospective customers and addresses their needs.
Topic depth: When you use a content optimization tool to optimize your page for a specific keyword, you'll learn how to cover a topic more thoroughly, which will add authority to your page.
OK, let's get started.
How to get started with keyword optimization?
Rather than choosing any random keyword you rank for, you should approach keyword optimization strategically.
Obviously, you want to bring more qualified traffic to your website, but some keywords may be more important than others.
Yesterday, I spoke with a service company that wants to rank better for problem queries related to their services, not informational queries such as "What is?"
Likewise, an e-commerce company may want to optimize product keywords.
To start with keyword optimization, you should use a model such as buying decision process.
It looks like this.
| | |
| --- | --- |
| Buying decision stage | Types of queries to look for |
| Problem recognition | How, Reduce, Remove, Lower Can, When, Repair, Fix, Does |
| Informational Search | Category or product name, Best, List, Top, For, Size, Color |
| Evaluation of Alternatives | Comparison, Compare, Versus, VS, Review, Alternative |
| Purchase decision | Buy, nearest, order, sale Price, hire, discount |
Then, you need access to all the keywords your website ranks for using keyword research tools such as Google Search Console, Ahrefs, and Frase.
Since this is our guide, we'll use Frase Analytics to identify keywords a website ranks for.
So now you're armed with these two resources, it's time to take the first step; picking a keyword to optimize.
1. How to choose a keyword to optimize
Once you've logged into Frase, click the Analytics tab, and you'll immediately see a list of keywords you rank for, much like Google Search Console.
However, Frase makes optimization so much easier than Search Console.
Click Analytics.
Select Query.
Matches Regex.
Choose Questions, Long-tail, Commercial Intent, or Transactional Intent.
Apply.
In addition, you can sort these filtered queries by clicks or impressions.
In 3 clicks, Frase can show you keywords you rank for at each stage of the buying process.
Alternatively, clear the filter and select a dropdown option from the All Queries filter showing a keyword status.
Top Result: Position is 1-10 and has not recently experienced ranking loss.
Quick Win: Achieved 1-10 positions within 3 months from publishing.
Ranked: Generating clicks, but no leading average position.
Decay: Lost more than 2 positions, and clicks decreased.
Opportunity: Position is 10-50, but impressions are growing fast.
Unranked: No clicks generated, and weak position.
So, let's say I choose opportunity keywords; I can see several keywords earning some clicks, but look, none of the keywords are in a position less than 10.
I would also recommend filtering keywords by country and status to display the most accurate keyword metrics.
Optimize keywords on a page by page basis
My preferred approach is to optimize keywords on a page-by-page basis.
Here's how.
Select Pages.
Select a Page status from the filter, e.g., Opportunity.
Look at this opportunity page; lots of impressions but few clicks.
Click the URL to see all the keywords this page ranks for.
Sort by impressions in descending order.
The top query was the original keyword I was targeting, it's at position 10.98, so I need to optimize the page content for this query better.
Just select the + button.
Save the document.
Click the green document link to optimize for this keyword with the steps to follow.
Optimize by page URL
Most content management systems generate predefined URLs; e.g., the product pages on all Shopify-powered sites contain /products/in the URL.
WordPress blog categories pages contain /category/ in their URL.
So, within Frase Analytics, you can filter pages by URLs to identify relevant keywords per page to optimize.
2. User Intent Optimization
A major goal of search engines is to satisfy the searcher's intent, so user intent optimization is optimizing your web page to match the visitor's intent.
For example, look at the primary keywords this page ranks for.
Online business ideas UK – position 6.18.
online business ideas – position 39.12.
This suggests the page is best optimized for UK visitors, and you should optimize the content accordingly.
And the page is also ranking very poorly for "how to start an online business," which has an entirely different intent than the top 2 queries in the screenshot.
In this instance, create a new page to rank for this query with different keyword intent.
3. Content or topic score
Several content analysis tools provide a scoring system for the keyword you wish to optimize.
After opening a Frase document with the keyword your page is targeting, look at the topic score by selecting the Optimize tab.
The original version of the page has a topic score of 43% compared to an average competitor score of 55.3%.
This score tells me that I need to cover this topic in more depth.
As I rewrite this article, I have one goal in mind; to cover the topic in more depth by reaching a topic score of 70%.
So how do you cover your topic in more depth and improve your topic score?
4. Topic gaps
You need to identify topic gaps in your piece of content.
These topic gaps could be headings or long-tail keywords that you are missing.
To find header gaps in Frase
Select Optimize > Headers > Topic Gap.
To find long-tail gaps with Frase
Select Optimize > Long Tail > Topic Gap.
Now, copy and paste all these topic gaps into a text file or copy and paste them into our Content Refresh brief template.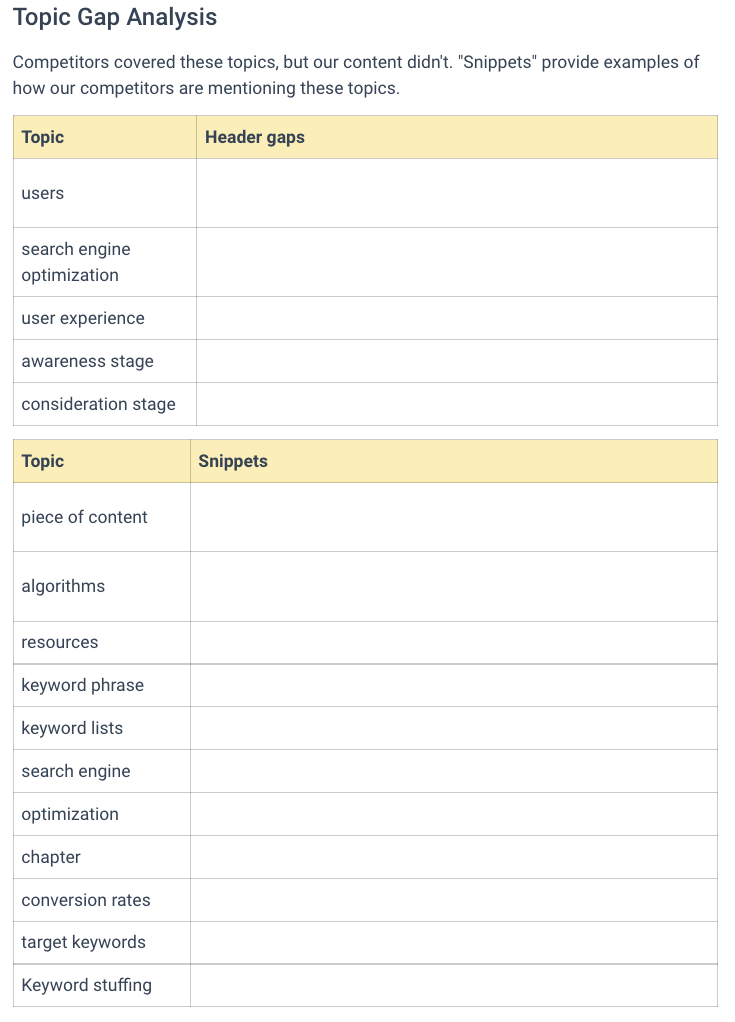 5. Page title
As quoted by Google, "one of the primary ways people determine which search results might be relevant to their query is by reviewing the titles of listed web pages."
To review page titles in Frase, select the SERP tab and review the top pages.
Or select Optimize and SERP Scores.
To optimize the page title, you frontload it with the query you are targeting.
Differentiate your page title from the competitors; use a promise, guarantee, offer, or a verb that addresses the user's intent to improve your click-through rate.
6. Meta description
A meta description provides additional information about a web page for search engines and users under the page title.
You can preview the descriptions of competitor content in Frase in the Research tab.
Most meta descriptions are extensions of the page title.
To optimize the meta description, extend the page title by writing a clear call to action, offer, or outcome the user might get by clicking on your page.
Even though Google has rewritten most meta descriptions, writing unique ones is still best practice.
7. First sentence or paragraph
Once visitors have visited your site from an organic listing, the first sentence encourages them to scroll down your page for additional information.
Use a copywriting formula for your introduction.
The PPPP copywriting formula appears in Joe Vitale's Hypnotic Writing book.
Or use the PAS copywriting formula
Search Frase AI Templates for PAS, the problem, agitate, and solution copywriting formula, and generate an introduction with this technique.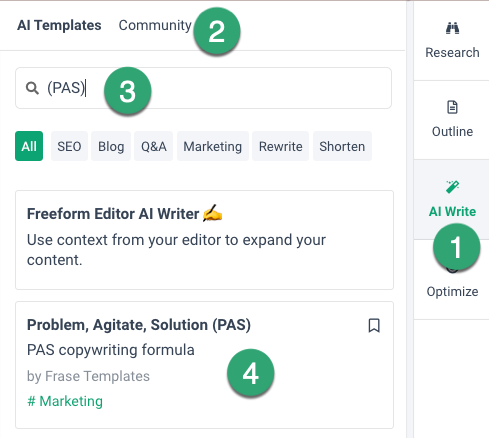 8. Heading Optimization
H2 and H3 headings are used in web pages to help organize text into sections and the readability of the page, which helps with SEO.
This article indicates that the order of headings is a signal for determining the angle and topic of an article.
To quote Google, "We do use headings when it comes to search. But we use them to better understand the content on the pages."
So, let's say you're optimizing a how-to article; it would make sense to mark each sequential step with an h2 or h3 heading.
It would make sense to number each list item for this list post, as Google could scrape the list items and use the headings in a featured snippet for a relevant keyword.
Use the Outline tab to view all competitor headings or build a heading structure for your page.
9. Question optimization
Next up, you should check to see if you need to add questions and answers to your page.
What are the benefits of adding a question and answer section to your page?
Rank for featured snippets.
Because of the passage ranking algorithm, Google isolates the most relevant passages and phrases deemed most relevant to the query and rank the page accordingly.
Content completeness is achieved by filling in content gaps.
While there's usually less copy required to describe a product, it's worth checking if the top-ranked pages include FAQs.
For example, this company is optimizing a product page for "light bulb mirror."
They are currently at position 6.
Their page clearly has a topic gap; they have a topic score of 6% against the average competitor score of 20%.
When I check the SERP for the query, I can see competing pages have questions and answers on their pages.
How to find and answer questions with Frase?
Select the Research tab and Questions from the dropdown.
Include the question to your page formatted as an h2 or h3 heading.
Write your answer with formula – [the full question] [conjunction] [brief answer] [further details].
Use the Paragraph Answer template within Frase for AI to suggest answers.
10. Copy Optimization
A web page consists mainly of the words and sentences used to answer users' questions or encourage them to take action.
After completing your draft copy, follow these steps to optimize your copy for your target keyword.
Select the My Content tab of your existing Frase document.
Select Optimize > Long Tail > Topic Gap.
Review the first 10 topics on the list.
You should include these topics on your web page to improve your topic score.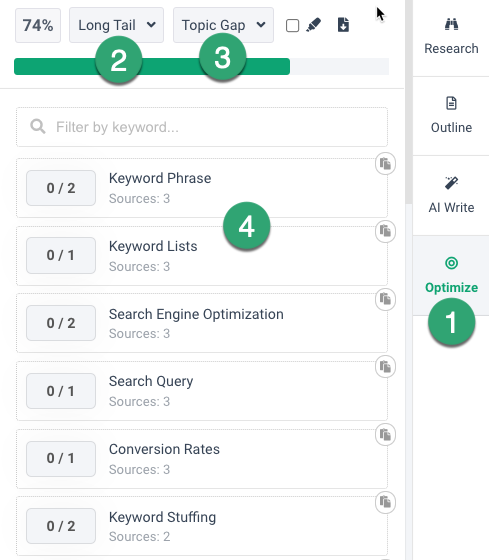 11. Image Optimization
Image optimization ensures that images are optimized for the keyword the page is targeting.
It involves ensuring that the correct image file names are used, that the image is sized correctly, and that the image alt attribute is descriptive enough to convey the complete image or photograph.
Many people use the image tab on the internet to find things they are looking for, and content marketers use it to find relevant graphics and illustrations for their blog posts.
In addition, by describing your images with alt text, users can find your photos with or without visual impairments.
12. URL
A URL stands for Uniform Resource Locator, and it is used to identify an individual web page.
According to Backlinko, the target keyword in the URL is a signal about the relevance of a web page and a minor ranking factor.
Additionally, studies have shown that shorter URLs have a slight advantage in search results.
So, if you've got a long URL such as /keyword-optimization-strategies-2022/, I would advise you to change the URL to /keyword-optimization/ and redirect the former to the latter URL.
Repeat
Repeat the above steps once you have optimized a keyword for one page.
Summary
Optimize a keyword with traffic potential.
Study and address the intent behind a keyword you want to optimize.
Optimize page elements, including the title, first sentence, headings, questions and long-tail entities.
Next step
To begin optimizing your keywords, log in, or start a 7-day trial.