Introducing Frase Passage Optimization
As evidenced by the growth of featured snippets and voice search, consumers expect fast, and accurate answers when searching online. They want answers, not links.
Google has recently released Passage Ranking to better understand page structure and rank passages of the page independently.
In this article, we will cover:
What is Passage Ranking
What is Passage Optimization
Passage Optimization with Frase
What is Passage Ranking
"Very specific searches can be the hardest to get right," said Google, "since sometimes the single sentence that answers your question might be buried deep in a web page. We've recently made a breakthrough in ranking and are now able to not just index web pages, but individual passages from the pages. By better understanding the relevancy of specific passages, not just the overall page, we can find that needle-in-a-haystack information you're looking for."
Google has been looking for ways to find specific answers buried deep within page content. They have recently started ranking not just web pages, but individual passages from pages. With this new ability to better understand the relevance of specific passages, marketers need to make sure their outlines cover high-intent queries. Headers and sub-headers grow in importance with this update.
Google said this can have a 7% impact on search queries – so this might feel like a big update. The update went live on Wednesday, February 10, 2021, in the afternoon Pacific Time for queries in the US in English.
Last week, we shared about how we will soon identify individual passages of a web page to better understand how relevant a page is to a search. This will be a global change improving 7% of queries:https://t.co/iQoXktmSkt

In this thread, more about how it works…. pic.twitter.com/2oqdoCkt6r

— Google SearchLiaison (@searchliaison) October 20, 2020
Based on quotes from Google's team, websites with existing long-form content should benefit from Passage Ranking.
"We are helping people with long-winded pages that are having a hard time ranking for anything, really because everything is so diluted at this long content."
"Passages is going to help users with long-form content by ranking a small section of the article."
"It's just us getting better at more granularly understanding the content of a page, and being able to score different parts of a page independently."
Interestingly, Google representatives also stated that Passage Ranking will only influence "blue link" search results.
"Passage Ranking is strictly a blue links feature. By blue links, he means the traditional search results."
In this paradigm, each passage inside your page now has a unique chance to rank for a query. This means your outline and page structure are more important than ever.
SEOs and content marketers have been aware of the importance of headers and sub-headers for a while. Those who invested in long-form content and proper page structure should keep doing what they are doing.
What is Passage Optimization
Passage Optimization is a subfield of On-Page Content Optimization, focused on improving specific passages inside pages. Passage Optimization emerges as a result of search engines evolving into answer engines and the need for more granular page understanding.
Optimizing passages is similar to traditional on-page optimization, but… at the passage level. It requires you to zoom into specific passages and make sure each passage provides a great answer to the heading topic.
Passage Optimization starts with your Outline
As a requirement to proper Passage Optimization, your content workflow must start with an outline. Each passage of that outline can now rank for long-tail queries independently. In other words, creating a well-organized outline, and focusing on-page structure is the 1st step towards Passage Optimization.
How to do Passage Optimization
Doing passage optimization should not feel too different from regular on-page optimization. We will treat each passage as a page, and ask ourselves:
Header: is this header going to capture my audience's search intent?
Answer: is the passage content written in a way that provides an effective answer?
Topics: does the passage comprehensively cover the main topics?
Links: are you adding value with useful links to sources?
Other: many other variables could be applied to Passage Optimization
Passage Optimization with Frase
At Frase, we believe Passage Ranking represents a step towards the Answer Economy – a situation where search experiences heavily focus on direct answers, and conversational experiences. We believe Passage Ranking was a big enough breakthrough to create a feature around Passage Optimization.
So, how does it work?
Frase allows you re-work specific passages by highlighting the section on your document and utilizing research tools at the passage-level. The goal is to let you zoom into the passage and find ways to make it better.
Passage-level operations are done via "AI Shortcuts":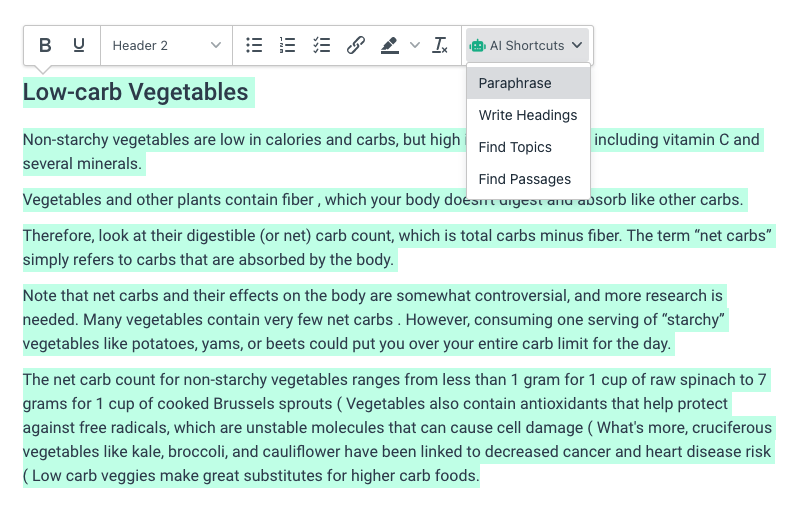 As part of our initial launch, the passage-level assistant has 4 tools:
Paraphrase: paraphrase each sentence from your selected passage. If your selected passage only has 1 sentence, Frase will provide a list of variations of that one sentence.
Write Headings: turn a sentence from your selected passage into a heading.
Find Topics: identify SERP topics related to your selected passage.
Find Passages: identify SERP passages related to your selected passage.
Who can use Frase Passage Optimization?
This feature is rate limited if you don't have the SEO Add-on. Without the add-on, you will only be able to run 5 AI shortcuts per session as a trial. The SEO Add-on gives you unlimited access to AI shortcuts. It is only available in English at the moment, although we have plans to support more languages soon.